Media Contact:
Mayla Lohnes, Public Relations Specialist
805-541-8000
FOR IMMEDIATE RELEASE
VISIT SLO CAL HOSTED ANNUAL SLO CAL SUMMIT 2023:
THE POWER AND PROSPERITY OF A TOURISM BRAND
The Sold-Out Travel & Tourism Event Took Place on Oct. 5
to Celebrate the Resilience and Innovation of the Tourism Industry.
 Visit SLO CAL's Hosted Event Aimed to Reinforce the SLO CAL Identity
Among Locals and Celebrate the Region's Diverse Culture.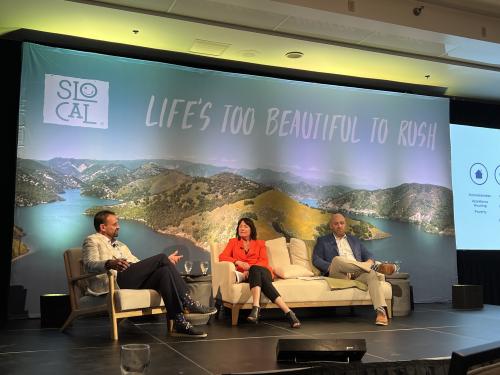 (Download High-Res Images HERE. Courtesy of Visit SLO CAL)
San Luis Obispo County, October 9, 2023 – Visit SLO CAL, the official destination marketing and management organization for San Luis Obispo County (SLO CAL), hosted a successful and sold-out SLO CAL Summit 2023 on Thursday, October 5, 2023. The prestigious event unfolded at The Embassy Suites by Hilton in San Luis Obispo.
SLO CAL Summit 2023, themed "The Power and Prosperity of a Tourism Brand" brought together over 200 industry leaders, innovators, visionaries and stakeholders from across the tourism spectrum. This annual event served as a dynamic platform for insightful discussions, including a destination update from Chuck Davison, Visit SLO CAL's President and CEO, networking opportunities and a celebration of the enduring spirit of the travel and tourism sector.
"In the land of SLO CAL, we're brought together by the wonderful people, the relaxed pace of life and the breathtaking surroundings that make this place so special," said Chuck Davison, President & CEO of Visit SLO CAL. "Our region boasts not only stunning landscapes but also the warmest of locals and countless unexpected adventures waiting to be discovered. The true power of our region lies in our tight-knit community, always pushing us forward with their incredible SLO CAL spirit. It's this vibrant energy that propels us toward new horizons and we can invite everyone to join us in building upon the SLO CAL brand, both at home and beyond."
Key Highlights of SLO CAL Summit 2023:
State of SLO CAL Welcome Address: Chuck Davison, President and CEO of Visit SLO CAL presented a welcome address, sharing insights about the industry's remarkable resilience and its ongoing growth in a post-pandemic world. Davison emphasized the significance of uniting participants from across the region under the unifying banner of SLO CAL. He also expressed the collective excitement about referring to the San Luis Obispo County region as 'SLO CAL,' proudly positioning it as the center of the central coast.
Keynote Speaker: Following the welcome address, Michael Dominguez, President and CEO of Associated Luxury Hotels International (ALHI), delivered an inspiring speech on "The Value of a Strong Destination Brand," discussing how a robust brand identity and data-driven strategies can significantly influence a business' profitability. 
Panel Discussions: Two engaging panel discussions led by Visit SLO CAL's Chief Marketing Officer, Cathy Cartier and Visit SLO CAL's Chief Executive Officer Chuck Davison explored themes including "What Sets Us Apart" and "Issues Facing our Community." Panelists included Tammy Haughey, The Shipyard; Nick Evans, Pensara; Joel Peterson, Paso Robles Wine Country Alliance; Michael Dominguez, ALHI; Barb Newton, CalTravel; and Ryan Becker, Visit California. These discussions delved into sustainable tourism practices, digital marketing strategies and the importance of collaboration within the sector, offering valuable insights into emerging opportunities.
Networking Reception: Attendees enjoyed extensive networking opportunities, fostering meaningful connections and partnerships vital for the industry's growth. The event featured a SLO CAL Crafted pop-up with eight vendors showcasing local artisanal goods and products from farmers, crafters and artisans.
SLO CAL Summit 2023 was a testament to the industry's determination, resilience and innovation and Visit SLO CAL continued its commitment to showcasing SLO CAL as a vibrant layer of communities, including Arroyo Grande and Atascadero, long-standing ranching families and winegrowers in Paso Robles Wine Country and the SLO Coast Wine Region, the lively college town atmosphere of San Luis Obispo, and communities along Highway 1 including Avila Beach, Cayucos and Grover Beach.
For more information about Visit SLO CAL, visit SLOCAL.com or email Mayla Lohnes, Mayla@SLOCAL.com.
###
ABOUT VISIT SLO CAL:
Visit SLO CAL is the countywide non-profit destination marketing and management organization (DMMO) for San Luis Obispo County (SLO CAL). Visit SLO CAL is responsible for promoting SLO CAL as an attractive travel destination and enhancing the public image as a dynamic place to live and work. Through the impact of travel, Visit SLO CAL strengthens the economic position and provides opportunity for all people in the community. Built on research with a strategy of continuous improvement, Visit SLO CAL aims to establish SLO CAL as a favorite West Coast destination known for its signature slower pace of life and unique mix of incredible, immersive guest experiences. For more information, go to SLOCAL.com. 
ABOUT SLO CAL:
South of the Bay and north of LA, SLO CAL is conveniently located midway between San Francisco and Los Angeles. It features more than 100 miles of breathtaking coastline and expansive vineyards covering over 40,000 acres. The area's scenic open roads are beyond compare and its stretch of Highway 1 is an unforgettable journey through some of California's most captivating coastal landscapes. For more information, go to SLOCAL.com. 
ABOUT SLO CAL SUMMIT:
Visit SLO CAL's SLO CAL Summit is an annual celebration of the tourism industry. This event brings together multiple sectors throughout SLO CAL including lodging investors, tourism-facing businesses, elected officials and destination marketing organization (DMO) partners for an afternoon of education, updates from SLO CAL's President & CEO and networking. For more information, go to SLOCAL.com/Partners/Destination-Summit. 
ABOUT SLO CAL CRAFTED:
SLO CAL Crafted celebrates the outstanding quality of farmers, crafters and artists in San Luis Obispo County (SLO CAL). Fine wines, hand-shaped surfboards and award-winning olive oils are just a few of the exceptional SLO CAL Crafted products coveted by locals and adored worldwide. SLO CAL Crafted is an initiative of Visit SLO CAL, and an organization working to inspire travel and foster unique experiences to create life-long ambassadors and economic growth for SLO CAL. For more information, go to SLOCAL.com/SLOCALCrafted.