17th Annual Chorro Valley Shootout
August 11th - 14th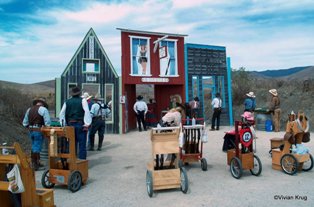 Return with us now to those thrilling days of yesteryear.
Chorro Valley Regulators hosts an annual match in August known as The Chorro Valley Shoot-Out. This event hosts up to 250 shooters from around the globe in a competition that has become a favorite of casual and serious competitors alike. At this event you are just as likely to see 70+ year old shooters as you are past and current World Champions. A good time is had be all! Visit the Old West just 4 miles from Morro Bay.
Cowboy Action Shooting (CAS) is a timed, scenario based shooting competition where participants use firearms that are typically associated with The Old West and the American Cowboy. Single Action revolvers, Lever Action rifles, and a "Scattergun" are the order of the day in this shooting sport. Competitors will use authentic or replica revolvers such as Colt's Peacemaker or Ruger Vaqueros. Rifles are of the lever action type made by Winchester, Marlin and other approved rifles that utilize a pistol cartridge. Both of the aforementioned firearms use ammunition that uses a lead bullet only. Shotguns are either a side-by-side double barrel without ejectors or pump action shotguns with an exposed hammer such as were made by Marlin or Winchester. Most participants wear traditional Old West attire. Matches are run according to Single Action Shooting Society (SASS) rules.
Visitors are most welcomeand encourage to come! Come out and see the cowboys and visit the Old West Vendors.

A link to the official website is www.chorrovalleyregulators.org
For more information phone Sam Cotton at 805 550-5000