This year, Tablas Creek Vineyard in Paso Robles has developed a Dinner Party Pack, which comes with four different wines each paired with four original recipes. Whether you indulge in an over-the-top four course meal and have them all at once, or showcase the wines and dishes one at a time, we're confident that the pairings will be outstanding. Check each of them out below!
2015 Cotes de Tablas Blanc with Crab & Avocado Salad & Meyer Lemon Vinaigrette
The 2015 Cotes de Tablas Blanc (26% Viognier, 25% Grenache Blanc, 25% Marsanne, and 24% Roussanne) has outstanding intensity from the incredibly low yields Tablas Creek saw in 2015. Lots of citrus: key lime along with some tart nectarine. Notes of white flowers. On the palate, this wine is both concentrated and peppy, with vibrant notes of fresh peaches, spice, and nice minerality on the finish.
Pair it with this delectable Crab & Avocado Salad with Meyer Lemon Vinaigrette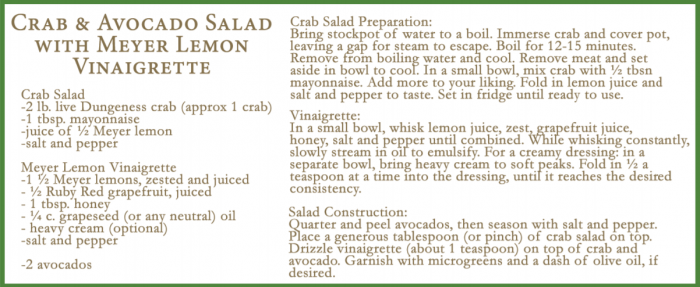 2014 Counoise with Pomegranate Glazed Pork Belly
The 2014 Counoise is a brilliant shade of garnet, bright and warm. The nose is earthy and spicy, with notes of currant and pomegranate seeping through. The spices are high toned- think those you'd use for mulling warm apple cider, like cinnamon, cloves, and allspice. This is Fall in a glass- all you're missing is the crunch of Autumn leaves and you'd be all set! On the palate, this wine is bright, light, and juicy. Nice tart cranberry and raspberry notes, balanced with those mulling spices.
Pair this wine with Pomegranate Glazed Pork Belly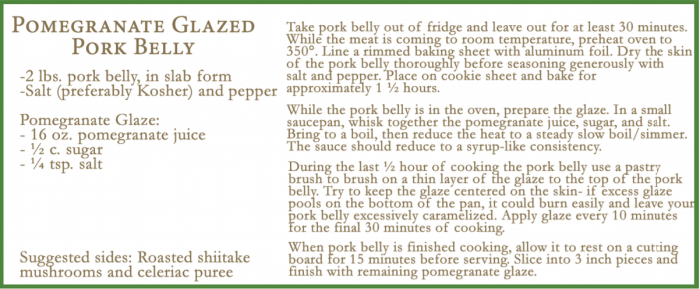 2011 Esprit de Tablas with Garlic & Herb Crusted Rack of Lamb
Deep, concentrated, and brooding, the 2011 Esprit de Tablas (40% Mourvedre, 30% Grenache, 20% Syrah, 10% Counoise) is one of Tablas Creek's more serious vintages of Esprit. The nose (think meat drippings, currants and black tea) is lush and inviting, pulling you into its savory depths. On the palate, it's sleek and serious, with a gorgeous creamy texture and notes of dark fruit, leather, and earth.
Pair this wine with Garlic & Herb Crusted Rack of Lamb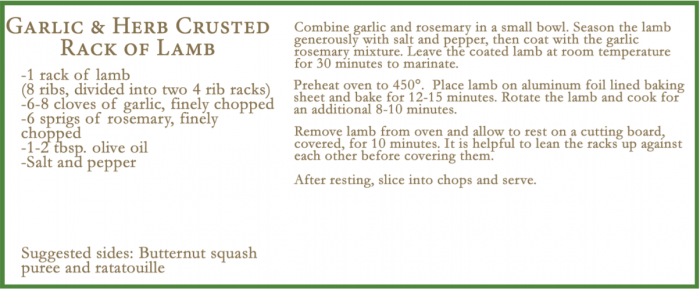 2014 Sacrerouge with Chocolate Truffles
The 2014 Sacrerouge (100% Mourvedre) is a dessert wine that converts the "non-dessert wine" people. It's remarkable in its youth, and incredibly vibrant, with an assertive nose of rich milk chocolate, macerated cherries and a touch of mint. On the palate, this wine is absolutely stunning with a texture that reminded me of how chocolate shavings melt in your mouth: soft, yet chalky. Waves of golden raisins and sea salt caramel come barreling through. It's sweet, but complex too, particularly with chocolate.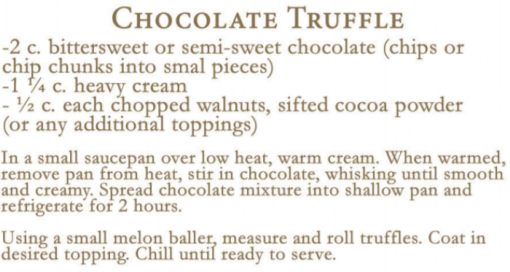 We hope that your holiday gatherings bring smiles to the faces of your loved ones and create warm, wonderful and lasting memories for all.
If you try out these pairings, be sure to let Tablas Creek know by giving a shout out on their social media handles - Facebook or Twitter or Instagram! When you do, tag @tablascreek and use #EatDrinkTablas
A few more resources:
The Dinner Party Pack is one of five special holiday gift packages (on which we include no-charge shipping to any of the 39 states to which we ship). Check out the different offerings here
These special holiday packs will only be available for pickup or shipment until the end of December. For gift orders, we are happy to enclose a holiday message. Order here
Interested in a larger number of gift packs, customized with your personal or company information? Contact us.