No cash or RSVP required!
In SLO CAL, it's not all about the Benjamins. Sometimes you just want a relaxing escape that requires little planning and zero vacation funds. We got you! Here's five totally free, freewheeling events that will have you feeling—well—free as a bird. That's right, folks. Concentrate on arriving to SLO CAL this summer, and we'll take care of the rest. Because the best things in life—and SLO CAL—don't need to cost a dime.
1. SLO CAL Summer Concert Series
Free Tunes: Live music abounds each summer in SLO CAL. Relax under a majestic oak tree during Paso's Concerts in the Park or on the grass during Templeton's Concerts in the Park.  Sprawl out a blanket, bring your own picnic and totally unplug. Downtown San Luis Obispo's Concerts in the Plaza is a bit more lively with a standing crowd that loves to boogie down. Check out SLO CAL's 2019 Summer Concert Guide for a full list of concerts this year.
Spend a little: Want to sample some of Northern SLO CAL's famous world-class wine while grooving to country, soul, blues, reggae and rock tunes? You can do so at the Paso Robles Concerts in the Park as well as at Downtown San Luis Obispo's Concerts in the Plaza. You can also plan to head to dinner before or after. Make a night of it!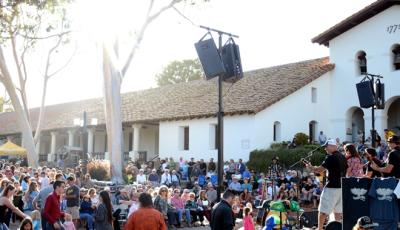 2. Cruisin' Weekend in Atascadero
Free Cruisin' Fun: Experience the unique community camaraderie of Atascadero, known for its family-friendly vibes., during Crusin' Weekend. The 27th Annual Hot El Camino Cruise Night brings approximately 400 candy-colored classic cars through downtown. On Saturday evening, head for Dancing in the Streets, an evening of moving and shaking also kicking off downtown. Local bands will play at a swath of venues and (don't worry) there will be plenty more antique cars to marvel over. Vroom vroom!
Spend a little: Feeling parched or a bit peckish? Expect food trucks, beer, wine, cider and distillery vendors downtown. Nearby merchants are also open throughout the weekend.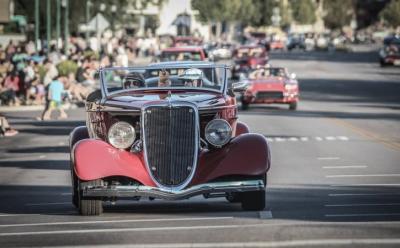 3. Cambria 4th of July Picnic in the Park and Fireworks
Free 4th of July Joy: Set your eyes overhead and watch as dazzling fireworks light up the coastal sky this 4th of July. It's all happening at Cambria's Old-fashioned July 4th Celebration. Fun, food, prizes, live music and dancing are all on tap, beginning at 11 a.m. The kids will rejoice in the all-day bounce house and swimming from 11-6 p.m., and you'll love the live music, Waiter and Waitress Balancing Tray Relay Races, Linn's Messy Pie Eating Contest, and—of course—the featured fireworks. If that wasn't enough free fun for one day, the trolley will operate from 10 a.m. to 6 p.m. along Main Street and Moonstone Beach Drive to Shamel Park.
Spend a little: Splurge on face painting for the kids and they'll love you forever. Now that's money well spent!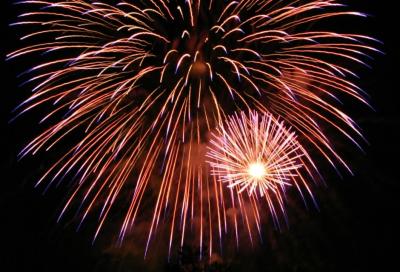 4. Pismo Beach Art in the Park
Free Artistic Expression: Art in the Park at Dinosaur Caves Park in Pismo Beach is a fabulous way to get to know the local art scene in SLO CAL. View amazing original art and handmade crafts, enjoy live music and take in the stunning views all in one convenient location. If you've never been to Dinosaur Caves Park, you're in for a treat. The park is located on a bluff overlooking the ocean. Mark down your calendar for the first Sunday of the month all summer long. Hours are 10 a.m. to 4 p.m. There's even free parking!
Spend a little: Nosh on lunch or pick up a few crafty items for your own home. You never know what might grab you.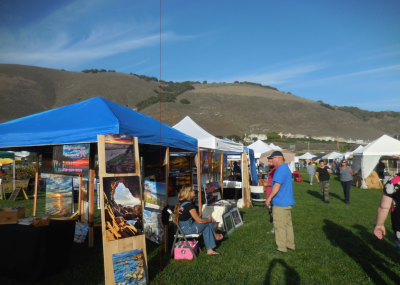 5. Grover Beach Stone Soup Music Fest, Food, and Street Fair
Free family fun: The annual Stone Soup Music Festival, Food, & Street Fair—held August 24 & 25 at and around Ramona Garden Park in Grover Beach—offers up a sonic wonderland for the entire family. Teach your kiddos to celebrate diversity through music, food, arts and crafts at this beloved annual event. Check out world-class musicians from throughout the state performing on two stages (which ensures music flows uninterrupted from 10 a.m. to 9:30 p.m. on Saturday and from 11 a.m. to 5 p.m. on Sunday). Don't miss the Mardi Paws Dog Parade, scheduled for Sunday morning, when all breeds strut their stuff down the street. Awards will be presented for Best in Mardi Paws, Most Original, Most Colorful, and Best Dog/Owner Look-alike by a panel of judges. Registration is also free and opens at 10:45 a.m. in the Rabobank parking lot with the parade starting promptly at 11:15 a.m. in Ramona Garden Park. Looks like Fido is coming along for the vacation!
Spend a little: Area Vendors are open from 10 a.m. to 6 p.m. on Saturday and from 11 a.m. to 5 p.m. on Sunday.