Whether you're all about sunshine or prefer a shady spot to unwind, you'll find your favorite place to picnic right here in SLO CAL.
The Central Coast is beautiful all year long, making SLO CAL a dream destination to spend quality time with those you care about most. In fact, there's something especially inviting about a sunny day that simply isn't complete without a bright blanket and wicker basket bursting with charcuterie and a chilled bottle of Laetitia bubbles — or whatever goodies float your boat! You may want to call ahead and reserve a luxe, private picnic with Amazing Grazing. Decadently displayed, these cheese, brunch and charcuterie arrangements come in all shapes and sizes, for any occasion, including a picnic at your favorite spot.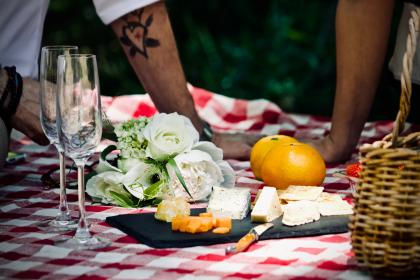 1. SAN LUIS OBISPO BOTANICAL GARDEN
Want to feel like you're in a secret garden? Well, the secret is officially out: San Luis Obispo Botanical Garden in El Chorro Regional Park is a flower lovers' paradise with plenty of places to unpack your picnic basket, kick-back, and soak up the natural wonders surrounding you.
 
2. SAN SIMEON POINT, PIER, AND COVE
Breathtaking ocean views more your style? San Simeon Point, Pier, and Cove offers some seclusion among moss, eucalyptus, ciders, and cypress. This choice picnic spot offers sights complete with Hearst Castle, coastal cliffs, and plenty of wildlife to spot along your Highway 1 drive, including zebras!
 
3. PREFUMO CANYON SCENIC OVERLOOK
If you're into panoramic views, this is the pick for you. Prefumo Canyon Scenic Overlook is a bit of a drive up a winding road (one that's often shared with turkeys, cattle, and cyclists), but it's worth your patience once you get to the top and are able to savor those stunning SLO CAL vistas. For the extra adventurous, keep on driving after your picnic. Prefumo Canyon eventually connects with See Canyon Road and you'll find yourself in beautiful Avila Beach with more fun to look forward to.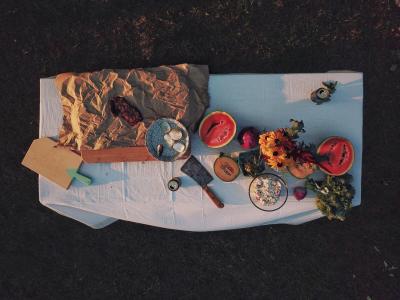 4. WINDMILLS
Swing by Windmills, as the locals refer to it, a landmark located just before Estero Point by San Geronimo Creek in Cayucos. Overlook the ocean bluffs and picnic beneath the Historic Windmill and keep an eye out for sea otters. While you're in Cayucos, be sure to stop by the beloved Brown Butter Cookie Company  for your choice of unforgettable treats.
 
5. OSO FLACO LAKE
Prefer lake life? Oso Flaco Lake is your picture-perfect picnic spot. Found at the southernmost part of the Oceano Dunes State Park, this peaceful spot is your ticket to a beautiful escape all year long. Stop by Willow to shop picnic fares before making your way out to the lake's boardwalk bridge for gorgeous views of the entire San Luis Bay.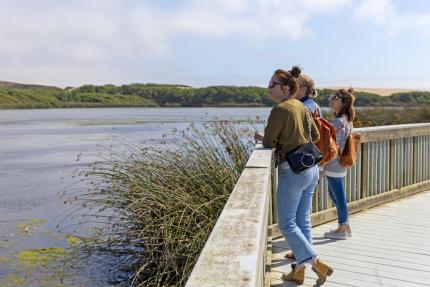 SIP SLO CAL
Craving farm fresh strawberries, a sub sandwich with extra avocado, or specialty cookies galore? No matter what you plan to pack in your picnic basket, be sure to include a bottle or two of coastal Pinot Noir or Chardonnay to take along with you too! More and more wineries are allowing outside food at their wineries during tastings, especially for food allergy concerns. Call ahead to see if your tasting reservations will allow, but recognize it is always up to the winery to decide how their wines are best tasted. Wineries we've seen open to the option are Brecon Estate and Denner Vineyards. 
 
It's true — SLO CAL is your home for a relaxing picnic all year long. Here's wishing you happy trails as you find a go-to picnic spot to make all your own.