1.  Great American Melodrama (Oceano)
Oceano's Great American Melodrama & Vaudeville offers a lively theater experience in a fun, laid-back setting - complete with "sawdust on the floor and honky-tonk piano music in the air."
Located just off of California's Central Coast, the theater hosts world-class productions of classic comedies, musicals, and melodramas, featuring professional performers from all over the country.
Currently Showing:
NEW! Soup Du Jour (April 28 - June 12)
Admission:
$18 - $22
2.  Performing Arts Center (San Luis Obispo)
The Performing Arts Center, San Luis Obispo is located at the heart of the Cal Poly State University campus. The modern facility opened in 1996 and has been presenting a wide variety of high quality art events ever since.
Plan a night at the PAC and catch a film, comedian, dance production, live music, or world-class theatrical performance in one of complex's state-of-the-art venues.
Currently Showing:
Extraordinary Mysteries - a dance performance by Variable Velocity (April 29-30)
3.  Studios on the Park (Paso Robles)
 Professional artist Anne Laddon wanted to share her passion for visual art with SLO County, so she began a non-profit organization called Studio's on the Park in 2009. 
Her group now includes 9 studios, 2 galleries, and 50 working artists who invite the public into their studio to witness the creative process first-hand. Stop by the historic Pioneer Auto Parts building in downtown Paso Robles to see the artists in action.
Hours:
Thursday 12 pm - 6 pm
Friday 12 pm - 7 pm
Saturday 12 pm - 7 pm
Sunday 12 pm - 6 pm
4.  Pewter Plough Playhouse (Cambria)
For a theater experience that is truly unique try the Pewter Plough Playhouse.  Cambria's "jewel box" of community theaters just reopened in January and presents live stage plays and other events year-round.
The intimate venue hosts a talented resident theater company and offers all of the classic amenities including a piano bar and cozy café lounge.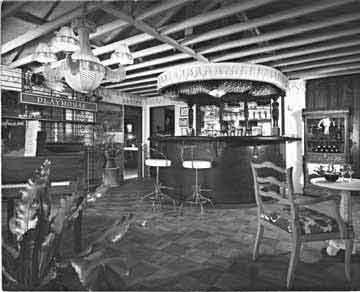 Currently Showing:
Becky's New Car (March 25 - May 8)
Admission:
$18 - $22
5.  Morro Bay Art Center (Morro Bay)
 
Located in historic downtown Morro Bay, the Art Center serves as a hub for fine art in San Luis Obispo County.  The facility has been serving the area for more than 60 years and its spacious galleries provide one of the largest venues for art on the Central Coast.
Visit the center to catch one of the arts shows and see pieces by local and regional artists. Proceeds from the sales made in the gallery are directed towards art programs and scholarships for local high school and college students.
Hours:
Monday - Sunday 12 pm - 4 pm