San Luis Obispo County is home to nearly 300 wineries, each offering a delicious bottle (or two) of wine perfect for your discerning palate. You could spend several days in wine country experiencing what we have to offer, but have you ever been wine tasting and ziplining on the same day or spent the day with cool coastal breezes blowing through your hair as you play bocce ball amongst the vineyards? If you said no to any of the above, then check out one of these six wineries offering a little something extra to go along with your wine tasting.
1. Whale Rock Disc Golf at Castoro Cellars
Go wine tasting then throw some discs around Castoro's Whale Rock Disc Golf Course. Leave your ball and clubs at home, all you'll need here is a disc and a few hours for a fun-filled day amongst the vines. Whether you've never thrown a disc before in your life or you're a professional with an arsenal of distance drivers, mid-range discs and putters, this premier 18-hole course amongst the vines at Castoro Cellars will be unlike anything you've ever seen before. Test your skills on these par three holes varying between 225-490 feet.
Free to Wine Club members or Join the 1-day in the vines disc club for $5.
No dogs or smoking allowed on the course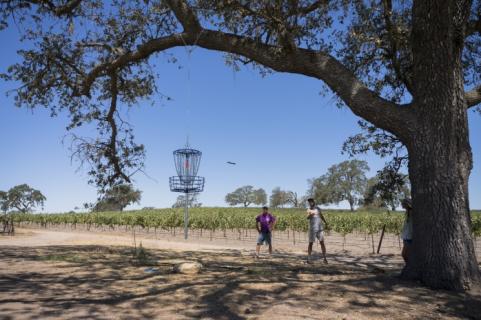 (Photo Courtesy of Castoro Cellars)
2. Excursion Tour at Halter Ranch
Get out of the tasting room and into Halter Ranch's 1984 Land Rover Defender. You and six of your friends will adventure around Halter Ranch's historic land, passing the pond, wildlife corridors and all 281 acres of vineyards. From sipping Rosé while looking out over the vineyards to admiring the Ancestor Tree, the largest Coast Live Oak on record, while drinking Ancestor, a Bordeaux-style reserve blend, you'll definitely feel like you not only know the wine but the property where it came from. After your adventure, you'll take a tour of the state-of-the-art winery and enjoy a private tasting in the Member Lounge of their current release wines.
Duration: 3 hours
Cost: $45 per person or $35 for Wine Club Members
Offered Saturday and Sundays beginning at 10am
Reservations required: email tours@halterranch.com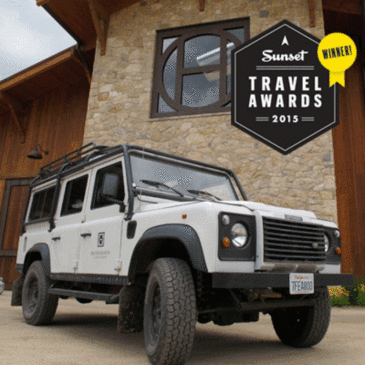 Photo courtesy of Halter Ranch Vineyard
3. Bocce Ball at Robert Hall
Robert Hall Winery, located on the eastside of Paso Robles, is a great place to stop for a leisurely day of wine tasting. Take one of their guided Educational Tours and see their state-of-the-art winery and underground wine caverns, the largest on the Central Coast. You'll enjoy a barrel tasting as you learn about how the wine goes from the vine to your glass. Don't leave yet! Head outside with your glass in hand and play a round of Bocce or two. Choose from one of the two regulation Bocce courts made from crushed oyster shells and a layer of oyster shell "flour."
Guided Tour: approximately 30 minutes

Photo Courtesy of Robert Hall Winery
4. Zip & Sip at Ancient Peaks
Nestled in the small town of Santa Margarita, just north of San Luis Obispo and just south of Atascadero lies Ancient Peaks and Santa Margarita Ranch. Visit their tasting room and taste through their current releases and limited-edition White Label reserve wines then pop over to Margarita Adventures for a chance to zip over the vineyards the wine comes from. Margarita Adventures offers six thrilling ziplines, starting with a 2,800-foot tandem zipline and finishing with an 1,800-foot ride over rows upon rows of grapes. For an extra thrill, try Margarita Adventures Night Zipline Tour.
$10 tasting fee at Ancient Peaks
Zipline tour lasts approximately three hours and costs $89 - $109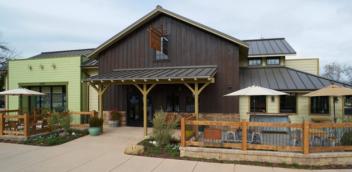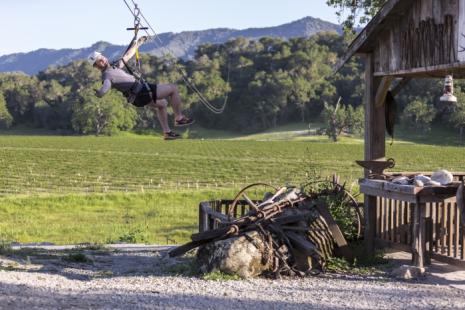 5. Food Pairings at Cass Winery
All this adventure has probably made you quite hungry so let your foodie side take over and check out the food pairings at Cass Winery. Created by Chef Jacob Lovejoy, these food and wine pairings allow you to indulge all of your senses. From the smell and taste of the food and wine, to the sights and sounds of the vineyard, you'll have a wine country experience worthy of bragging.
Food and Wine pairings range from $17 - $22 per person.
Offered daily from 11-5pm
No reservations required for groups of 6 or less
6. Bocce Ball at Niven Family Wine Estates
Coastal breezes await you in San Luis Obispo Wine Country. Head over to Baileyana for a day of soaking up the rays, sipping their delicious wines and getting competitive with your friends. Bring your own picnic or grab some charcuterie and cheese from the tasting room, grab a glass and get busy battling on one of two of their regulation Bocce courts.
Tasting Fee: $12 (waived with bottle purchase)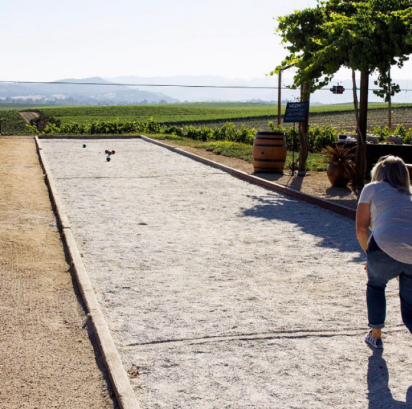 (Photo Courtesy of Niven Family Wine Estates)
Bonus:
7. Helicopter Wine Tour
Looking for a truly unique way to experience San Luis Obispo County wine country? Book a helicopter tour that flies you directly to each winery! Nothing says "I have arrived" like landing in a helicopter. Check out Paso Air Tours for more information.