Adventure lurks around every corner in SLO CAL, especially on Saint Patrick's Day. Craving corned beef and cabbage or a jaunt over SLO CAL's flush green Irish Hills. This is your guide to getting your Irish on in San Luis Obispo County. 
1. Spin the Lucky Wheel at Atascadero Farmer's Market
You've got one less hour this week with Daylight Saving Time, but an extra hour at the Atascadero Farmer's Market in 2022. They'll be out offering fresh and locally-grown produce for an extra hour at the beautiful Sunken Gardens. Spin their Lucky Wheel for a chance to win something green and healthy. What could it be? (Honestly, we don't know, but a good guess maybe some produce?). Go find out!
2. Corned Beef and Cabbage at SLO Provisions
Okay, so maybe you're not a pick-up-local-produce-to-cook kinda person? SLO Provisions has the answer for you. Continuing the tradition, SLO Provisions will offer the traditional meal with potatoes and carrots along with whole-grain mustard. Doesn't that sound good? Dine-in or take-out from noon to 6:30 pm at $18.50 per person. Our advice is to pre-order. Their special meals sell out fast. Need another option? Read on.
3. Test Trivia at Leroy's: The Kinney
Feeling the luck of the Irish? The restaurant and bar are open for business in the San Luis Obispo hotel. Stop in from 7-9 pm to test your trivia knowledge, or head in early for a taste of their corned beef melt with braised cabbage, provolone cheese, whole grain mustard aioli, Tobasco, pickled shallots on marble rye. Need something to wash it all down with? Their Irish Gold Cocktail will do the trick if you like whiskey, peach liqueur, orange juice topped with ginger beer. Of course, there's much more selection, but these items will come and go with the holiday.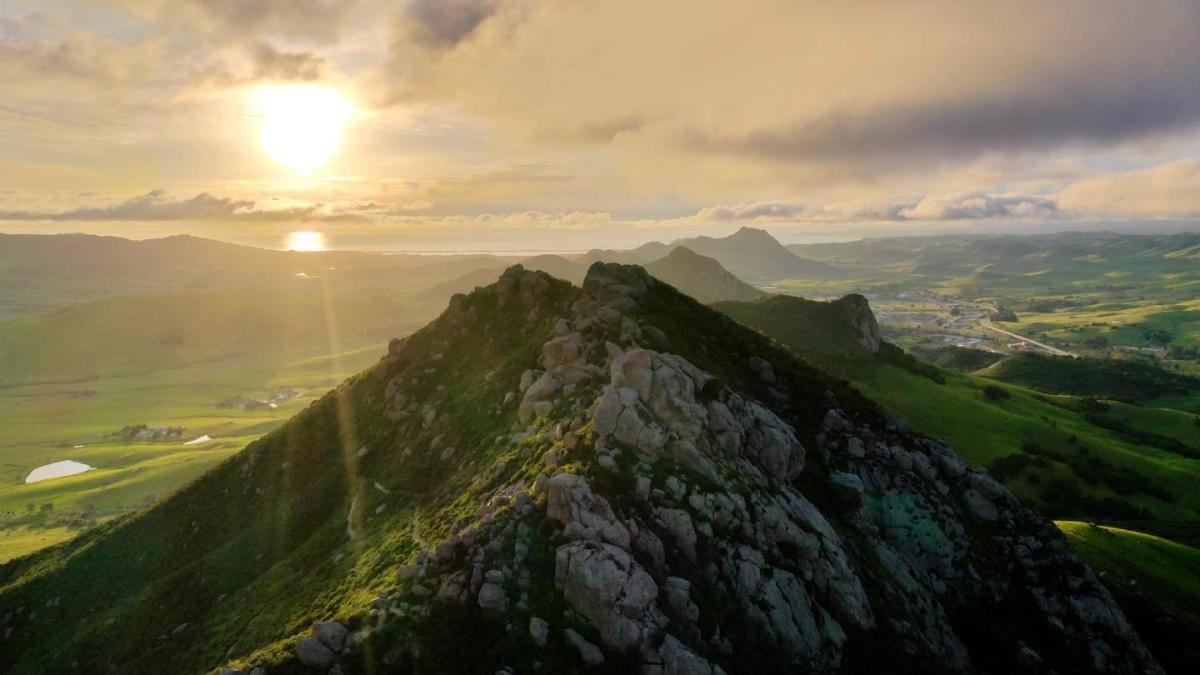 Photo by: @ps_aerial_imaging
4. Take a Green "Spring" Hike
Did the groundhog see its shadow? We know spring doesn't officially arrive for a few days, but SLO CAL's hills and fields are ready to be gazed upon. Check out San Luis Obispo's Irish Hills Natural Reserve to get lost in the beauty. You'll feel like you are in the heart of Ireland. But if you're hiking in the hills, you might not have the best view of the hills (it's a forest and tree kinda thing). Consider too Cerro San Luis Obispo to cast your eyes on the Los Osos Valley. Or perhaps take a drive up Prefumo Canyon road. Even further out, Montaña de Oro State Park, whose name literally means Mountain of Gold. Summit the park's Valencia Peak, or check out the miles of Bluff Trails. See if you can imagine yourself in Ireland. It won't be hard. Travel up Highway 1 to Morro Bay's Black Mountain, the ADA-compliant Fiscalini Ranch Preserve in Cambria for a walk along gorgeous green bluffs, or stop outside Ragged Point Inn for the "Portal to Big Sur" for the most iconic Irish cliffs. Also, try out Atascadero's beautiful Three Bridges Trail. Five different trails to provide the moderate difficulty necessary for a quality workout. With 103 acres to explore, there is a lot of green to be seen at Three Bridges. For a lighter stroll through the greenery, consider Cal Poly's Arboretum. Here you'll find plants from the world's Mediterranean climates with textures and blooms, unlike anything you've ever seen. 
Remember, all these trails are moderate in difficulty, so make sure to wear appropriate clothing and bring water.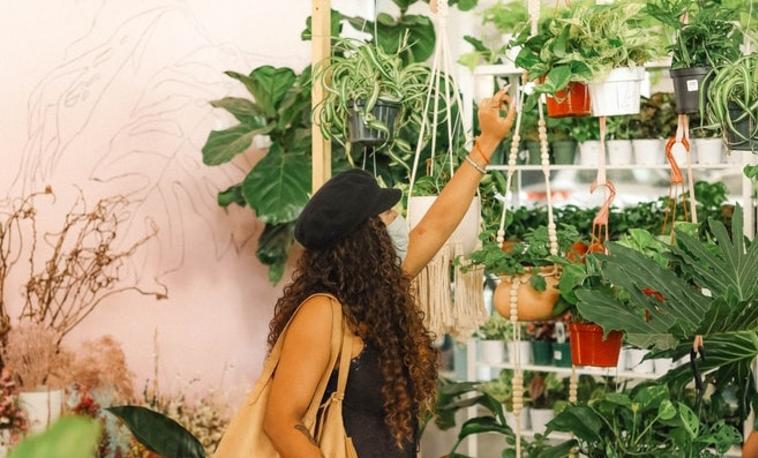 5. Take Home some Green Plants
Are you looking forward to spring cleaning? Consider cleaning the air a little more with a houseplant bought in SLO CAL. When you leave the Arboretum, you'll probably have parked in front of the Poly Plant Shop. This nursery has limited hours Thursday-Saturday but offers more miniature succulents, cacti, and other varietals. Across San Luis Obispo is Plant Therapy design studio and showroom. Sounds fancy? This plant whisperer will be just who you need to visit as you brush up your indoor landscape. Meanwhile, the iconic Cambria Nursery will entertain you for hours as you walk their gardens and select the plants you're interested in taking home. Don't miss strolling through the Cambria Pines Lodge next door, where you will probably want to consider staying or eating after gorging your eyes on green leaves.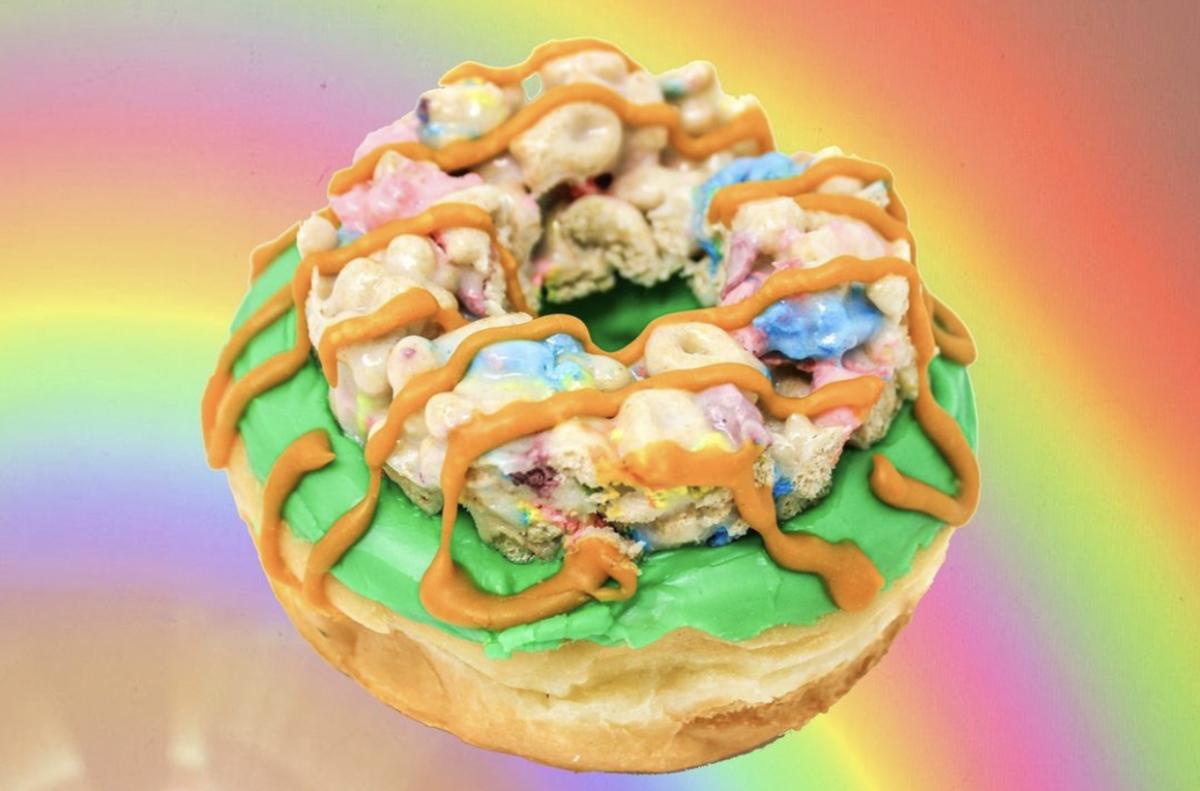 Photo courtesy of: slodoco
6. Cash in at SLODOCO
Okay, so you need a donut for your drive to Ragged Point? Check out the double-decker donut from SloDoCo. You'll get double-the-slam of a sugar rush with their green vanilla dipped donut, stacked with a Lucky Charms halo all drizzled with extra magic. These confectioners are always on the latest theme and craze, so stop in for their mind-blowing selection and don't be surprised if you have to wait in line. 
7. Instagram Your Mission Plaza Photo Opp
Your photo op is ready-made. If you fancy yourself a social celebrity, take yourself to San Luis Obispo's Mission Plaza for their installment, themed for St. Patrick's Day. Stand in their photo frames, beneath their lucky signs and if you visit at night, see their green lighting. No matter the size of your social following, you're invited to bring your significant other or the whole family to snap a shot to remember your time in SLO CAL, because you never know who you'll be influencing when you post. Be sure to tag us @slocal or use #SLOCAL to share your adventures with us!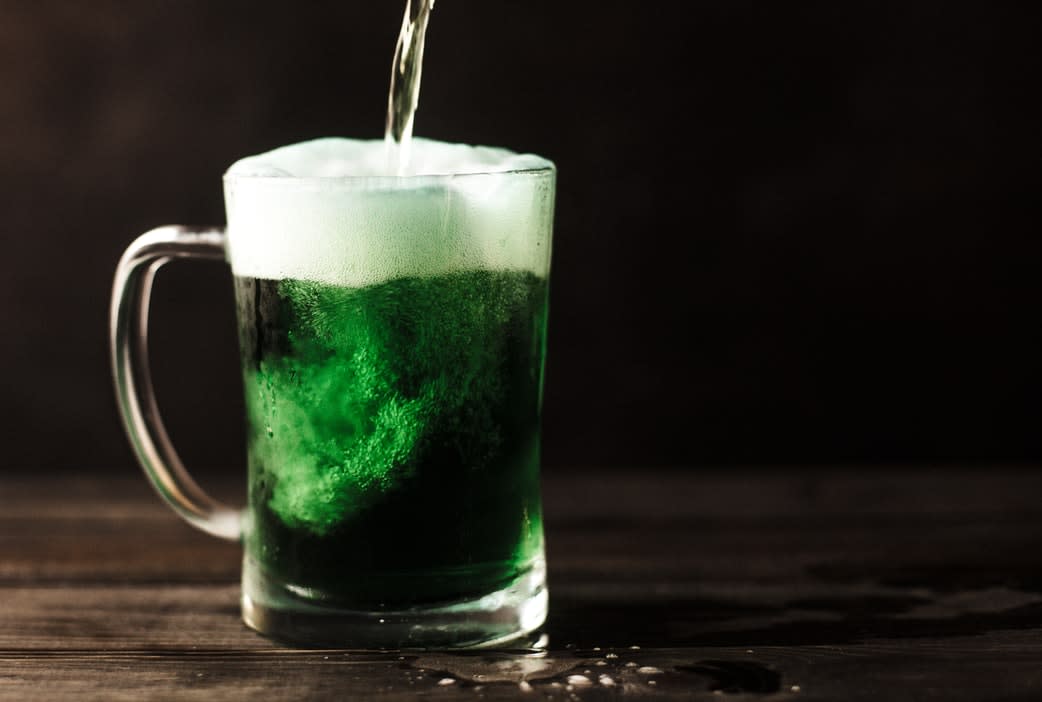 8. GRAB YOUR KILT, WEAR YOUR GREEN, AND HEAD TO THE PUB
Did you know some bars open at 6 am? Remember, as we are still in the midst of a pandemic to be safe and respectful. In doing so, check out Paso's traditional Irish pub, Pappy McGregor's. An extensive drink menu including five different Guinness brews pairs perfectly with the Blarney Burger or Patty Melt. For a classic SLO town St. Paddy's day, check out McCarthy's Irish Pub or Frog & Peach.