Snap a stellar selfie at Highway 1's coolest roadside attractions
Whether you cruise the SLO CAL coastline with the top down, a surfboard rack or just your four-legged friend wagging in the passenger seat, the road is dotted with incredible roadside gems worth stopping for. Road trips have always been America's favorite unofficial pastime—but did you know that Highway 1 tops the list as a nationally recognized scenic byway? In other words, great photo opportunities come standard! Around here, we brake for stunning state parks, historic lighthouses, unforgettable sunsets and awesome wildlife viewing, just to name a few! So, get that camera ready and set a direct course for these selfie-worthy sights. Seriously, pull over, you've just got to see Highway 1 in SLO CAL!
Ready to ride?
Wide-open and waiting: One of the most breathtaking driving routes in the world, Highway 1 affords incredible ocean views punctuated by unique historical, wildlife and dining must-sees. What to pack for a road trip? Nothing too fancy! Be sure to bring a few essentials to maximize your fun: a selfie stick, sunglasses, sturdy shoes, SPF, a hat and sweater are a must (our weather is notoriously sunny year-round, but nighttime temps can swing low). Wildlife sightings are a constant occurrence, so be sure to grab a pair of binoculars and review our handy wildlife viewing tips. Oh, and don't forget that groovy summer playlist. All set? Let's go!
1. Full circle moment at Ragged Point Inn
A view from the top on Highway 1's most coveted coastline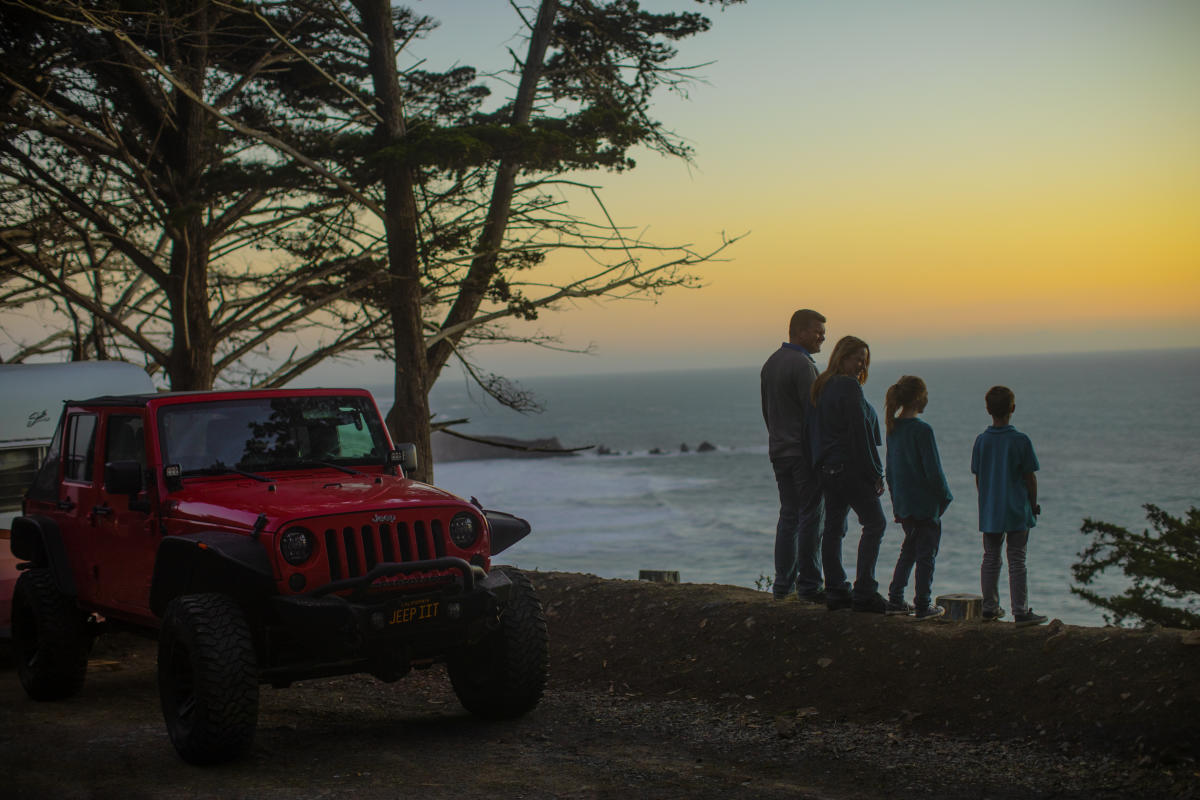 Say cheese! Snap a photo at the edge of the world (aka Ragged Point Inn's spectacularly scenic outlook). A circular wooden work of art creates the perfect frame for your face backdropped by one of the most picturesque views on planet Earth (we're not exaggerating). Here, wind-swept coastal cliffs and untouched black sand beaches meet the stately Santa Lucia Mountains. You, my friend, just found your new favorite desktop background.
Stretch your legs: Snapped that perfect photo from the Ragged Point Inn Outlook? Now, embark on a short, mindbogglingly gorgeous hike easily accessible from the inn. A breezy, eight-mile trek pays off big time with a black sand beach at the base of the 300-foot-tall Black Swift Falls seasonal waterfall. Tip: The moderately strenuous trail is best for experienced hikers wearing good shoes. Leashed dogs are welcome to join the adventure!
Got more time? Wake up to pure paradise when you book a stay at the Ragged Point Inn, nestled along the edge of Highway 1's breathtaking seaside cliffs. Originally an outpost of the Hearst Ranch, this top-notch stay includes plush rooms, a farm-fresh restaurant, gift shop and sprawling lawn home to seasonal outdoor concerts. Tip: If you haven't found a place to pop the question just yet, this is it!
2. Wave to the zebras of Highway 1
Say hi to San Simeon's most exotic roadside residents
Say cheese! Grab a pic that will have your pals scratching their heads and wondering where exactly you're road-tripping through! Yes, zebras do reside in SLO CAL. In fact, the majestic striped animals often spotted along Highway 1 in San Simeon are actually part of William Randolph Hearst's original herd. From zebras along Highway 1 to whales and seabirds spotted along the Old San Simeon Bay Pier, you'll enjoy the same view that captivated the late, great publishing mogul so many decades ago. That's pretty wild, any way you slice it!
Stretch your legs: Seal the deal! Want to get your co-pilot or kiddos smiling from ear to ear? Explore San Simeon's Piedras Blancas Elephant Seal Rookery, a must-see road stop offering easy, accessible animal viewing to the whole family. Watch as these wondrous creatures sunbathe, romance, and—on occasion—get into brief scuffles, all from a nearby outlook. Tip: Need a quick picnic spot? The grand Piedras Blancas Lighthouse, built in the 1870s and lovingly restored to its former glory, stands nearby as a testament to the area's rich maritime heritage.
Got more time? Storm the castle! A world-renowned destination and the undisputed jewel of San Simeon, Hearst Castle offers up hours of exploration through well appointed rooms, opulent pools and sun dappled terraces. Just think: this enchanting hilltop estate once awed and entertained the luminaries of his time, including Winston Churchill, Hedda Hopper, Greta Garbo, Clark Gable and Charlie Chaplin! Tip: You can't possibly see it all in one tour, so plan to come back!
3. Harmony: population you
Step into Cambria's charming storybook lore 

Say cheese: Be the lead character of your own fantasy novel. Nestled between Cambria to the north and Cayucos to the south, the unique dairy town-turned artist's alcove of Harmony is a fairytale dream delightfully out of step with the modern world. Grab a whimsical photo opp at the town's tiny chapel, where couples still say "I do." This quaint hamlet isn't just known for its marvelously minuscule proportions (the population 18 if you count the cows). You'll also discover glass blowers creating red hot wares, a local ice cream truck and nearby wine tasting, too!
Stretch your legs: Enjoy a leisurely stroll through Cambria's historic downtown, where you can easily window shop while enjoying the fresh, sea air. Pass art galleries, historic buildings, antiques and wine tasting rooms as you command your own self-guided walking tour through this former fishing village. Tip: Growling tummy? There's always room for pie. Stop at Linn's Restaurant for a legendary slice of olallieberry pie, a local delicacy that's equal part sweet, tart and juicy.
Got more time? Craving more me-time in Cambria? We don't blame you. With excellent lodging options ranging from small vacation rentals to plush resort-style suites, a romantic (or simply therapeutic) getaway to this coastal hideaway is just what the doctor ordered. Quiet your mind as you embark along Moonstone Beach, aptly named for the glittering rocks strewn along the sand. Love a good bike ride? Take an unexpected turn through Highway 46, where secluded green hills reveal meadows of cheerful wildflowers, ancient farmhouses and modern tasting rooms.
4. Find your shipwreck!
Dig up hidden treasures in Cayucos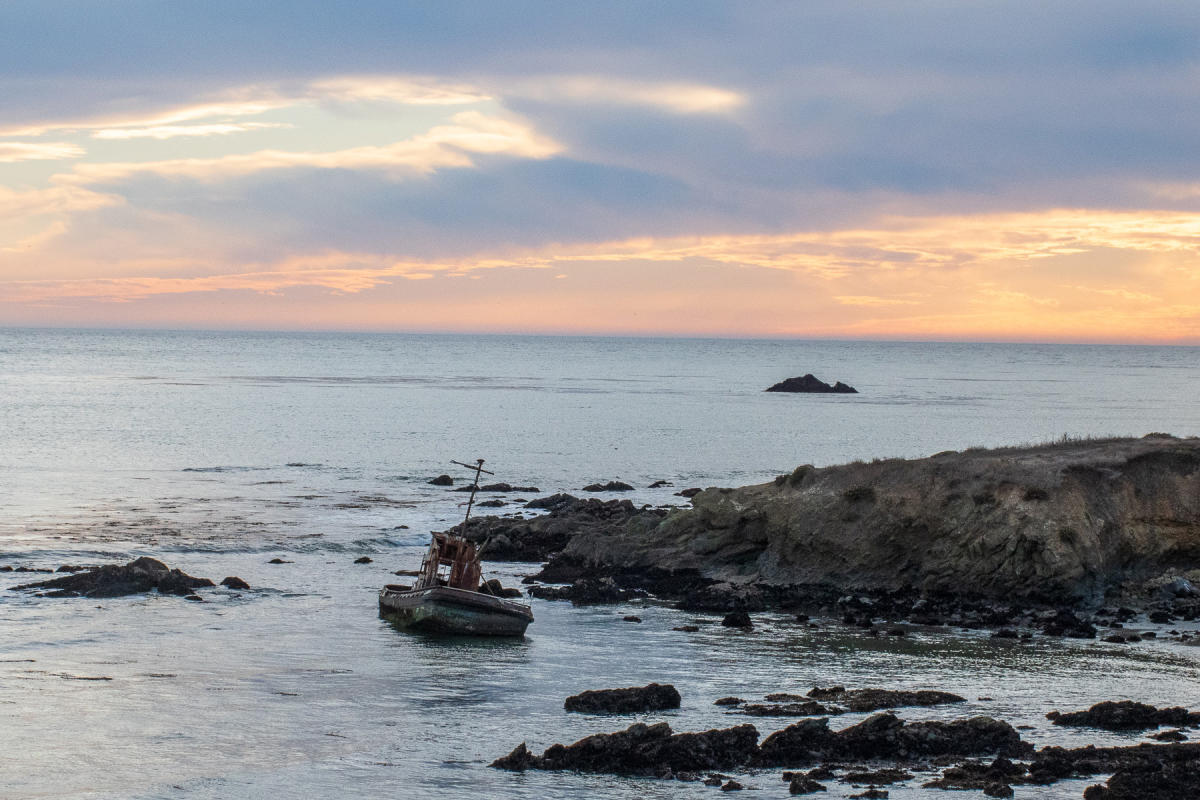 Say cheese! Crazy but true: a real-life shipwreck is on the itinerary. This photo might look photoshopped, but you can assure your friends back home that this one is the real deal! Surrounded by bluff trails, pocket beaches, tide pools and an incredible seabird population, this is one unique road stop you just can't miss! Tip: To see the shipwreck, take the rustic southern Estero Bluffs State Park entrance to the parking at the corner of North Ocean Avenue and Highway 1 in Cayucos. Just hold the pirate jokes, please—we've heard them all!
Stretch your legs: Take a chill pill (and get those wiggles out). A stop at Cayucos State Beach or the nearby Morro Strand State Beach Day Use Area will inspire extra wags from your four-legged friend, who is welcome to run, jump and splash. Keep an eye out for sea otters, who love to lounge and nosh amidst protected kelp beds. They seem to have the right idea, don't they?
Got more time? Keep that zen Cayucos state of mind going for as long as possible. Hop into a kayak and paddle to your heart's content, bike your way south from Cayucos to Morro Bay (notice Morro Rock as it rises in the distance) or just enjoy a lazy afternoon on the sand with a great book. Tip: Craving a quick bite? Savor local fave Ruddell's Smokehouse (and don't forget a few dashes of locally-crafted Cayucos hot sauce). Fish tacos just taste better that way.
5. Chase the sunset to Montana de Oro
An hour or a day in Los Osos/Baywood Park is always well spent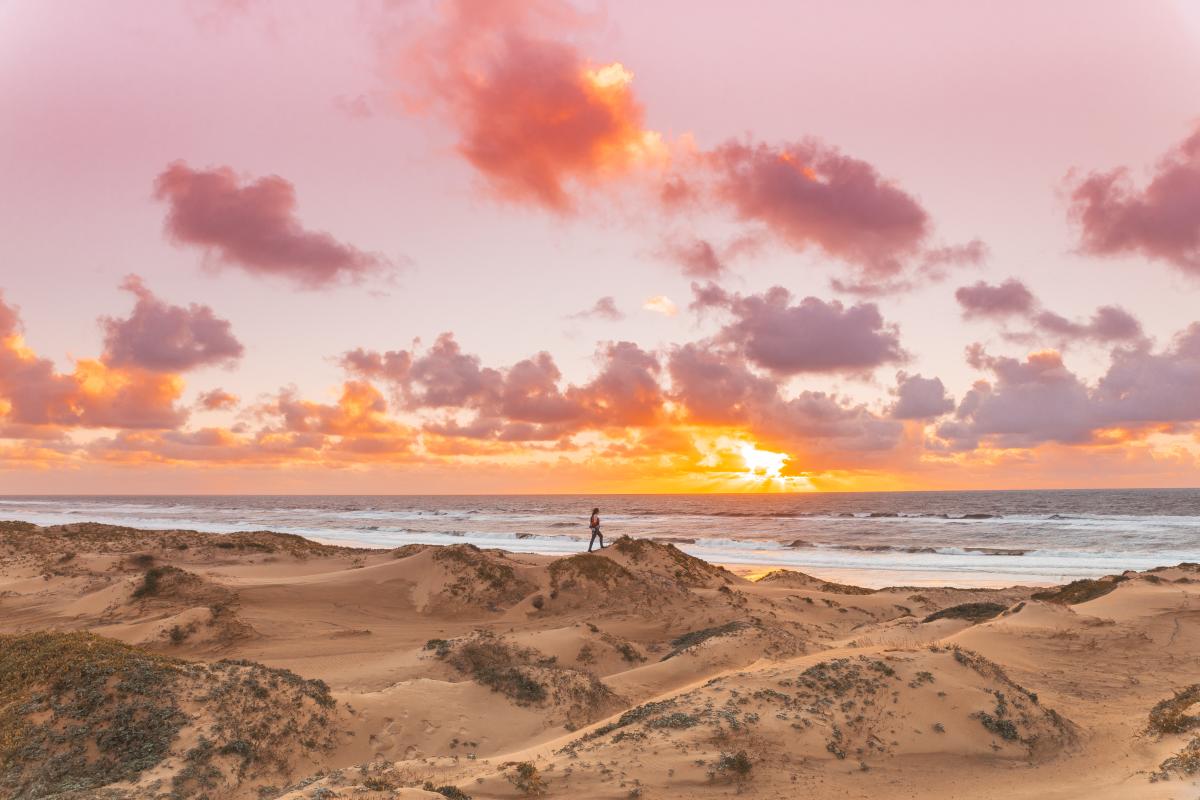 Say cheese! We're hopelessly biased, but there's no place we'd rather be at dusk. Framed by enchanting Eucalyptus trees and colorful coastal shrubbery, a fiery sunset burns brighter at scenic Montana de Oro State Park. Aptly named for its "mountains of gold," This Los Osos road stop becomes even more glorious as the sun melts along the sea. The best part? You can get a feel for this otherworldly locale just by pulling over and grabbing a quick pic! Trust us—it's totally worth planning for.
Stretch your legs: Get out there! If you're an avid hiker, this is the stop for you. Easily park and explore Montana de Oro's many coastal hiking trails, including the challenging Valencia Peak Loop. Want a moment to get reacquainted with the sound of your own thoughts? Stride along shimmering tide pools and peer into the unique habitats as you go. You'll find sea stars, and crabs along with your own peace of mind.
Got more time? Hop in the saddle: Did you know you can ride horses along the sand at Montana de Oro State Park? Yes, it is a dreamy proposition. There's nothing more freeing than softly galloping along the tide, the fresh breeze in tousling your hair, lovely seabirds soaring above. If this all sounds like some sort of romance novel, we tend to agree. After your ride, stop in peaceful Baywood Park for a cold local beer and a bite to eat. Now that's a way-cool plot twist!
6. Meet new farm friends
Unexpected animals and experiences abound in sunny Avila Beach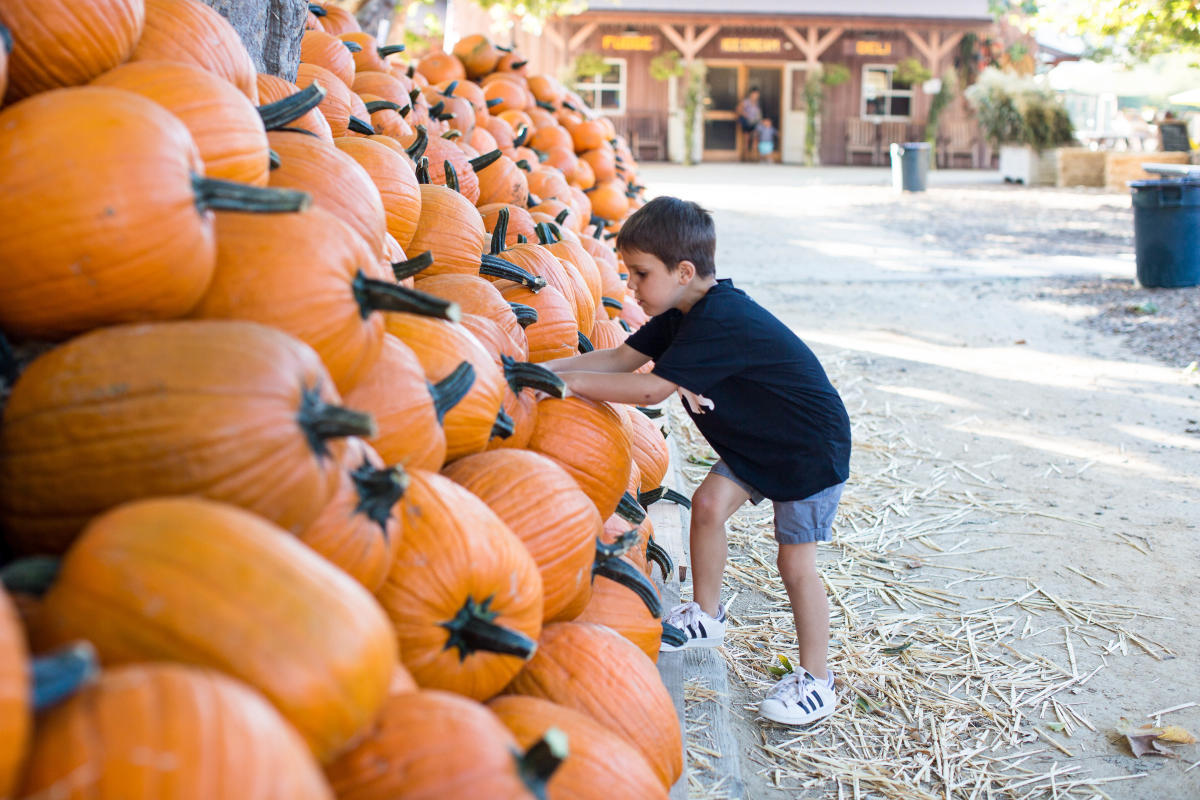 Say cheese! With a cluck cluck here and a cluck cluck there: Family friendly Avila Valley Barn is home to a menagerie of farm animals just waiting for your closeup! We probably don't have to twist your arm to get you to pull over and say hello to these happy chickens, cows, horses and goats. Tip: With an assortment of tasty house made baked goods and jams, this barn is chock full of stellar souvenirs. If only you could take the miniature donkey home...
Stretch your legs: Or arms, rather! Hop in a two-seater kayak and journey from the shore in Avila Beach to the historic Point San Luis lighthouse overlooking the endless blue. Be sure to take a whirl on a rope swing located atop the hill, which has a way of replicating the feeling of soaring like a gull over azure waves. As you paddle back along the glassy water, wave to Sea Lions lounging along the Harford Pier launch point. Tip: The entire kayak trip out-and-back is only a few miles—an easy and fresh way to break up the drive. In other words, you'll be back in time for lunch.
Got more time? Plagued by worries and stress? Not anymore. Sink into Avila Beach's naturally soothing waters at Sycamore Mineral Springs Resort, where you can stay as long as you like. With hourly tubs nestled along an oak-studded hillside as well as comfortable rooms appointed with private mineral spring baths, there's no excuse not to unwind. While enjoying the mild weather and welcoming hospitality, why not mosey over to San Luis Obispo, where the downtown Thursday Farmer's Market is awash in local flavor? We could get used to this!
7. Strike a pose at the pier
Get your kicks in the classic California beach towns of Pismo Beach and Grover Beach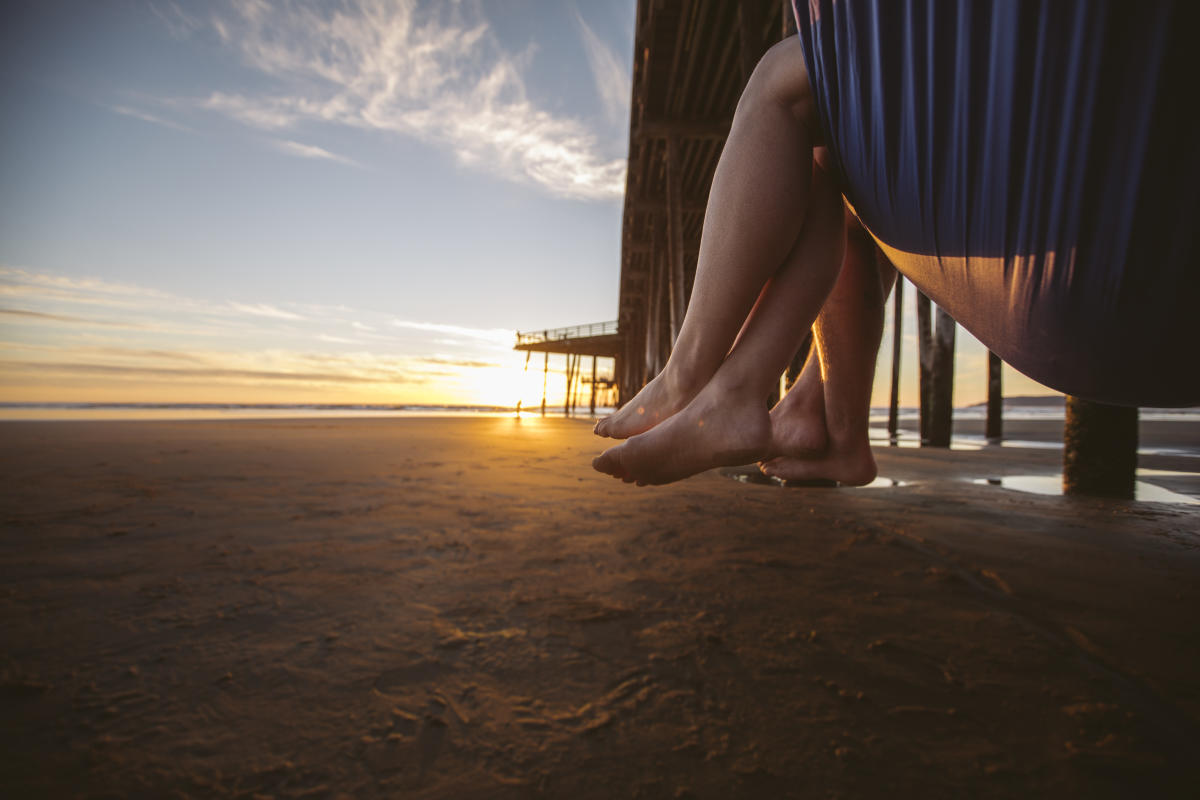 Say cheese! The recently revamped Pismo Beach Pier is a sight to behold: Electric-lit letters spelling "Pismo Beach" towering twice your height make for a splashy summer photo you'll want to post on the fridge (and all over social media). Pose at this one-of-a-kind photo opp before dashing off to slurp a bowl of famous clam chowder. We call that the grin-and-grub!
Stretch your legs: Get ready for an afternoon of endless discoveries. Rent a bike and spin through Pismo Beach's bustling streets, where locals and tourists mingle under a clear, blue sky. Check out boutique shops selling everything from surfboards to cinnamon rolls, dine at authentic seafood restaurants and stroll along the wide, welcoming pier that Pismo made famous. Peek into local fishermen's buckets to see the catch of the day or cast a line of your own.
Got more time? There's always more to do in Pismo Beach, where you can begin the day surfing or kayaking and end the night enjoying local wine or bowling. Snag a hotel on the beach and know that you're never a few steps from the salty spray. Had your fill of the sand (at least for a few hours)? Explore the nearby Monarch Butterfly Grove or head to Grover Beach for a bite at one of the area's awesome casual eateries, like Rock n Roll Diner, housed in a real-life antique train car.
8. Bridge the gap
Farmland meets fine wine in Arroyo Grande and Edna Valley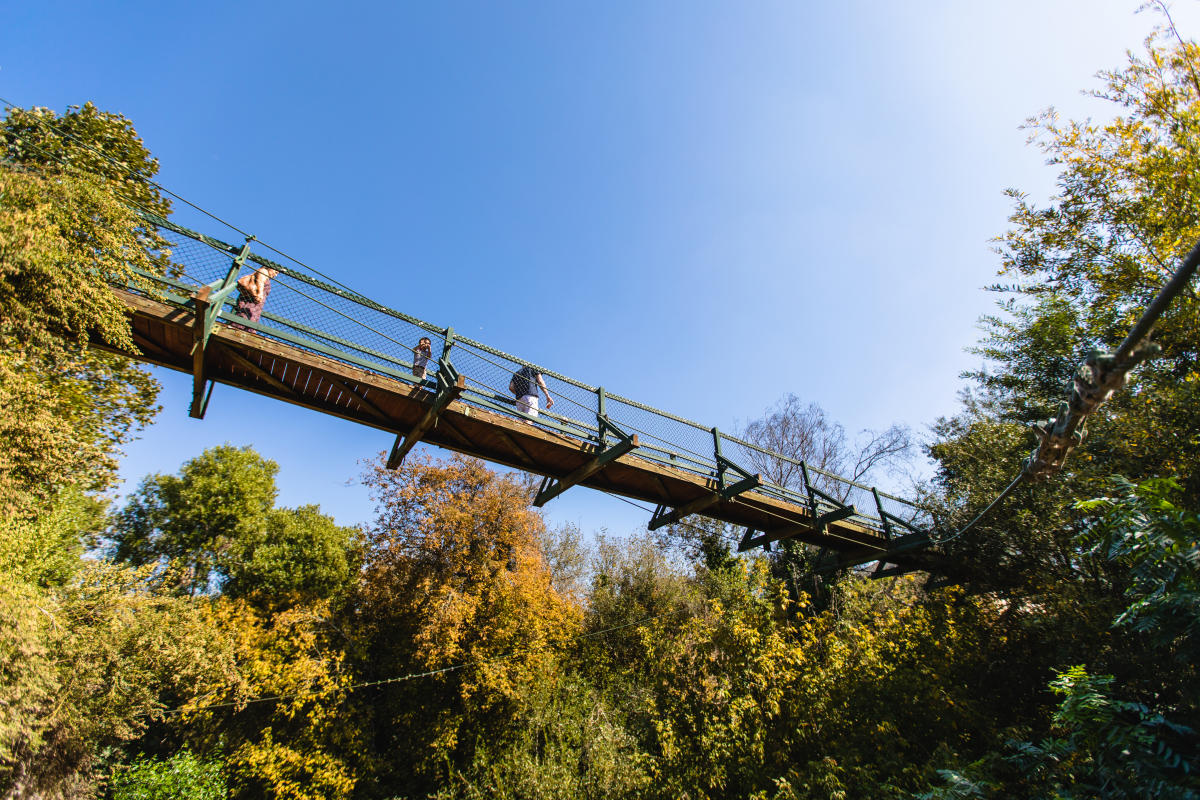 Say cheese! Transport yourself into an Americana postcard when you traverse a historic, swinging foot bridge in the Village of Arroyo Grande. What better place for a selfie than smack dab in the middle of this old-timey stop connecting Village Green Park and the historic Santa Manuela Schoolhouse? Along the main drag, stroll past antique merchants and even an old school butcher shop. Keep your trigger finger on that camera: This adorable town square is also home to a band of roaming chickens!
Stretch your legs: Located just six miles from the Pacific Ocean, SLO CAL's iconic SLO Coast Wine Region is as fresh and breezy as the weather. Savor cool-climate pinot noir or chardonnay from an array of Edna Valley tasting rooms offering everything from vineyard tours to barrel tastings. The Old Edna Valley Townsite is an optimal place to pop out of the car, soak up some sunshine among the vines and enjoy a satisfying snack courtesy of Sextant's gourmet deli. Now, for a nap!
Got more time? The scenic drive from downtown Arroyo Grande to Lopez Lake transports you from crop rows to oak forest, with acres of colorful flowers and folksy farm stands in between. Travelers are welcome to enjoy the day-use areas at the lake, known for water sports, fishing, hiking and wildlife. Whether you hang for a day or camp for the weekend, you're sure to get back in contact with Mother Nature (we'll trade that for WiFi any day of the week).
9. Drive into the dunes
Kick up sand along Nipomo/Oceano's ethereal dune scape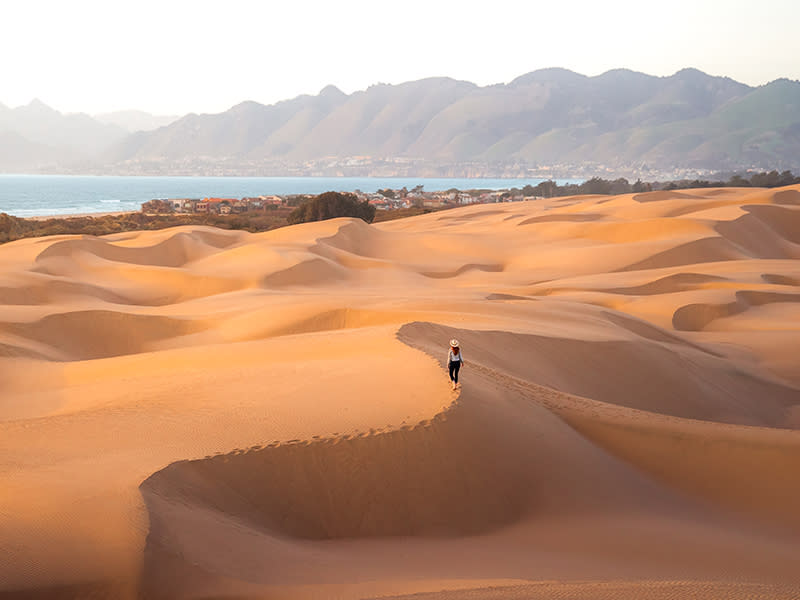 Say cheese! Your friends might really think you've landed on the moon (or perhaps in Morroco or Egypt)! Grab a selfie backdropped by the Guadalupe-Nipomo Dunes, a key location for Cecil B. DeMille's 1923 film "The Ten Commandments." As the story goes, DeMille buried his mammoth City of the Pharaohs once filming wrapped. Luckily for you, plenty of these fascinating artifacts, including a giant terracotta sphinx head, are now on display at the Guadalupe-Nipomo Dunes Center.
Stretch your legs: Walk the boardwalk from forest to beach at Nipomo's Oso Flaco Lake Preserve, where birds of all feathers flock to eat, nest and soar. The flat, 1.5-mile walk affords pristine lake, marsh, and ocean views, ending with sand-dunes that undulate onward toward the sea. Quell the hunger you just worked up with a meal at Willow in Nipomo, where you can grab a fresh house-made pizza, deli sandwich or bowl of seasonal soup.
Got more time?
Start your engines: Grab the wheel and kick up sand at the Oceano Dunes State Vehicle Recreation Area, the only beach of its kind that you can actually drive on. Whether you slide into an ATV or steer your own four wheels along the surf, you're sure to make some interesting inroads. Tip: Camping and bonfires are also permitted on this beach, so bring the whole family (and a big bag of marshmallows).