9 Places to Watch Spring Come to Life in
San Luis Obispo County




For much of the United States, spring seems like a distant dream, while winter continues to deliver storms, snow, and cold temperatures. But here in San Luis Obispo County, California, despite comfortable temperatures year-round, we still enjoy a spring bloom with the change of seasons.
Located in California's Central Coast, the landscapes range from scenic beaches and rolling foothills to picturesque grasslands and Monterey Pine forests. For travelers looking to embrace nature, San Luis Obispo offers plentiful opportunities to experience the beauty of a West Coast spring in its 4,000 acres of designated open space and a variety of other natural landmarks that are just a short drive away.
Natural Beauty Surrounding the City of San Luis Obispo 
With the turn of the seasons, San Luis Obispo showcases its beauty at a number of open spaces, parks and gardens. Following are a few must-see locations where nature comes to life in the spring.
Laguna Lake Park: Laguna Lake forms the centerpiece of this park and it is home to waterfowl indigenous to the area. The park encompasses 350 acres and offers views of Cerro San Luis, one of the Nine Sisters, a collection of nine volcanic peaks that stretch from San Luis Obispo to Morro Bay. There is plenty of open space here and the park is dog-friendly.
Bishop Peak Natural Reserve: Like Cerro San Luis, Bishop Peak is another of the famed Nine Sisters. It is home to oak woodland, chaparral and sage scrub habitats, and as many as 100 species of birds, including golden eagles and bald eagles. Fox, coyotes, and mountain lions have been seen here, and deer are common. There are both moderate and strenuous hiking trails that ensure fantastic views from elevations up to 875 feet on the Felsmen Loop trail and up to 1,546 feet on the Bishop Peak trail.
Reservoir Canyon Natural Reserve: A mile outside of the city limits is Reservoir Canyon Road, which leads to the Reservoir Canyon Natural Reserve, an area that was originally used to preserve water for San Luis Obispo residents. The 487-acre Reserve increases in elevation from 400 to 1,715 feet, and it includes a moderate-to-difficult hiking trail through riparian habitats and blooming wildflowers during the spring season. Interesting scrap metal sculptures can be seen along the way, and the trail offers views of Cuesta Grade and the Santa Lucia Mountains. The Reserve also includes two small waterfalls, one of which spills out before a 70-foot deep cave.
Irish Hills Natural Reserve: The rolling hills reminded Irish immigrants living in the area of home, so they became known as Irish Hills. Now a natural reserve, the area provides hiking trails accessible by two trailheads, the Perfumo Canyon Trailhead and the Madonna Road Trailhead, that lead through oak, grasslands, chaparral, and riparian habitats. The Reserve is a beacon for runners, cyclists, hikers and equestrians, and the trails range from moderate to strenuous difficulty. For those willing to take the challenge, the hike rewards visitors with unfettered views of the Nine Sisters as far west as Morro Bay.
Leaning Pine Arboretum: Not quite ready to strap on the hiking boots and hit the trail? No problem. The Leaning Pine Arboretum is located on five acres on the north end of the California Polytechnic State University campus, and it spotlights plants largely from the world's five Mediterranean climate regions, including Australia, California, Chile, the Mediterranean basin, and South Africa. Additionally, visitors can enjoy the New Zealand Garden, the Formal Garden, the Primitive Garden, and the Palm & Aloe Garden, among others. Admission to the Leaning Pine Arboretum is free.
Seasonal Beauty Just a Short Drive Away 
The charms of San Luis Obispo aren't found just in and around the historic city. In less than an hour, residents and visitors can venture into rugged mountain landscapes or view breathtaking coastal scenery brimming with animated vegetation and distinctive wildlife. Following are four areas within San Luis Obispo County that reach their potential during the spring months.
El Chorro Regional Park: Located between San Luis Obispo and Morro Bay, El Chorro Regional Park was originally used by local ranchers for cattle before becoming a U.S. Army camp used for training purposes. Now, it is a natural park and recreational area brimming with coastal live oaks and seasonal wildflowers. Visit the San Luis Obispo Botanical Garden where, once the master plan is complete, it will showcase a 150-acre garden devoted to ecosystems and plants from around the world. There are 50 miles of paved trails delivering gorgeous views of the surrounding landscape and intensified by 500-foot elevation change.
Morro Bay: Morro Bay, home to the Morro Rock or "Gibraltar of the Pacific," is located in San Luis Obispo County, and it is only a 13-mile drive from historic San Luis Obispo. Known for its spectacular coastal views, it is home to more than 250 species of birds and over two dozen endangered and threatened species. Enjoy awe-inspiring sunsets with the Morro Rock (one of the Nine Sisters) in your site line, or choose a coastal excursion, whether sailing on the Pacific or kayaking in search of wildlife in the local estuaries.
Montaña De Oro: Travel approximately 13 miles from downtown San Luis Obispo to Montaña De Oro to see the rugged beauty of the California coast. The name means "mountain of gold" and references the golden wildflowers that bloom there each spring. There are a number of different hiking trails that explore the cliffs, vibrant tide pools, and lush wooded areas that make this one of California's most impressive - and one of its largest - state parks. The hiking trails vary in difficulty, from beginner to expert, so make sure to keep in mind your skill level when choosing your path.
Rancho Guadalupe Dunes Preserve: The Rancho Guadalupe Dunes Preserve boasts not only the tallest dunes on the West Coast at an impressive 550 feet in height, but the Santa Maria River Estuary. Visitors can experience vegetation, like beach evening primrose, beach morning glory, as well as poisonous plants like the giant stinging nettle and poison hemlock. Keep in mind that a portion of the dunes is closed for plover nesting season from March 1-October 1, but this doesn't mean that the 33-mile drive from San Luis Obispo isn't well worth it. It is. The park is open daily from 7 a.m. until dusk.

Whether you are a resident of Central California or a winter-weary visitor chasing the beauty of spring, San Luis Obispo is a place like no other. From the mountains to the bay, the blossoming golden wildflowers, mountainous skyline, and glorious coastal sunsets are a perfect way to chase away those winter blues and experience nature at its best and brightest.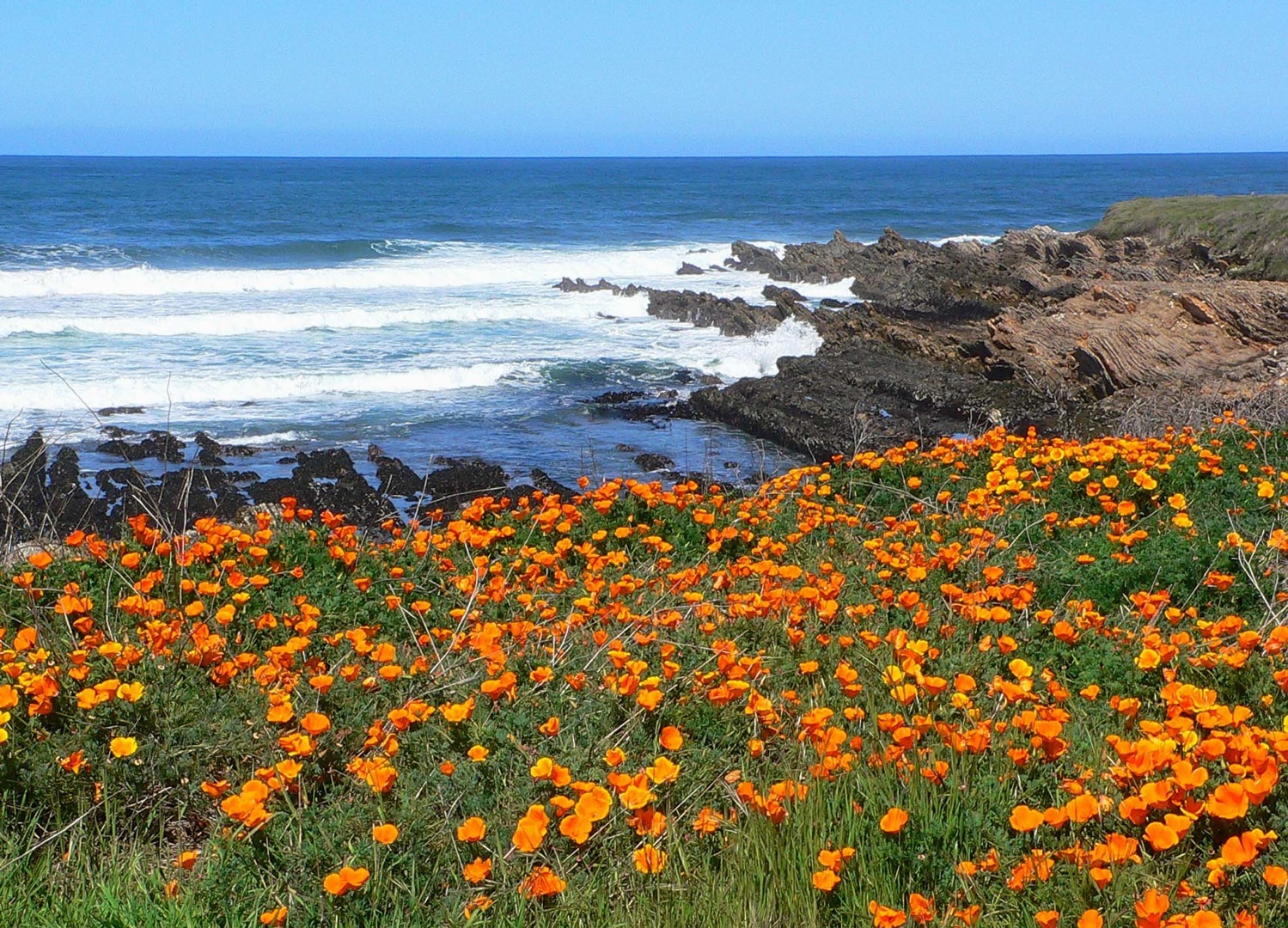 Jeffrey Ferraro is a travel enthusiast and expert. He is the Director of Marketing of Diamond Tours, the leading provider of charter group bus tours in the US and Canada, which include tours of major cities, bus trips to shows and casinos. Jeffrey loves uncovering lesser known travel destinations and sharing them with his customers.