AgriTourism Adventures at The Abalone Farm
by Tina Swithin
For the past 28 years, I have been in awe of the many wonders of the Central Coast. San Luis Obispo County never ceases to amaze me as there are hidden gems waiting to be discovered at every turn.
This week I was invited to tour The Abalone Farm in Cayucos and to be perfectly honest, I went into the experience wondering, "What exactly is an abalone?" I've tasted this delicacy in restaurants but didn't really think past the delicious morsels dancing on my palate.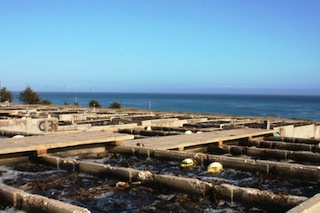 `
I arrived at The Abalone Farm to the site of hundreds of raised abalone tanks overlooking the Pacific Ocean and Morro Rock. I am thoroughly convinced that these little sea snails have one of the most stunning views around. We were quickly greeted by Brad Buckley, Sales and Marketing Manager, who, as it turns out, is somewhat of a legend in the abalone world. He was delightful from start to finish and nothing short of a walking encyclopedia on abalones.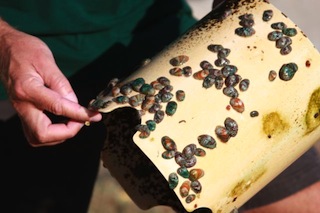 `
We were told that The Abalone Farm happens to be the largest aquaculture facility (18 acres) of its kind in the country and it produces over 100 TONS of California Red Abalone each year.
As we toured the facility, I gained a new appreciation for abalone and for the love and dedication that Brad has for The Abalone Farm.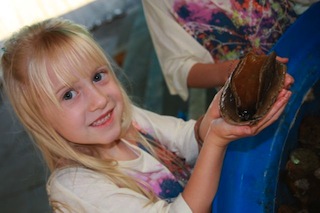 `
Each area of the farm contains a different age group of abalone from the tiniest babies that you have to strain to see up to the 25-year old massive abalones. The abalone are nurtured and cared for over a period of four years before they are taken to market and this particular farm distributes around 1,000,000 abalones per year.
If you haven't visited The Abalone Farm, I highly recommend a tour which you can do from June through September. All of the details on the tours are located on their Facebook page but generally, tours run on Thursdays during the summer and begin promptly at 10am. While you are there, be sure to check out the wall of abalone shells- it's amazing!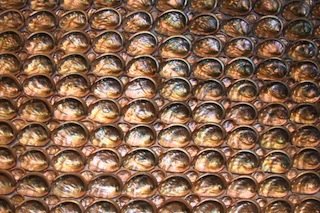 `
I also recommend heading out to one of our local Paso Robles restaurants to indulge in this scrumptious treat which I discovered can be prepared in a wide variety of ways.
In the name of research (wink wink), I did a little bit of investigating for you. While Artisan and Estrella are the only Paso Robles restaurants to keep abalone on the menu on a regular basis, there are others who feature abalone throughout the year. One such restaurant is Fenomenal which is currently planning a four-course abalone and wine pairing extravaganza on August 8th.
`
Just down the street, I had the opportunity to speak with Shandi Kobayashi of Artisan and here is what she had to say, "We love the Abalone Farm and we love Brad! Supporting a local sustainable farm is the focus of our restaurant and featuring abalone on the menu has always been a priority for us. Our abalone tostada creates a dish that is both approachable and interactive." You heard her right, folks- "Abalone Tostadas" (shown in photo).
The abalone is sautéed with rice flour, pork belly is rendered out crisp like carnitas while the pico de gallo has tomato, onion, cilantro, lime juice, jalapeño and salt, greens are arugula and frisee with avocado and sherry vinaigrette. Words can not do this dish justice so you will need to head over and try it for yourself.
For recipes that can be made in the comfort of your own kitchen, be sure to check out The Abalone Farm website where you will find everything from abalone steaks to BBQ'd abalone.
Tina Swithin is the Marketing Coordinator and Blog Manager for TravelPaso.com where she writes blog-a-licious articles about Paso Robles. Follow the Paso Robles Insider to get the inside scoop on all the haps in Paso Robles Wine Country.