An Adventurous Proposal
Last week we brought you the first installment of Romance Month from the male perspective by our very own Office Manager, Brendan Pringle. This week we bring you the second half, featuring our outdoorsy Director of Travel Trade, Michael Wambolt. Find out how he proposed to his nature-loving fiancée and how they plan on incorporating their admiration of the Central Coast into their wedding.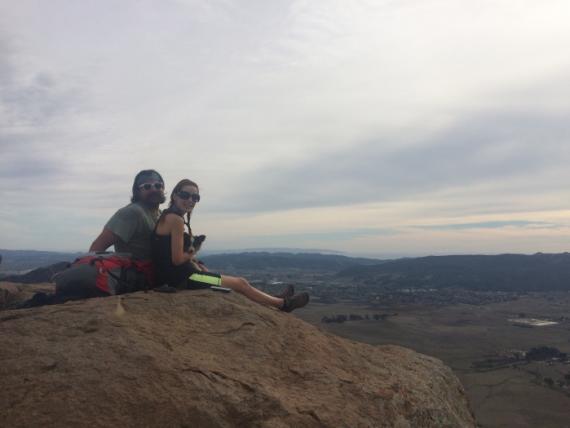 Neither of you are originally from San Luis Obispo County, how did you end up here?
I have been vacationing/visiting the central coast my whole life. I have an aunt that lives in Los Osos and my family had a vacation house in Cambria. We would come up to the coast several times a year. Growing up in Valencia CA the coast was always a wonderful quiet and relaxing get away. As kid it was it was a place to adventure out into nature: tide pools, trails and poison oak! What brought us here together actually started with a couple of fibs. When we met in Mammoth Lakes, she told me she was from Canada and I told her, "I have oceanfront property in Shell Beach - it's on the Central Coast of California." She socked me in the arm and said, "Get oot, my parents have a place in Oceano!" Come to find out, she was not from Canada after all (and I didn't have oceanfront property in Shell Beach), but she was very familiar with the Central Coast as she has also been vacationing and visiting her whole life as well. After that night, we met up again a couple of weeks later and before long, she and her cat joined me at my oceansound property in Arroyo Grande permanently.
We know you're a very adventurous and outdoorsy couple, what's your ideal "date" day in SLO County?
Well, we like to start out with what we call our "SLO to the Sea" trail. It starts out at Irish Hills and ends on the sandy shores of Pirate's Cove. Followed by tacos at Zorro's with our dog, Cricket and ending it with a sunset drive and bonfire on the beach at Grover.
Besides your proposal, tell us about your favorite day that you've spent with your fiancée.
There have been so many. Sunday BBQs, high fives on 11,000 foot tall mountain tops, the night of the surprise candlelit Nerf War in the house, lakeside deep in a National Park at sunset watching the fish catch bugs over the water, the first time I put her on my shoulders at a music festival….the second time I put her on my shoulders at a different music festival, the day our fluff nugget, Cricket, picked us. With life, there are ups and downs and an amazing partnership makes life's ebb and flow worth it. When you find the one, everyday is a favorite day.
Tell us about your proposal. How did you decide when and where you were going to pop the question?
The proposal! In late 2014 Jessica and I fell in love with the John Muir Trail, a 220 mile, 19 day backcountry backpacking trip that starts in Yosemite and ends at the top of Mount Whitney. We planned, prepped and trained for this from November 2014 and hit the trail in August 2015. My original plan was the pop the question at the 14,500 foot top of Whitney, but when we were ten days into our journey, thick smoke and falling ash from the Rough Fire put a halt to our quest. At that point, we were at the half-way mark of the trail and treating ourselves to a zero mile day at Muir Trail Ranch, a dude ranch deep in the John Muir Wilderness, and I had to hatch a new plan as carrying on in the smoke and ash was not a viable option. When I saw the enclosed hot springs at the ranch that was underneath her favorite kind of tree - the Foxtail pine - I knew that was the spot. I wasn't nervous, I always knew she was going to say yes. We've been through so much, lived through so much in just our two years together, that the thought of her saying "no" never crossed my mind. After our first non-dehydrated meal in ten days, we took to the hot springs. She was swimming around in the springs, looking up at her tree, and when she turned around, I was on my knee in the water, I didn't even have to say anything. Her hands flew up to her face and she said, "Michael, NOOOOO!" in complete surprise and shock. That was followed by, "I MEAN YES! YES! OF COURSE YES! Did I just ruin our proposal???"
Will you be getting married on the Central Coast?
We couldn't imagine getting married anywhere else. We are so lucky to live in an such an amazing place that is a destination for many others.
Will you be integrating your outdoorsy style into the wedding?
Absolutely. We're looking for an open air venue under coastal oaks and where we can be barefoot to the earth. No doubt our backpacks will be making an appearance in our decorations.
From the male perspective what have been your favorite and least favorite parts about planning?
We are just starting the process but we want to have a special day together to celebrate our life long union. It's amazing all that goes into at wedding. We are kind of simple folk that don't like a lot of fuss about us. My favorite part is watching my bride-to-be fret over the process, "I don't know how to wedding! Where do I start?" My least favorite part? Making decisions.