FREE-WHEELING TOURS, FIRST FRIDAYS, AND ART ON THE GO ARE ALL IN STORE FOR VISITORS THIS AUTUMN
Although we'd argue that the Central Coast itself—with its dramatic cliffs, lush vineyards, and sunny beaches—stands alone as a true geographical work of art, there's ever more to admire within SLO CAL's own galleries, studios, and workshops. This fall, prepare to find inspiration waiting around every corner. All you need to know is where to look.
ARTISTS IN THEIR NATURAL HABITAT

So often, artists are held on pedestals, with their art presented behind glass, far removed from the public. Not in friendly, laid back SLO CAL. During Arts Obispo's Open Art Tour (Oct 14-15 and 21-22), you can explore local artists' studios and workshops—even their own homes.
This free event represents one of the largest self-guided art tours in the country, featuring more than 200 artists working with paint, wood, glass, metal, ceramics and more. This "choose-your-own art adventure" is truly unique; you can even purchase works directly from the artists themselves, many of whom are in the midst of creating new masterpieces right before your very eyes.
Tour hours are 10 a.m. To 5 p.m. Oct 14-15 and 21-22. For a full-color print catalog, an online catalog or downtown a mobile-friendly map, click here.
EXPLORE NEW WORLDS AT SLOMA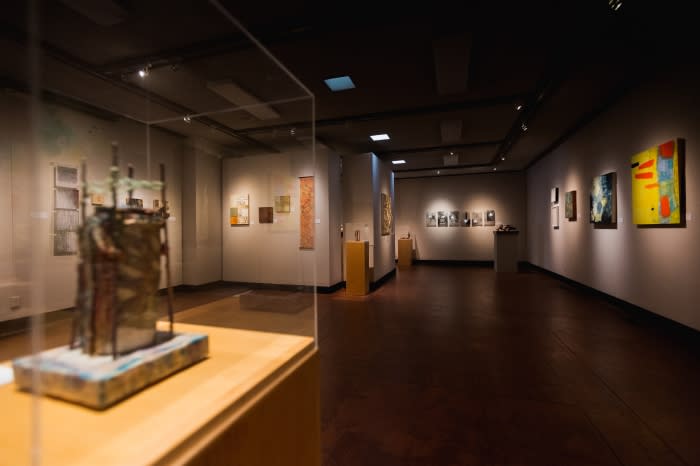 The SLO Museum of Art (SLOMA) is your portal to new and exciting worlds located right here in SLO CAL. A host of fall events are coming down the pike perfectly suited for every interest (and we really do mean every fancy).
FILM FUN
A film screening of "A Conversation with artist Maya Lin" will kick off this Oct. 16, featuring a unique take on what it means to create sanctuary in this modern world. Interested in both art and architecture, Lin creates places of refuge and contemplation hidden amongst highly public spaces. Constructed on an intimate human scale, these spaces invite visitors to touch, feel, respond, and reflect.
Love to explore the art world through film? SLMOA films screen the third Monday of each month at 7 p.m.
ART AND GO!
On Nov. 2, grab a lunch to go (we recommend SLO Provisions) and enjoy a free feast for the eyes with Art at High Noon, an art appreciation program for art lovers on the go. These wonderful "lunch breaks" vary from art history lecture, artist's talk, or activity that fits perfectly into your day of exploration across the county. This fall's upcoming event features a meet and greet with artists Michael Pribich and Bill Weiss to discuss the exhibition "Selections NYC." The artists will also give a guided tour of the exhibition with SLOMA curator Ruta Saliklis. Excited to learn more? SLOMA offers to-go offerings every on the first Thursday of every month starting at 1 p.m.
SCULPTED SIGHTS
On display at the SLOMA Gallery through October, be sure to check out California Sculpture Slam 2017, which offers up a unique opportunity to see current works by both established and emerging sculptors. Ranging from pedestal, to freestanding, to wall-mounted pieces, the 49 artworks in this exhibition were selected from 195 entries and include sculpture made from metal, wood, stone, glass, and fabric. The selected artists come from all over the California and a dozen call SLO CAL home. You won't be disappointed by this diverse array.
HIGH (ART) TEA
A rather interesting display that will get you all warm and cozy for fall? Donald Frith's "Teapots," a showing of whimsical tea kettles that are more than the sum of their parts. Running through October, the show reveals the artist's technical expertise and ingenious use of porcelain, precious woods, and acrylics. Yes, these teapots really do pour, too!
RUB ELBOWS WITH LOCALS ART
If you really want to experience the friendly and eclectic vibe of the SLO CAL art scene, plan to attend one of Arts Obispo's First Friday Art After Dark Events, held on the first Friday of each month. These iconic happenings occur all across local downtown businesses, where rotating creative works of art are hung with great care.
What's more, local wine, beer, and other treats are often available for tour-goers. That means you'll be able to meet area artists, enjoy a pre-dinner appetizer, and rub elbows with the community all in one go! No admission fee or ticket required—just bring some good conversation and a light sweater or jacket.