Every year, downtown Arroyo Grande is taken over by a car show presenting hundreds of great antique and classic cars. Downtown streets and several parking lots are blocked off, and filled with colorful and beautifully restored cars dating from the 'teen's to the early 1990's or so. There are whole rows of Model A's, Model T's, T-Birds, Corvettes, muscle cars, and a plethora of cars you haven't seen since your childhood, if then. 

 (Colorful line of cars with rumble seats.)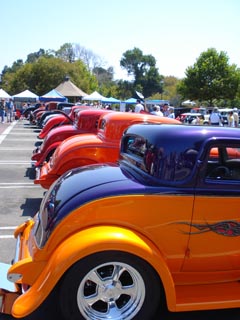 Even if you can't tell a Chevy Bel Air from a Hudson until you see the nameplate, this is a fun show. Bring the kids and show them what your parents used to drive. What you used to drive. What you WANTED to drive when in high school. What your grandparents used to drive. (Actually, my grandmother's last car was a 1962 Hudson. As she once commented about it: "Great car. Lots of chrome".) 




Housekeeping details: You will do a lot of walking, so wear comfortable shoes. There are several food vendors and many great local restaurants downtown. (Check out Klondike Pizza, F. McLintock's and Doc Burnstein's Ice cream.) The show is know officially as the Arroyo Valley Car Sho' (and yes, that is with an apostrophe instead of a a "w".) Weather often starts a bit cool in the morning, and then warms up, so wear layers. The Show runs from 10-4 PM.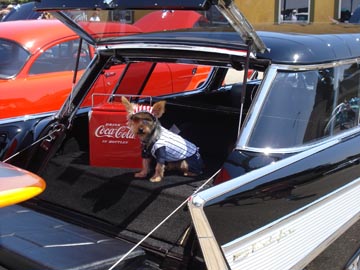 (Some cars complete with period accessories - and often pets get into the act as well.)