Arroyo Grande Valley Harvest Festival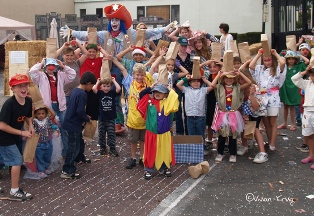 The 74th Annual Arroyo Grande Valley Harvest Festival is here, kicking off on Friday September 23rd at 4pm starting with the 46th annual Rotary Club Fish Fry, along with the Salsa and Chili Cook Off, lots of games, food and craft booths, announcement of the Grand Marshal, music, entertainment, free movie (Babe), haunted maze and much much more!
The festival kicks off again on Saturday morning September 24th at 10am with the Hometown Parade followed by even more entertainment, games, contests, food, crafts and displays! Back this year by popular demand are the Wiener Dog Races, Costume Contest, Baking, Canning, Pie Honey and Bread Competition, an expanded Farmers' Market, Big Ditch Derby, Diaper Derby, Spelling Bee, Model Train Display, President Lincoln, Ballooney the Clown, Robotics, Antique Engine Display, Boy Scout Expo, Pie Eating Contest, kids Carnival rides and bounce houses and the Whiskerino Contest. Come down to the Village of Arroyo Grande for the 74th Annual Arroyo Grande Valley Harvest Festival.
New this year!! Each year we add new events. This year new events include a Grape Stomp, Jewelry Contest, Ice Cream Making Contest, Wine Appellation Display, Butter Churning, Homegrown Fruit, Vegetable and Flower Competition and Police Memorabilia Museum, just to name a few! Information on events, displays, entertainment, contests and entry forms are on line at www.agharvestfestival.com Don't miss all the free family fun.