ART AFTER DARK
6 - 9 pm •  November 4th, 2011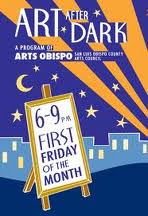 ARTS Obispo · 544-9251 · programs@artsobispo.org

1. Art Central: 1329 Monterey 788-0887 - "Little Treasures", a show of 15 different artists' pieces, in a variety of mediums, all priced under $100 for holiday shoppers. ArtCentralSlo.wordpress.com

2. ARTS Space Obispo: 570 Higuera #165 (SLO Creamery) 544-9251 - Sabor: A Taste of Latino Artists from the Central Coast, 7 Latino artists display works in sculpture, painting and assemblage. artsobispo.org

3. B. Anthony & Company Jewelers: 674 Higuera 544-8988 - Rosie Lord is a photographer specializing in photos of the beautiful landscapes of the Central Coast. Visit her website: sunsetstagingcompany.com

4. Bambu Batu: 1023 Broad 788-0806 - Featured artisans Rachel Dreamwoven, Skin Food by Danielle, ceramics from Rebecca Wamsley, Tarot with Jude Alexander. Plus local brew from Creekside & live music. bambubatu.com

5. Baxter Moerman Jewelry: 1118 Morro 305-8118 - Regretfully, we are not able to participate this month. See you for the next Art After Dark show in January! baxtermoerman.com

6. Coalition: 974 Monterey 595-1010 - Deck It Out! Experience quality art on an unusual canvas: a skateboard deck. Bid on your favorite, 100% of the proceeds benefit the SLO Skatepark Fund.

7. compact: 1166 Higuera 235-3256 - New Times Photo Contest Winners - 6-9 pm. compactgallery.net

8. Frame Works: 339 Marsh 542-9000 - Artists Reception for our Winter Jewelry Show featuring a unique and imaginative collection of jewelry by 12 local artists. SLOART.com

9. GALA Center: 1060 Palm 541-4252 - Recent oil and encaustic paintings by Nixson Borah. Nudes, portraits, flowers, dancers and combinations of these in dream-like images. ccgala.org

10. the gallery @ energy in motion: 1023 Nipomo, Suite 50 (Soda Water Works) 235-6297- "Spirit and Flesh," prints, paintings and etchings, a collaborative show expressing body and emotion. Barbara Rosenthal and Robert "Rosey" Rosenthal. energy-in-motion.net

11. The Gallery at the Network: 778 Higuera, in the Network 788-0886 - "Fabulous Fiber" continues with gorgeous work by Beryl Reichenberg, Sandy Christey, April Daily, Sharon Gellerman, and Karen Wilkinson. galleryatthenetwork.com

12. Granada Bistro and Lounge: 1130 Morro 556-4211 - Granada Bistro & Bri Deveraux invite you to watch as we "color outside the lines" using unconventional canvases. granadabistro.com

13. Growing Grounds Downtown Store: 956 Chorro 544-4967 - Will not have an artist this month. Stop by and order your holiday tree and poinsettia! Open 9am-5:30pm.

14. Hands Gallery: 777 Higuera 543-1921 - Exciting new work is arriving daily for the holidays. Shop early for best selection. Live music by Don and Dan. handsgallery.com

15. Heaven and Earth: 964 Chorro (Upstairs) 602-1542 - Stop by to see what's new for November.

16. History Center of San Luis Obispo County: 696 Monterey 543-0638 - Displayed is our new exhibit on the Dallidet family. Stop by to learn the fascinating history of this local family. historycenterslo.org

17. humanKind Fair Trade: 982 Monterey 594-1220 - Carolyn Berg's photography explores the world, focusing on the play between light, color, and the beautiful intricacies of each moment. humankindslo.org

18. iDrew Fine Art: 331 Pacific 234-2302 - Studio Closed. Instead, come to the Steynberg gallery for Drew's new show entitled: "Things Unseen" featuring music by the tipsy gipsys. drewdavis.com

19. Josephine Crawford Studio: 873 Church (Railroad district) 543-2237- 5-6pm Pre-Party Salon. Maps & previews of Art After Dark. (close at 6).

20. Kevin Main Jewelry: 720 Higuera 547-0662 - Using oil & other painting mediums, Bradley Wilson combines recognizable imagery with colorful abstraction, exploring structure & design to create intricate landscapes. kevinmain.com

21. Kreuzberg, Ca: 685 Higuera 439-2060 - Stop by our new location to see local art & enjoy a cup of coffee or glass of beer or wine!

22. Linnaea's Café: 1110 Garden 541-5888 - Paintings by Laurel Sherry. Meet the artist during Art After Dark. linnaeas.com

23. Luna Rustica: 895 Monterey 542-0825 - Hand-picked ceramics from the National Ceramic Museum in Tonola, Mexico. Exhibiting ceramic traditions from pre-Hispanic to present day by some of the most renowned artisans of Mexico.

24. Old World Rug: 1021 Broad 704-1579 - We will be displaying one of a kind Wallets, Clutches, and Purses made by local SLO company Modepopulour.

25. The Photo Shop: 1027 B Marsh 543-4025 - Exhibiting "Telling Tales: Colors of Peru" beautiful photography by Janna Nichols. Artist will be in attendance. photoshopslo.com

26. San Luis Obispo Museum of Art: 1010 Broad, in Mission Plaza 543-8562 - "Dimensions" a juried exhibition of fine craft; "Seasons: Works by Dotty Hawthorne" and "Gone Fishin', sculptural installation by George Jercich. sloma.org

27. Stephen Patrick Design: 888 Monterey 544-3326 - Talented local artists: J. Salazar, P. Forrest, M. James, J.Theis, R. Wayne, S. Pierce, D. Wolfe, K. Patrick, M. Manning, B. Reyes. Canvas, Furniture, Jewelry, Botanicals, Photography.

28. Steynberg Gallery: 1531 Monterey 547-0278 - Works by Drew Davis, "Things Unseen" featuring music by the Tipsy Gipsys. steynberggallery.com

29. Sweet Earth Chocolates: 1445 Monterey 544-7759 - Days of the Dead - a group event featuring work by Lee Lawson, Susan Lara, Nancy Koren, Rebecca Wamsley, and more.

30. West End Espresso & Tea: 670-A Higuera 543-4902 - Exhibits talented local artists - acrylics, oils, photography - various styles & types. Come see what's new! westendespressoandtea.com