ART AFTER DARK
6 - 9 pm • February 3rd, 2012
ARTS Obispo • 544-9251 • programs@artsobispo.org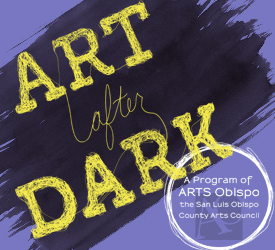 1. alegria wine and ware: 942 Chorro 596-0200: Works created by, for, and about our Central Coast region, its people and its places. alegria-slo.com

2. Art Central: 1329 Monterey 788-0887: Group show "Blissful Blues" will run from Feb 3rd through Feb 29th. Reception Feb 3rd 6-8pm, come beat the winter blues with us. artcentralslo.wordpress.com

3. ARTS Obispo: 1123 Mill 544-9251: Join us in our new location & pick up Art After Dark info before you head downtown! artsobispo.org
4. Atmodsphere: 1119 Chorro 594-1119: Sunshine + Noir. Photography by LA artist Thomas Allerman, and a furniture exhibit by local craftsman Jory Brigham. atmodsphere.com

5. B. Anthony & Company Jewelers: 674 Higuera 544-8988: Featuring local jeweler Linda Lewis who has been creating one of a kind designs for over 35 years.

6. Bambu Batu: 1023 Broad 788-0806: Fine embroidery by Giggly Mama, jewelry by Andrea Rubenstein, hair accessories from Annika Laurel, Tarot with Jude Alexander. Plus Creekside brews & live music. bambubatu.com

7. Baxter Moerman Jewelry: 1118 Morro 305-8118: 2nd Annual Bracelet Show: Featuring a wide variety of handmade bracelets from local artists and crafts persons, utilizing many different materials. baxtermoerman.com

8. compact: 1166 Higuera 235-3256: Emily Joyce, Paintings and Prints Feb. 3-25, Opening Feb. 3, 6-9pm. compactgallery.net

9. Frame Works: 339 Marsh 542-9000: Featuring original oils, acrylics and watercolors by local artists Alfredo Arciniaga, Leslie Rhae Barber & Marguerite Costigan. sloart.com

10. GALA Center: 1060 Palm 541-4252 - Double-Takes: A survey of Paintings by Wes Christensen, a display of more than 12 narrative works. ccgala.org

11. the gallery @ energy in motion: 1023 Nipomo, Suite 50 (Soda Water Works) 235-6297: "Natural Selections" Rebecca Brockway. Textured canvases and torn paper contribute to the artist's colorful abstract view of the natural world. energy-in-motion.net

12. The Gallery at the Network: 778 Higuera, in the Network 788-0886: Come the Gallery at the Network to see the amazing Glass Sculpture of Chris VanGoethem and meet the artist. galleryatthenetwork.com

13. Granada Bistro and Lounge: 1130 Morro 556-4211: Borracha's Bazaar. Art you can wear. Art you can eat. Art to nourish you. Art you can drink. All created by local artists and artisans. Cheers! granadabistro.com

14. Growing Grounds Downtown Store: 956 Chorro 544-4967: No artist until May. Visit during business hours to find great plants and gifts, Tues-Sat. 10am-5pm, and Sundays 11am-5pm.

15. Hands Gallery: 777 Higuera 543-1921: New shipment of hand painted wood furniture from STICKS. Treasure boxes, Grandfather clock, Buffet w/ mirror and lots of new Lazy Susan's. handsgallery.com

16. Heaven and Earth: 964 Chorro (Upstairs) 602-1542: Stop by to see what's new for February.

17. History Center of San Luis Obispo County: 696 Monterey 543-0638: Special book signing with local authors Robert Soto (An Old California Family) and Debbie Soto (Glimpses of a Bygone Era). historycenterslo.org

18. humanKind Fair Trade: 982 Monterey 594-1220: Apocalyptic visions by painter Chris Love of the SF artist collective Merchants of Reality. humankindslo.org

19. iDrew Fine Art: 331 Pacific 234-2302: Come by Drew's art studio (hidden behind the boat shop) to enjoy some new works! Don't forget to buy for your sweet-heART! drewdavis.com

20. Josephine Crawford Studio: 873 Church (Railroad district) 543-2237: 5-6pm Pre-Party Salon. Maps & previews of Art After Dark (close at 6).

21. Kevin Main Jewelry: 720 Higuera 547-0662: Kevin Main Jewelry hosts 10 invited artists who've gone "Head Over Heals," creating artwork for ARTS Obispo's 2012 Arti Gras celebration! kevinmain.com

22. Kreuzberg, Ca: 685 Higuera 439-2060: Stop by our new location to see local art & enjoy a cup of coffee or glass of beer or wine!

23. Linnaea's Café: 1110 Garden 541-5888: Encaustic art by Margaret Bertrand & Bob Dodge www.studiodoor.net - Meet the artists during Art After Dark. linnaeas.com

24. Old World Rugs: 1021 Broad 546-9198: Handmade wallets, bags, earrings and other unique creations made with recycled materials created by local artists Richard & Dana Lossing.

25. The Phantom Project: 672 Higuera: The Phantom Project, affiliated with SLOMA, presents it's 1st juried all media art show in vacant retail space running Feb. 2 - March 2.

26. The Photo Shop: 1027 B Marsh 543-4025: David Einung's Photo Exhibit great images of familiar sites with heightened awareness of color, texture and detail. Artist will be in attendance 6 to 8 pm. photoshopslo.com

27. Picking Daisies: 570 Higuera #120, 783-2434: Second annual showing of Tracy Taylor Valentine Art - new original watercolors plus Valentine cards. pickingdaisiesinslo.com

28. San Luis Obispo Museum of Art: 1010 Broad, in Mission Plaza 543-8562: Exhibits "Traces, Marks and Fragments", "Sandow Birk: The Chosen Ones", "1001 Nights with Philip Carey", and "Bryce Vinkurov: Foodies in Exile." sloma.org

29. Stephen Patrick Design: 888 Monterey 544-3326: Talented local artists: J. Salazar, P. Forrest, M. James, J.Theis, R. Wayne, S. Pierce, D. Wolfe, K. Patrick, M. Manning, B. Reyes. Canvas, Furniture, Jewelry, Botanicals, Photography.

30. Steynberg Gallery: 1531 Monterey 547-0278: Presents an exhibition of sculptures by Simona Bellini and watercolors by Tom Di Santo. Please join for the opening reception for a truly great show titled Stagioni. steynberggallery.com

31. Sweet Earth Chocolate: 1445 Monterey 786-4541: New Clothes for the Empress: translucent clothing by Melinda Forbes - handmade confections of vintage lace and recycled materials.