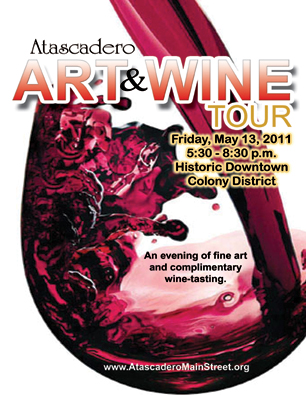 The next Atascadero Art & Wine Tour will be held on Friday, May 13th from 5:30 to 8:30 p.m. Nineteen merchants, more than a dozen artists, and five wineries are scheduled take part. There is no admission charge. Stroll around the shops, sip fine wine, view fine art, visit a fine downtown.
Atascadero's historic downtown Colony District is a charming place to spend the evening, especially during the quarterly Art & Wine Tours. Warm evenings are shirt-sleeve friendly and the people are fun to talk with about local happenings and activities. It's a good time to poke your head into the little gift shops tucked in along the streets, especially on Entrada Avenue.
For dinner you can choose from fine dining at Shockley's at the luxurious Carlton Hotel in the center of the downtown or go casual with great burgers from Sylvester's.
Get more info: http://www.atascaderomainstreet.org/.