Atascadero Faces of Freedom Memorial
The Atascadero Veterans Memorial Foundation was created in April 2006. The committee ws comprised of veterans and community members who goal was to build a world class veterans memorial on the California Central Coast. Foundation members were retired, active duty and reserve military, military family members, local and national corproate sponsors, community members and sculptor Mark Greenaway of Atascadero.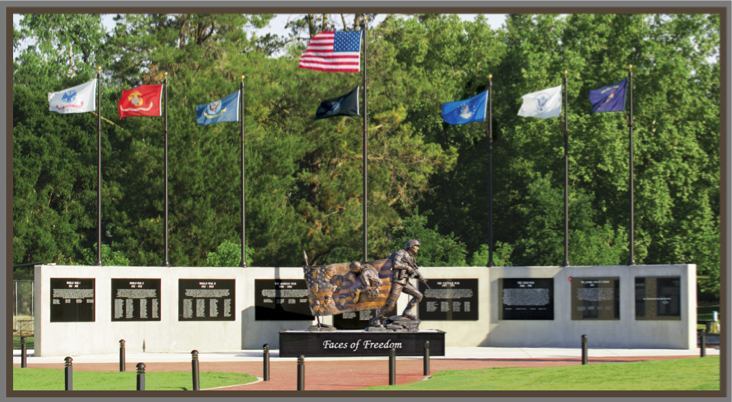 The result of this groups fundraising and design work is the magnificent San Luis Obispo County Veterans Memorial at Atascadero Lake Park near the intersection of Highways 101 and 41.
The sculpture depicts an American military man in the vanguard of a pantheon of American military heros dating back into history. The reverse side of the statue features the American flag and the American eagle. Emblazoned on granite obelisks surrounding the statue are the names of those from this area who perished while serving this nation. The entire complex is approached on a pavered surface covered with the names of memorial sponsors. Over all is the array of flags capturing each freedom breeze.
The San Luis Obispo County Faces of Freedom Veterans Memorial is prominent stop on the Purple Heart Trail, which has been established across the country.
For more information about the memorial:
Atascadero Veterans Memorial Foundation
P.O. Box 1466
Atascadero CA 93423
(805) 462-1267
REAAnnH@msn.com
Atascadero CA - "Get Stuck On Us!"