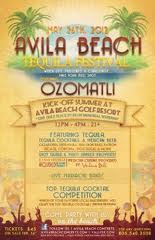 As the California Festival of Beers moves to Madonna Inn in 2012, the Avila Beach Golf Resort wishes Hospice continued success for a great event!  Avila's not letting the sand settle under its feet!  Come celebrate with us this Memorial Weekend.
Home of San Luis Obispo's Memorial Day Weekend festivities for over 20 years, the Avila Beach Golf Resort is excited to announce the first annual
Avila Beach Tequila Festival! The Avila Beach Resort presents Tequila Festival feat Ozomatli!
Featuring Tequila, Tequila Cocktails & Mexican Beers. Types include Cazadores, Herradura, 1800, Don Julio, Patron, Tecate, Corona, Dos Equis & More! Shot Glass and Party Shades provided! Your ticket includes 6 (.5oz) tastings. Mexican Cuisine provided by Ventana Grill for an additional cost. Must be 21 years+ to attend.
The only pairings you'll find here, are margaritas and flip flops!   Tickets on sale February 14
th
at 10am. 
http://www.vallitix.com/
or call 888-825-5484
See you on the beach in Avila May 26!