Every year, the main street of Baywood Park is closed off for a large celebration. Technically it is for "Oktoberfest", but I think they just want to have an excuse to celebrate.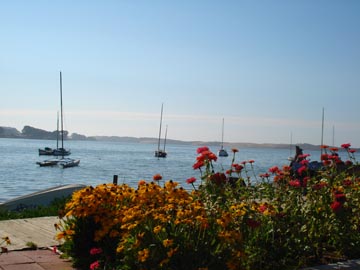 (Fall colors at Baywoord Park Pier and Gardens)
Baywood Park is almost undiscovered gem in SLO County, and I wouldn't be surprised if most SLO County residents had never been there. Baywood Park (BP) is so small it shares its zip code with the next door - and more famous and much larger - Los Osos.
However, Baywood Park has its own distinct downtown, with a few stores, several restaurants, an art gallery and two B&B's. The owners of the B&B's are split as to where they want to be seen as located. The
Baywood Inn B&B
naturally wants to be listed as located in BP, the
Back Bay Inn
- right across the street, lists its address as Los Osos.
At one end of the main street (2
nd
Avenue) in BP is a cute and very small pier, that juts into the Morro Bay estuary. You also have a great view of the Morro Bay dunes and the "Sweet Springs" Nature preserve on the other side of the small bay. VERY picturesque.
As for Oktoberfest itself, expect lots of interesting arts and crafts and food vendors. There is also a small car show, with about 50 or so classic cars. Various local groups will be performing throughout the day.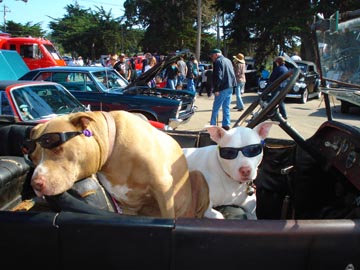 (Cool Cat Dogs with their "been there, done that attitude" at the Baywood Park Oktoberfest Car Show)

Housekeeping details: You will do a lot of walking, so wear comfortable shoes. There are several food vendors and restaurants downtown. Weather often starts a bit cool in the morning, and then warms up, so wear layers. Parking is in the residential district nearby.