Best of San Luis Obispo County Diners & Dives!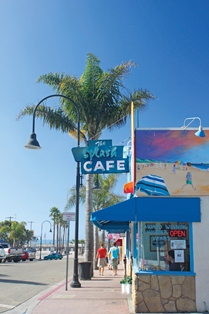 Splash Café
Address: 197 Pomeroy Ave., Pismo Beach CA
Phone: (805) 773-4653
Website: http://www.splashcafe.com/
Brief Description: Splash Cafe has been a favorite destination in Pismo Beach, California since 1989, specifically for their award-winning clam chowder. They have received requests from Gourmet Magazine as well as Bon Appetit Magazine for our clam chowder recipe. They make their clam chowder fresh from scratch everyday in their very own cafes. Their customers drive from cities 145 miles away to come to and eat their fresh clam chowder. Splash Café serves more than 30,000 gallons of clam chowder per year between the two cafes!
Rock and Roll Diner
Address: 1300 Railroad St., Oceano CA
Phone: (805) 473-2040
Website: http://www.rockandrolldiner.com/
Rock and Roll Diner features a surreal 50's theme. The establishment is built upon two train cars, creating the ultimate diner feel. With an ambiance filled with pictures and antique memorabilia, you are sure to be fascinated. Rock and Roll Diner offers a traditional diner menu including malts & shakes, burgers, sandwiches and an award winning Clam Chowder. The menu also includes BBQ, Salads, pastas, seafood, and even Greek and Mexican plates. The Diner is open daily serving Breakfast, Lunch, and Dinner.
Jocko's Steakhouse
Address: 125 N. Thompson Ave., Nipomo CA
Phone: (805) 929-3565
Known for the serving the best steaks on the Central Coast. Vegetarians beware: Jocko's is all about meat - big, juicy steaks and chops, grilled to sizzling perfection on a fragrant oak-pit barbecue with all of the Western trimmings. If you yearn for a great steak or have heard the stories about Santa Maria-style barbecue, this is the place! Known for its huge portions, a real bar (not a cocktail lounge) and its raucous, down-home atmosphere, Jocko's is well worth the drive. Going strong for more than 50 years, Jocko's is the pride of Nipomo.
Taco Temple
Address: 2680 Main St., Morro Bay CA
Phone: (805) 772-4965
Known for their Calamari Tacos! Taco Temple achieves a unique blend of atmospheres by combining wine lists and surfboards, gourmet desserts and tropical decor. This North Morro Bay favorite offers a delicious and inventive menu of California-style Mexican dishes. The ingredients are fresh and nutritious - you can actually leave feeling full and healthy at the same time.
The Range
Address: 22317 El Camino Real, Santa Margarita CA
Phone: (805) 438-4500
The Range doesn't accept reservations or credit cards, and don't bother trying to find a website or social media pages. It marches to the tune of its own drummer, and patrons happily follow along. Starters include mussels steamed in Pabst Blue Ribbon, a classic French onion soup topped with melted Gruyère, and Angus beef carpaccio drizzled with local olive oil. Entrées might run the gamut from a coffee-crusted rib-eye, to sautéed sand dabs with a lemon beurre blanc, to pan-roasted elk medallions with a Montmorency cherry reduction. Things are decidedly meat-centric, but options like the house-made wild mushroom ravioli with sherry and sage cream sauce are certainly no afterthought. The Range uses quality local ingredients whenever feasible, and makes everything possible in-house, from fresh-baked breads to start your meal, to salad dressings and desserts such as a Meyer lemon buttermilk pound cake or lemon and honey crème brûlée. The reasonably priced wine list showcases local labels, and includes a respectable by-the-glass selection.