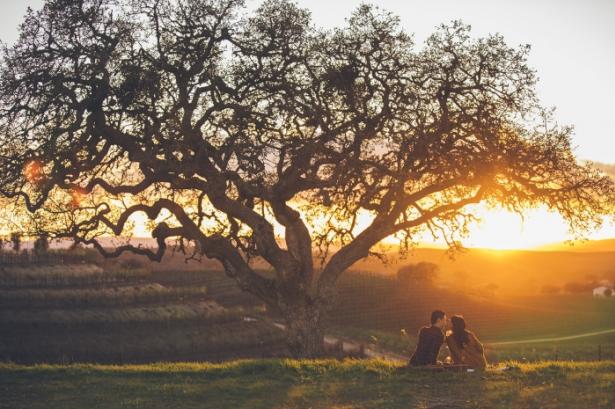 Experience the region's original red this Spring in Paso Robles Wine Country
By Hayley Thomas Cain
Let's hop into the wine time machine and go "way, way back" to the birth of wine in Paso Robles, OK? Today, the rolling green terrain is known for hundreds of wine grape varietals, but only one grape can really claim to have really put Paso Robles on the map. That grape is, of course, Zinfandel. Throughout the decades, this enchanting red Italian wine grape has maintained its stellar image as Paso's heritage varietal for good reason. In a word? Longevity.
In Paso today, you can still find many gnarled, twisted (and prized) dry farmed Zinfandel vineyards planted long before the invention of technicolor (the first zin vines are said to have been planted in the 1800s). Ignacy Paderewski, arguably Paso's most notable resident, famously planted Zinfandel at his Paso Robles estate as early as 1914, later entering his bottles into wine competitions. The Polish dignitary and world renowned pianist knew something that all modern day SLO CAL residents would soon find out: Zinfandel isn't just for Italy. Whether you enjoy your Zinfandel jammy, zesty, fruit forward, full bodied, or light—we'll show you the best way to enjoy King Zin in SLO CAL this spring.
Taste Vintage Paso
Once known as a simple barbecue or party wine, trusty Zinfandel has truly come up in the world. You don't need to look far to see just how high this humble Italian varietal has risen. This year's Vintage Paso Robles Zinfandel Weekend, in mid-March celebrates the varietals rich history in style. Sniff, swirl savor, and socialize while exploring a range of flavorful events, including a full weekend of individual winery happenings, an educational Zinposium and an elegant Z After Party. Get ready to imbibe as well as educate your inner cork dork with help from a panel of winemakers that includes Master Sommelier Peter Neptune, a 31-year veteran of the wine business and celebrated wine scholar.
Zintastic Wine Adventures
Get zippy! Stop by Ancient Peaks Winery in Santa Margarita anytime this spring and summer, where their plush, velvety 2015 Renegade blend features 55 percent Syrah, 27 percent Zinfandel, 13 percent Petite Sirah, and 5 percent Petit Verdot. Of course, if you're feeling like a real renegade, you can also take a high-flying excursion over chaparral covered mountains thanks to the winery's thrilling zipline experience at Margarita Adventures.
Take a mini-sensory vacation at Halter Ranch Vineyard. Transport yourself to Spain as you sip and savor their Rhône and Bordeaux-styled wines paired with killer Spanish-style paella on the tasting room patio Saturday and Sunday. Don't stop there, schedule a tour of their state-of-the-art winery and wine caves to get the whole Halter experience or plan an excursion tour where you'll meander the property in a Land Rover Defender sipping wine along the way.
Vineyard tours of vines and olive groves, behind-the-scenes, barrel tastings, and savory appetizers, oh my! The folks at Still Waters Vineyards are hosting a slew of Zincentric events March 17-18, and there's even a Zinfandel food and wine pairing on the roster! Not only will you meet the owners and winemaker, you'll also get to meet artist Nancy Pharis, who will be selling her stunning landscape paintings, too. Nestled on a sprawling estate vineyard that was once a lake (hard to believe, but true), there will be no shortage of stunning landscapes, that's for sure.
Dine Zinfully
Hungry for more? SLO CAL is full of superb places to dine sip, and say "ahhhh." There's o need to hit the winery trail when you can belly up to farm to table ingredients and a long and illustrious wine list (Zinfandels included, of course!). Order up a glass or bottle at these fab wine-loving restaurants: Buona Travola, Cello Ristorante & Bar, La Cosecha , Thomas Hill Organics, Paso Terra or The Restaurant at JUSTIN Winery to name just a few. After a day taking in the enticing wine events in and around Paso, we recommend making a reservation at acclaimed and cozy Bistro Laurent, where you can find eight local Zinfandels on one very thoughtfully curated wine list. You've been warned. When faced with a decision that includes Tobin James' James Gang Reserve 2012, Arndt Cellars Dusi Zinfandel 2013, Ridge Benito Dusi Ranch 2014, Lone Madrone Bailey Ranch 2013, and Peachy Canyon Especial 2011, you may have to order a flight or two.
Plan your zinfandel-filled weekend today!