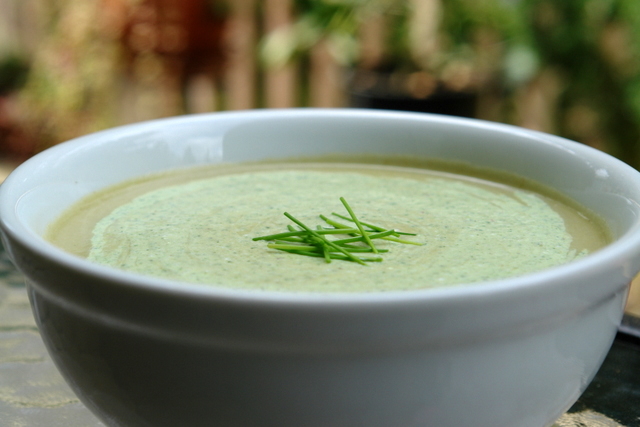 Los Osos & Baywood Park - Gateway to Montana de Oro State Park, wild flowers blanket the landscape each spring. Locals never miss the Monday afternoon farmer's market that is held year-round in Baywood Park. It is a one-block market that is packed with the very best seasonal produce and organically-based prepared food and products that the central coast has to offer. Come experience the "Best Little Farmers Market" of the central coast to get your ingredients for this yummy recipe.
Bull's World Famous Leek and Potato Soup
Ingredients
3 strips bacon
1.5 lbs California leeks (6-8 good size leeks)
½ cup great white wine such as Midnight Cellars Estate Chardonnay
1.5 lbs potatoes
3-4 cloves of roast California garlic
40-48 oz. chicken stock
½ cup heavy cream
1.5 tsp salt
1 tsp pepper
1/8 tsp ground cumin
1/8 tsp cayenne pepper
Pinch smoked paprika
2 bay leaves
California extra virgin olive oil (try Pasolivo Signature from Paso Robles)
Finely grated Parmigiano Reggiano
Sliced baguette
Wrap a garlic bulb in aluminum foil and add a tsp of butter or olive oil before sealing. Bake at 350 until soft and carmelized. As the garlic is roasting prepare the following:
-Cut bacon into small pieces @ ¼" wide and set aside
-Cut leeks approximately 5-6" from the roots, slice off the roots, and wash thoroughly.
-Slice leeks lengthwise, rinse again, and then slice thinly. Place into a bowl.
-Combine spices into a mise-en-place bowl.
In a large soup pot over medium high, heat one tbsp olive oil and add bacon pieces. Cook until crisp and most of the fat is rendered. Add the sliced leeks. Cook and stir until the leeks wilt but remain bright green. Add the white wine to deglaze the pot. Cook off the alcohol for a minute and then add the chicken stock (40 oz for a thicker soup/ 48 for a bit thinner.) Add the spice blend including the bay leaves and stir well.
Rinse and cut the potatoes into ½ - ¾" pieces and then add to soup pot. When the potatoes are fork tender add the roast garlic cloves, turn off the heat, and remove the bay leaves.
Use an immersion blender and puree the bacon, leeks, potatoes, and garlic. Blend until smooth and then add the heavy cream. Stir until an even consistency is reached and then taste. Add finishing salt or pepper as desired. To serve, ladle the soup into a bowl, drizzle with good olive oil, sprinkle with the grated Parmigiano and fresh ground pepper. Add a baguette slice and enjoy with a big, dry, slightly oaky white wine.