Cal Poly Hosts Fifth Annual Ballroom Dance Competition
Featuring Coach to Contestants of the Popular TV Show, Dancing with the Stars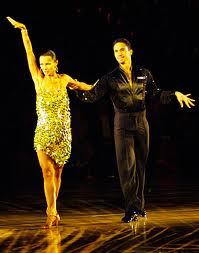 The Cal Poly DanceSport Team will host its fifth annual Ballroom and Latin DanceSport Competition on Saturday, Feb 4, 2012 from 11am to 10pm in Cal Poly's Chumash Auditorium. More than 15 collegiate teams and DanceSport athletes from all over California have been invited to compete at what is one of the largest annual dance competitions in San Luis Obispo County.

The competition will reveal the talents of both local and visiting DanceSport athletes in events in the International and American Style Ballroom Dances. There will six different levels of competition, ranging from newcomer to the highest "open-level" competitors. There are also events for nightclub dances such as Salsa, Hustle, Argentine Tango, and Lindy Hop Swing; as well as a formation team competition, collegiate team match, and other special performances.

The competition will conclude with an exciting dance showcase by professional ballroom dance competitors David Weise, coach to contestants of the popular TV Show, Dancing with the Stars, and Borbala Bunnett, award winning dancer for over a decade.

"David and I are excited to perform at this year's Cal Poly Dancesport competition and we are looking forward to seeing the local dance talent on the central coast," exclaimed Borbala Bunnett, who has competed in Hungary, Russia, Japan, the United Kingdom, and throughout the United States.

The Cal Poly DanceSport Team is building on the success of their previous four competitions. Their previous competitions have had over 500 spectators in attendance, and had over 750 entries by competitors from Cal Poly and other universities competing in 85 separate dance events.

"We feel very fortunate to be able to host the competition again on Cal Poly's campus" stated Amy Leung, President of the Cal Poly Dancesport Team. She added "Hosting the competition the past four years, has taught our team members how to successfully run a very entertaining and professionally managed event, one that I am confident will be well-worth attending."

Ballroom Dancing continues to enjoy growing public interest, as shown by the popularity of shows like Dancing with the Stars and Ballroom Bootcamp, and movies such as Take the Lead, Mad Hot Ballroom, and Shall We Dance. This competition will provide an excellent opportunity for the public to watch and experience the excitement of ballroom dancing first hand. Amateur dancers of all levels and ages are also invited to sign up to compete. Online registration by January 21st is strongly encouraged.

Spectators are welcome to attend and watch the event. The cost of admission is just $5.00 in advance and $8.00 at the door. Cal Poly students with a valid ID get in free. Donations to help support this non-profit event are always greatly appreciated. For more information on the competition, please see http://www.cpdancesport.org/comp/ or call (805) 242-3262.