Brats, beer, a photo workshop and coastal adventure awaits in Cambria, San Simeon and Harmony this October
Back in the day, scarecrows served a humble purpose: To deter pests (especially enterprising crows) from messing with a farmer's crops. In Cambria, San Simeon and Harmony, these traditional symbols of fall harvest have been lovingly transformed from mere utility into something magical. What kind of magic, you ask? Discover for yourself at the annual Cambria Scarecrow Festival, which runs each October across these three charming coastal communities. Marvel at an array of colorful and quirky scarecrows crafted from the most ingenious materials, all of which are inspired by the imaginations of SLO CAL artists aged seven to 72. Don't wait too long, though—this whimsical display turns into a pumpkin after Halloween on Oct. 31!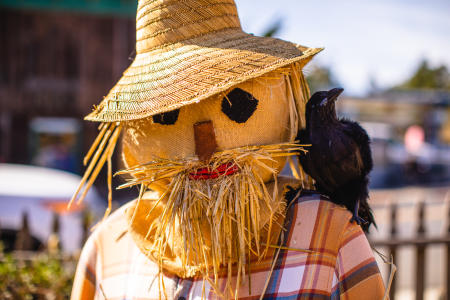 A whimsical tradition
Take part in fall-themed enchantment on SLO CAL's stunning coast. What started as a funky community arts event in 2009 has grown into a vibrant autumnal wonderland that springs to life each October along majestic Highway 1. Every year, the stakes get higher and the submissions get a little wilder. You might just see a scarecrow mermaid, dinosaur, or "Little Old Lady Who Lived in a Shoe," complete with accompanying backdrop and props. Now in its eleventh year, the Cambria Scarecrow Festival features hundreds of scarecrows bowling, bathing, painting, pedaling, fishing and—yes, even flying—through Cambria, San Simeon and Harmony. No wonder the festival has been featured by The Los Angeles Times, Chicago Tribune, ABCNews.com and Huffington Post as a must-see attraction. The most magical part? This family-friendly event is always absolutely free to the public.
Capture the moment
Shutterbugs, meet the scarecrows (they are ready for their close-up). This year, the Cambria Scarecrow Festival will host a new creative workshop sure to awaken your inner photographer. At 9 a.m. on Saturday, October 5, the San Simeon Lodge Restaurant and Bar in San Simeon will host a photography workshop and breakfast focused on capturing this year's scarecrows and the coast. Here's your chance to get some killer photography tips and tricks from local Cambria photographer Elisabeth Haug. The morning will begin with a continental breakfast and lecture/demonstration. Next, put your new knowledge to the test! You'll photograph the festival's varied scarecrows as well as capture breathtaking coastal scenes (a nice memento from your visit). This class is ideal for all skill levels, from iPhone to traditional camera users.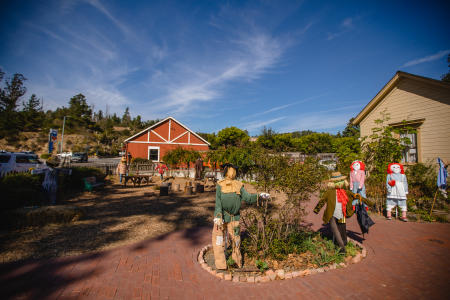 Grub down on brats and beer
Scarecrows may not need to eat, but you sure do. On Saturday, October 19 at 11:30 a.m., fill up during a day of family fun sponsored by the Lions Club of Cambria and the Cambria Scarecrow Festival at Pinedorado Grounds in Cambria. Until 5 pm, take in the scarecrows, listen to live music, play games, shop at the arts and crafts fair, and feast on brats served alongside local beer and wine. Don't miss the announcement of the 2019 Scarecrow Festival award winners, which will take place at the Pinedorado Stage at the start of the event. You'll also want to check out this special deal: Pre-purchase your brat or sausage, two sides and beer in a special commemorative mug for $20 (plus, avoid the lines on the day of).
Stay a while
Dive in! There's more than scarecrows to explore. SLO CAL's northern stretch of Highway 1 offers a perfect year-round playground for your family. While in the area this fall, visit the glass blowers of Harmony and stroll unique business districts in Cambria and San Simeon, where shops, boutiques, fine dining, and wine tasting opportunities are abundant. A visit to this gorgeous slice of SLO CAL is incomplete without walking along the region's unspoiled beaches or hiking the trails which lead from beach to pine forest. Visit incredible sites, like world-famous Hearst Castle in San Simeon, the San Simeon State Park Natural Preserve or the Fiscalini Ranch Preserve in Cambria. The Cambria Historical Society Museum allows modern visitors to dive back into time and experience the coast as it was. Book your stay and make sure you spend a little extra time exploring. You'll be glad you did. We hope you'll make a habit of it, and return next fall as the scarecrows make their whimsical return to the coast.