A surprising streak of warm, sunny weather has inspired alot of us SLO County residents to get outside this week. As temperatures rise and spring sets in, we can start to really see the amazing climate and natural beauty inherent of the Central Coast.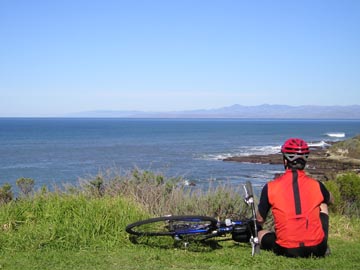 What better way to welcome the fair feather than to round up your favorite people for a good, old-fashioned camping trip?
To kick-off this sunny season, we compiled a list of our favorite places to camp in SLO County:
1. Morro Strand State Beach (Morro Bay)
- Morro Rock Preserve (volcanic peak)
- 18-hole public golf course
- Sailing, fishing, hiking, and bird watching
Morro Rock Preserve is a California State Historic Landmark and a member of the "Nine Sisters" of volcanic plugs situated along the Central Coast. The crown shaped formation stands at the heart of Morro Bay, home to one of the state's largest and most productive commercial fishing fleets.
Two state campgrounds are located in the unique coastal community, Morro Bay State Park and Morro Strand State Beach. A sandy ocean-front area offers an array of fun, family oriented activities including sailing, fishing, hiking, and bird watching. Thanks to the victorious fishing fleets, the local restaurants and fish markets are stocked with the "freshest of seafood."
The 576-foot volcanic peak has become a protected preserve for a colony of peregrine falcons. The stunning birds have chosen the rock as their nesting site and can sometimes be seen soaring down from the crest, hunting for their next meal. Falcons aren't the only birds in the area - the town of Morro Bay and the Morro Bay National Estuary are considered "bird sanctuaries," providing a safe, nourishing habitat for over 250 species.
Morro Bay, California began as a small fishing village and continues to attract visitors with a mild Mediterranean climate and quaint maritime charm. While you're in the area take a stroll on the new 2,800 foot board walk, made of recycled material, plastic, and wood fibers. Take a guided kayak tour around the bay with Central Coast Outdoors or visit the harbor and browse through an array of unique shops and eateries.
2. Montana De Oro State Park (Baywood/Los Osos)
- 8,000 acres of rocky cliffs, sandy beaches, coastal plains, streams, canyons, and hills
- Bike Trails, fishing, hiking trails, picnic areas, wild life viewing
- Valencia Peak (1,347 ft.)
- Equestrian Trails
- Spooner's Cove beach
Montana De Oro is one of the Central Coast's most stunning and serene ocean-side locales. It spans seven miles of rugged coastline, secluded beaches, and coastal plains, and offers an array of unique opportunities to explore and connect with native plants and wildlife.
Aptly named, the "Mountain of Gold" is one of the largest state parks in California. It offers 8,000 ocean-front acres of hiking, biking, equestrian trails, breathtaking coastline, cliffs, tide pools and "primitive camping." Immerse yourself in the natural beauty with a hike up to Valencia peak or a picnic on the sandy shore at Spooner's Cove.
The park is rich in cultural and historical resources and welcomes over one million visitors every year. Camp just off the shoreline at the environmental campground located six miles southwest of Morro bay and seven miles south of Los Osos on Pecho Road. Both primitive and equestrian sites are available.
Just inland from Montana de Oro are the communities of Los Osos and Baywood Park. The two villages act as a gateway to the coast and offer a wide variety of dining and amenities. Stop in and gear up or check out the local farmer's market to grab some fresh produce before you head out on your camping adventure.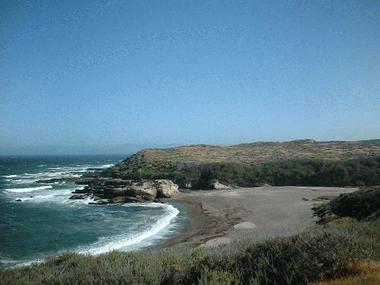 3. Lopez Lake Recreation Area (Arroyo Grande)
- 22 miles of shoreline
- Summer lake temperatures around 70?
- Fishing, boating, hiking trails, picnic areas
- Mustang Water Slides
Just ten miles inland from Arroyo Grande and a short drive from San Luis Obispo, Lopez Lake Recreation Area is an ideal destination for camping and leisure trips in SLO County. The park offers "something for everyone" with a long list of activities such as, camping, fishing, boating, skiing, sailing, windsurfing, picnicking, hiking and equestrian trails, mountain biking, canoeing, and bird watching.
Enjoy the warm climate and explore over 175 species of flowering plants and 150 species of native birds. You can spend the day relaxing along the shores of Lake Lopez or visit local water park Mustang Water Slides where you can find fun, affordable attractions for the whole family.
While you're in the area stop by the distinctive village of Arroyo Grande for a taste of San Luis Obispo County's famed wine country. Visit the vibrant downtown area to take care of your dining and shopping needs or take a stroll across the town's popular "swinging bridge" that spans 171 feet across the Arroyo Grande Creek
4. North Beach Campground (Pismo Beach State Park)
- Hiking, swimming, surfing, fishing, and digging for the famous Pismo clam
- 23 miles of unspoiled sandy beaches
- 1,200 foot pier
- Oceano Dunes State Vehicular Recreation Area
- Monarch butterfly grove
Stay on the sandy beaches and tree-lined dunes at Pismo Beach State Park. Pismo Beach, known as "Classic California," offers great weather year-round and a wealth of sea-side activities and natural beauty.
The state park offers surfing, swimming, four-wheeling and ATV rentals, hiking trails, horseback riding, fishing, clam-digging, and an 18-hole public golf course. Enjoy a bowl of world-famous clam chowder at Splash Café, or try your luck and fish along the 1,200 foot pier.
One of Pismo's most unique features is the park's Monarch Grove, home of the largest over-wintering colony of monarch butterflies in the U.S. The grove is populated by two distinct groups migrating from as far away as the Rocky Mountains, some flying over 1,000 miles back to the Central Coast. Migration begins in October as the cold sets in and the Monarchs remain until about February when they return north.
During your stay in Pismo Beach, you can also visit the Pismo Beach Premium Outlet Center for over 40 designer brand outlets and specialty shops. After you shop, enjoy a fine dinner at oceanfront Lido Restaurant or Giuseppe's Cucina Italiana.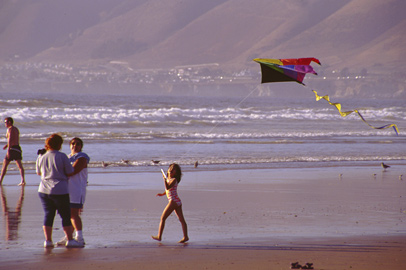 5. Hearst San Simeon State Park (San Simeon)
- One of the oldest units of the California State Park System
- Riparian forests and coastal wetlands
- Hiking, fishing, surfing, beachcombing, bird watching and whale watching
- Piedras Blancas elephant seal rookery
- Hearst Castle
San Simeon State Park was one of the original members of the California Sate Park System and includes the Santa Rosa Creek Preserve, San Simeon Natural Preserve, and Pa-nu Cultural Preserve. The coastal reserve spans approximately 40 acres of riparian forest, coastal wetlands, and undisturbed native plant communities.
There are two campgrounds within the park, the San Simeon Creek and Washburn campgrounds. They offer over 100 campsites and a wide variety of leisurely activities including camping, picnicking, hiking, fishing, surfing, beachcombing, bird watching and whale watching.
While San Simeon is a popular destination for outdoor enthusiasts, one of its most famed attractions can be explored indoors at the magnificent Hearst Castle. The grand estate spans just under 100,000 square feet, with a total of 56 bedrooms, 61 bathrooms, and 2 exquisite pools. Take a break from the rugged outdoors and experience the elegance and grandeur of the historic Hearst Castle.
Another special attraction lies just four miles north of the entrance to Hearst Castle. The seal rookery at Piedras Blancas has become a seasonal home to a growing population of elephant seals who migrate to the Central Coast for breeding and birthing each winter. Witness first-hand these magnificent marine mammals that spend 8 to 10 months of the year in the open ocean.
FOR MORE INFORMATION CONTACT: SLO COUNTY VISTORS & CONFERENCE BUREAU
communications@sanluisobispocounty.com | (805) 541 - 8000