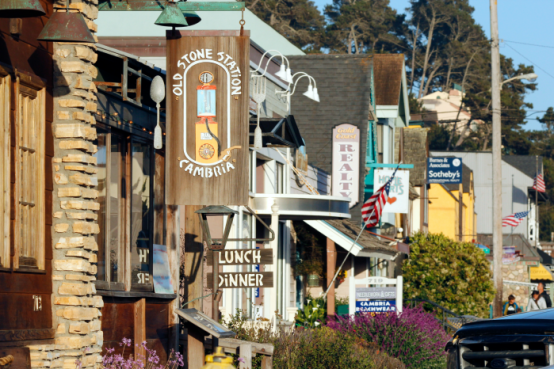 Find history, art, and more just moments from scenic PCH
Look up "the scenic route" in the dictionary, and you should find a glowing passage on SLO CAL's stretch of Highway 1, from San Simeon to Big Sur. When the sun sinks behind this iconic stretch of coastal highway, pure magic ensues. With dramatic cliffs plunging down to pristine beaches, elephant seal spotting, Hearst Castle, and the Piedras Blancas Light Station, there is no doubt out it: Highway 1 is a destination within itself. However, did you know that plenty of interesting stops are located just off the beaten path? Add these attractions to your itinerary and set off for a true pleasure cruise sure to surprise and delight.
Harmony, Pop. 18
A teeny tiny town suspended in time, Harmony, California (Pop. 18) is a quaint and fascinating stop for history buffs and art lovers alike. Back in the 1800s, this village was a thriving dairy community—and much of the architecture harkens back to these simpler times (you'll get a kick out of the minuscule post office and chapel). In the 1960s, Harmony became an artists' alcove, as evidenced by Jehry Miller's 1979 song, "Harmonizing in Harmony, Population 18" (an homage to the song is emblazoned on a cobblestone walkway embedded with coastal moonstones). Art is still very much alive in Harmony today, even if the hippies have long gone. You'll find glassblowers creating their colorful wares before your eyes. Take a piece of that legacy home with you or just sit and marvel at the red-hot beauty of it all.
Downtown Cambria
If you're headed to San Simeon to explore world famous Hearst Castle, you'll also want to stop in the artistic and friendly town of Cambria, just to the South. Here, you can easily while away a few hours window shopping, wine tasting, checking out galleries, antique hunting and dining on the local delicacy—olallieberry pie—at local fave Linn's Restaurant.
Yum! Another awesome dining option: Robin's restaurant, which serves up super-fresh farm-to-table grub with a world fusion twist.
Surrounded by pine trees and wind-swept beaches, Cambria is also home to the Pewter Plough Playhouse, called The Jewel Box Theater by those in the know. Catch a show and see why this seaside town has captivated so many free spirited folks.