Cass House: A Fusion of Past History and Modern Cuisine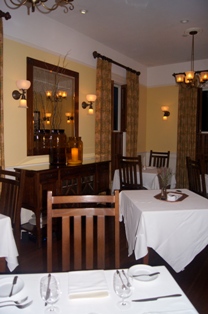 I love history and for years I've watched the Historic Cass House idle on this side of decline. I used to approach the house, peeking into the windows to see what life was like back in the 1800's. It was a sad scene, and I troubled myself over the fact that the house slipped further into disrepair.

Times change and Cass House found a new owner and an unrelenting champion to the home's 17-year meticulous restoration. I followed the restoration of this heirloom at every twist of the turn, watching and waiting, as little by little this Grand Lady was reborn. After all, Captain Cass named the town of Cayucos and built the historic pier.

Imagine my excitement as I headed off for a special dinner at Cass House. Finally, I entered the house (legally) and luxuriated in it's old time splendor. Let it be said: the grounds are a treasure in itself, but so too is the restored home which now houses several rooms as a 'bed and breakfast' experience.

Dodging the rain, with umbrellas and such, we entered the house. How can I explain the feeling of warmth and readiness that enveloped us? The setting is stately and serene without feeling stuffy. The vibe is open and welcoming and one has a sense that dinner here is a most special effort.

I loved the aura of this Grand Old Lady. She seemed familiar and yet almost Imperial at the same time. I'm here for Restaurant Month, so confined myself to the prix fixe menu - 3 courses for $35. As I relaxed in Victorian luxury, I was just as eager to explore the culinary offering, as I had been the physical house.

We watched as the dining room filled to full capacity. Diners young and old seemed to anticipate something special. Our server was most informed and helpful. I grilled him on where the fish was caught, the vegetables procured, and the wines sourced. Happy soul that he was, he tolerated my inquisitiveness and insured every question received an answer.

A dinner at Cass House is most extraordinary. As a local, it seems odd in a way, to be introduced to high style cuisine in my near backyard of Cayucos. I mean how many people even know of the town of Cayucos? Yet, of all places, Cass House Chef , Jensen Lorenzen, pushes the envelope of haute cuisine perhaps more so than any other place I've dined in the County. This modern take on cuisine was unexpected, but certainly intriguing to watch and taste as dinner unfolded before us.

The prix fixe menu changes daily, so it's unlikely our dining menu will be yours upon visiting. Do know, however, that you will be served the freshest of food available, meticulously crafted. In talking with staff, we learned the Chef is exploring Escoffier's 'L Guide Culinaire' weaving in the use of fresh, local ingredients with his own unique twist.

Dinner tonight was a fresh fish sole he had wrangled from a local fisherman. Imagine your local chef bartering with the rough-shod fisherman for the best of his catch that morning to serve to his diners that evening. That's Jensen, intent upon providing the very best of our local resources. I admire and appreciate Jensen and his staff's creativity and commitment to a culinary experience on a par of what one might expect from cuisine in larger, trend-setting metropolitan areas.

While our dinner was promoted as three courses, we were surprised by the 'interludes' of palate cleansers that introduced each new food course - some consisting of a taste morsel, others presented as beverages. I think my favorite was the vanilla bean and citrus soda, which served as a prelude to our entre. Enticing, delicious, and flavorful.

I opted for a separate fromage course, and was delighted that I did. Beautifully presented, with a wonderful juxtaposition of flavors, I shared this generous portion with my fellow diners. The cheese originated from the McGuire's famed Rinconada Dairy in Santa Margarita and was truly memorable.

Dinner at Cass House changes daily; which makes it all the more enticing. Be forewarned: while The Cass House is a historic landmark, the food is markedly modern. Enjoy fresh local product? Lured by new and sophisticated approaches? Soda palate cleansers and foam interludes...this is the sprightly and thoughtful fancy of Cass House's creativity and cuisine.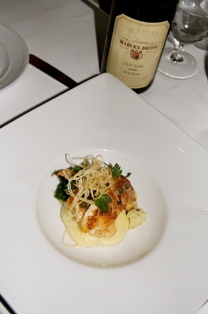 Looking for the proverbial 'steak platter', with rolls and salad? Then Cass House may not be for you. However, if you have an adventurous spirit and are willing to turn your dining experience over to the thoughtful and artistic creativity of a spirited Chef and competent staff, you're likely in for a delightful evening.

Cass House is open for dinner Thursday - Monday: 5 - 8:30 pm. While Anthony Bourdain can travel about the world with his famous tout of "No Reservations"; be forewarned, reservations are most certainly required here. You can reach them at (805) 995-3669 or via their website at www.casshouseinn/eat/


Laura Gurreau
Central Coast Food Tours