Are your kids married to their skateboards? If so, you know how hard it is to find a safe and legal place for them practice all those hair-raising tricks. Check out A Town Park, 5493 Traffic Way in Atascadero.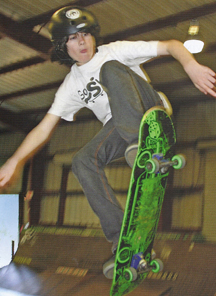 You'll find skateboarding and BMX Monday through Saturday from 3 p.m. to 5 p.m. and it's FREE to the public. In addition, the park is open for BMX Friday nights from 9 p.m. to 11 p.m. and Sundays from 4 p.m. to 8 p.m.
There are indoor and outdoor areas. The park also offers two large loung areas equpped with cafe seating and leather couches plus a pro shop, flat screen TVs and a surround sound music system.
Waivers are required and helmets must be worn. Helmets are available at the park.
For more informaiton call A Town Park at (805) 461-7606 between 3 p.m. and 5 p.m.
Skate on, dude!