Cayucos is a cute little town just off Highway one, north of Morro Bay. On a Sunday every year in mid-October, it closes off its main streets and has over 100 antique dealers set up displays right on the street.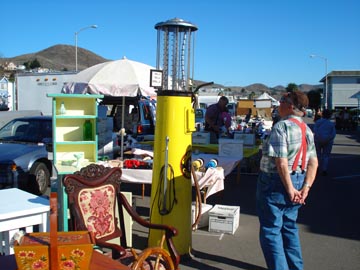 Items range in price form just $1 to hundreds of dollars. They range in size from small jewelry to large tables and dresser, and even antique gas pumps (see above). Of course, downtown Cayucos also has several very good and interesting antique stores, and if the street dealers don't provide enough to tempt you, check them out as well.

All of this walking can work up an appetite, especially if you want to really want to peruse the dealers in detail, looking for that one special piece that you want. Luckily, downtown Cayucos has a full range of restaurants, ranging from inexpensive to premium.

And if you start getting overwhelmed by all your choices, take a few minutes to stroll on the pier downtown and look at the surfers, the occasional seal, and the great views of nearby Morro Rock. The Gem & Mineral show - held in the Vet's Hall at the base of the pier - is also a great way to spend some time. (Admission is free.)
 
Housekeeping details: Bring cash - that "gotta have" item will undoubtedly be sold by a dealer that doesn't take credit cards or checks. Wear comfortable shoes - you will be pounding the pavement after all.