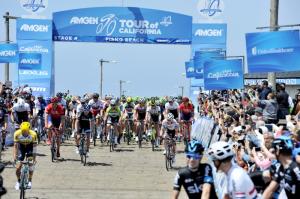 The 2017 Amgen Tour of California will race along the SLO CAL coast of California, beginning Stage 3 in Pismo Beach, riding through the heart of San Luis Obispo County (SLO CAL), and ending in Morro Bay. The 12th annual Amgen Tour of California is a seven-stage race covering nearly 800 miles of California terrain May 11-20, 2017. This year's event will include 17 of the world's most decorated and esteemed teams with many of the top cyclists in the world, competing for one of the sport's most coveted titles.
Stage 3 kicks off Tuesday, May 16, 2017, in Pismo Beach along the beautiful Pacific coastline. The Amgen Tour of California riders will take in all that SLO CAL has to offer with beaches, sand dunes, vineyards and wineries along the way. The 119.6-mile course will sweep across Nipomo, Arroyo Grande and San Luis Obispo before riders head back to the coast and a finish in Morro Bay.
Cities in SLO CAL will be hosting events to coincide with the main race and we invite you to join us as we celebrate the Amgen Tour of California and all that is cycling in SLO CAL!
Pismo Beach Events
Before the race, on Friday, May 12, the City of Pismo Beach will be featuring Disney's MOANA at 8:00 p.m. at Dinosaur Caves Park. Guests can partake in food trucks, activities, tricycle races, a raffle and vendors starting at 6:00 p.m. Proceeds from the event will benefit Amgen's Breakaway from Heart Disease initiative.
In Pismo Beach, the celebration will begin on the morning of Tuesday, May 16, with the National Anthem at 10:40 a.m. and race start at 11:05 a.m. Enjoy the festival activities before the race begins, take pictures of your favorite riders and enjoy Pismo Beach beginning at 9 a.m.
Following the start of the race, visitors have the opportunity to sign up for their own competition Pismo-style, during the Surrey Bike Race! Get your team together and get ready to compete for your chance to win fun prizes such as local gift certificates, gift baskets and hotel stays. Teams entry is $5 per team.
Morro Bay Events
The City of Morro Bay will be holding their Community Bike Ride on Monday, May 15. Biking enthusiasts are encouraged to meet in City Park at 6:00 p.m., and the ride will follow the Amgen Tour of California route through Morro Bay from the state park to the Embarcadero, and on to the finish line.
On race day, May 16, restaurants and bars throughout Morro Bay will host viewing parties. Enjoy the festival beginning at 11:44 a.m. on Main Street & Harbor, then find your spot to watch the riders race over the finish line at 3:44 p.m.
San Luis Obispo
On May 16th, Higuera Street in downtown San Luis Obispo will transform into a Block Party with live music, local craft beer and cider, as well as games and a Red Light, Green Light competition for the kids. Starting at 2:00 p.m., DJ Malik will be spinning tunes at the corner of Higuera and Garden Streets and the main stage event will televise the race live on five large screens. Starting at 4:00 p.m. the Zongo All-Stars take the stage with their Afro-Caribbean beats, and Higuera Street will turn into a fun, game-filled beer garden that will be open to all ages. The event will continue until 6:00 p.m.