This just in from the Railroad Festival Organizer:
The Central Coast Railroad Festival started last night in San Luis Obispo with model displays and stories about train wrecks!  The Festival continues today with more amazing model layout tours, Wine-Train Excursions, history walks and talks in Avila Beach, genealogical & historical watch programs and a Hobo themed concert in Paso Robles.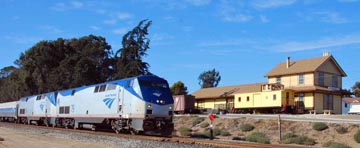 In store the rest of the weekend are more concerts, models, classic train movies, displays of train cars and engines, Surfliner rides and open houses at the SLO Historical Freight House and the Amtrak platform in Guadalupe.  Attendees are gathering from all over the Central Coast and Southern California.  You are invited to join in the fun! 
All Aboard!