A look into SLO CAL's spectacular wine-producing regions complete with the signature complexities of each landscape.
Let's clink to California wine month—the perfect time to celebrate the very best of SLO CAL's distinct wine regions: the San Luis Obispo Coast and Paso Robles. Both produce distinct wines that represent each region's climate, soils, and standout personalities: 
San Luis Obispo Coast Wine Country: The Coolest
5-mile proximity to the Pacific makes San Luis Obispo Coast wine country the coolest grape growing region across all of California— with the longest growing season too!
Known best for vibrant Burgundian varieties, Chardonnay and Pinot Noir thrive in San Luis Obispo's cool coastal climate along with aromatic white wines from Riesling and Pinot Gris to Gewürztraminer. Rhône varieties Syrah and Viognier also count among well-loved favorites; not to mention Zinfandel, Merlot, and Cabernet Sauvignon, which can be found in the toastier mountainous terrain.
Let's Pour Over the Details
Edna Valley became an AVA (American Viticulture Area) in 1982 while neighboring Arroyo Grande Valley was granted AVA status in 1990.
 30+ wineries call San Luis Obispo wine country home, many of which are family-owned and operated.
Just last year, Wine Enthusiast magazine named San Luis Obispo as one of the "Top 10 Wine Getaways"
Sustainability in Practice (SIP)
In San Luis Obispo, sustainability practices set the region apart and ahead. The SIP certification program started right here in SLO CAL—an opportunity to promote environmental and social responsibility from energy efficiency and water management to habitat preservation and ethical business practices.
When you're perusing the wine aisle and spot the SIP certification icon, you can feel confident about your selection knowing you're "giving back to the land and community on every level".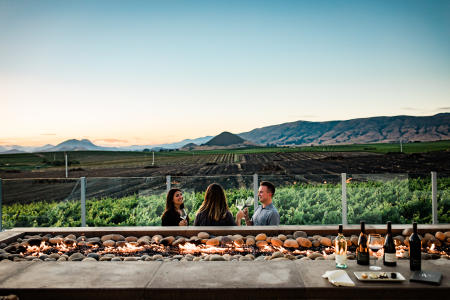 Let's take a trip north to reveal what you need to know about Paso Robles...
Paso Robles Wine Country: Hot Stuff 
Paso's extreme temperature swing from day to night gives this celebrated wine region an edge unlike any other appellation in the golden state. Optimal growing conditions allow Paso Robles to produce award-winning Cabernet Sauvignon. It also happens to be the perfect place to grow premium varieties from Syrah, Merlot, and Zinfandel to Viognier and Roussanne.
With nearly 300 wineries (yep, not a typo) to be discovered, there's truly a tasting experience for everyone. Whether you're seeking a warm and welcoming vibe or sleek modern setting, you'll find just the atmosphere to savor a flight, unpack a picnic, or learn about the winemaking process straight from the source.
Juicy Facts
California's largest geographic appellation (and fastest-growing!) is none other than Paso Robles.
Thanks to the diverse geography and over 30 soil series spanning the region, Paso Robles is home to 11 distinct viticulture areas 
Getting back to the earth itself, part of what makes Paso special is an abundance of desirable calcareous soils with high pH values of 7.4 to 8.6.
Though the climate, geography, people, and practices may vary from Paso Robles to the San Luis Obispo Coast, one shared constant remains—wine is a way of life.
Ready to taste for yourself?
Beyond the unique climate and geography, it takes a village of hard-working folks to make local wine utopias a reality. Celebrate the impending harvest SLO CAL style with these family-friendly wineries or go behind the during fall harvest.