Consulting Chef at the Monterey Bay Aquarium and a pioneer in her field, Cindy Pawlcyn has a devoted local and national following and has been acknowledged by many top culinary organizations and magazines. She has authored 4 cookbooks, including the James Beard Award-winning Mustards Grill Napa Valley Cookbook and her most recent, Cindy Pawlcyn's Appetizers. Read on as Cindy shares one of her secret recipes! And be sure reserve your seat at Pawlcyn's seminar at SAVOR 2011! http://www.savorcentralcoast.com/chef_central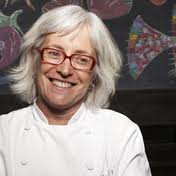 Halibut "Stew" with Saffron Broth
From Big Small Plates by Cindy Pawlcyn, Ten Speed Press
Serves 6
Actually, the fish in this recipe is grilled, not stewed, and the key to this dish is the broth, which is flavored with saffron, fennel, and sweet onions. It's probably easiest to use clam juice for the broth, as you can easily find bottled clam juice in markets. Fish stock is great, but unless you do a lot of fishing, it's not easy to come by. If you're using clam juice, be sure to get one without monosodium glutamate (MSG). If your tomatoes are really juicy, you may need less clam juice than called for, or use the smaller amount of wine. The broth can be made a day ahead and kept refrigerated until needed. Reheat it and add the fish just before serving.
Almost any kind of cooked seafood can be substituted for the halibut in this dish, or you can use a combination of fish and shellfish. Steamed mussels, grilled jumbo shrimp, or lobster or Dungeness crab, roughly chopped and cracked, would all work.
Thick-cut French bread or sourdough bread, brushed with olive oil and grilled, is a great accompaniment.
Broth
1/2 sweet onion (Georgia, Vidalia, Maui, or white)
1/2 bulb fennel
1 to 1 1/2 tablespoons extra virgin olive oil
2 cloves garlic, minced to a paste
3 strands of saffron
1/2 to 2/3 cup white wine
2 juicy vine-ripened tomatoes, peeled and minced
2 cups clam juice, fish stock, or water
1 bay leaf
Salt
1/4 teaspoon freshly ground black pepper
12 ounces halibut or sea bass
Olive oil, for coating
Salt and freshly ground black pepper
Garnish Options
Finely chopped green olives
Minced parsley
Torn or pinched fennel fronds
Garlic Aioli
For the broth, cut the onion and fennel bulb into 1/4-inch dice, reserving some of the fennel fronds for garnish, if desired. Heat the olive oil in a saucepan over medium heat and sauté the onion and fennel 5 minutes or so, until they are just barely tender. Add the garlic and cook 1 minute more. Add the saffron and stir to toast 1 minute, then add the wine and reduce by half. Add the tomatoes, clam juice, bay leaf, salt, and pepper, and simmer for 20 minutes.
Shortly before serving, brush the fish with olive oil and sprinkle with salt and pepper. Grill the fish to the desired doneness, 2 to 3 minutes per side. The fish can also be seared in a skillet with the tiniest bit of oil. Ladle the broth out into warmed bowls, then flake nice-size pieces of the fish into each. Garnish as you like and serve steamy-hot.
Garlic Aioli
2 large egg yolks
1 tablespoon freshly squeezed lemon juice
4 cloves garlic, sliced
1/4 to 1/2 teaspoon salt
1 teaspoon cool water
1 cup pure olive oil
1/4 cup extra virgin olive oil
For the Garlic Aioli, lightly beat the egg yolks together with the lemon juice in a medium-size bowl. Mash the garlic to a smooth paste with a pinch of salt. Set aside one-fourth of the paste and add the rest to the egg-yolk mixture, along with the cold water and 1/4 teaspoon of salt, and stir. Gradually whisk in the oils, and continue whisking until the aioli is thick and creamy. Taste, then fold in the remaining garlic paste and/or add additional salt if needed. Refrigerate until needed. You could make the aioli in a blender or food processor, if you prefer.