CIRCUS VARGAS IS BRINGING THE BIG TOP TO SAN LUIS OBISPO
FOURTH OF JULY WEEKEND!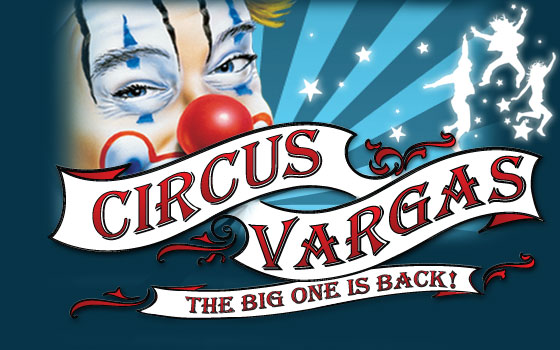 Circus Vargas, America's Favorite Big Top Circus, is excited to bring the Big One to San Luis Obispo, with big heart, big laughs, big talent and big FUN! This is only some of what you'll experience when Circus Vargas comes to town, pitching its beautiful blue and gold Big Top, as seen in the recent 20th Century Fox motion picture "Water for Elephants". The show will be at the Madonna Inn Fourth of July weekend, running from June 30 through July 4.
Striving to present the finest in family entertainment, Tabares Entertainment proudly presents an entirely new production of Circus Vargas for 2011. This edition of Circus Vargas takes you on an artistic journey, encompassing the cultures of the world, in a series of vignettes depicting the experiences, memories and visions of a traveling circus performer. Join us on a captivating jaunt across the globe, seen through the eyes of our talented aerialists, acrobats, comedians and more, as they transcend language, age and cultural barriers, through the art of circus.
Thirty minutes before show time, fans will get an exciting pre-show peek into the world of Circus Vargas, hosted by reality TV personality from the CBS show The Amazing Race, Mr. Jon Weiss! He will be front and center welcoming the audience and inviting children to take a "center stage" look at life under the Big Top! Everyone is encouraged to participate in the pre-show action, and to join Jon as he guides them on a quick crash course in circus skill and stamina!

More information about Circus Vargas can be obtained at www.circusvargas.com, on the phone at 877-GOTFUN-1 (877-468-3861) or at the circus box office.