Hop on two wheels and enjoy the ride on Highway 1 and beyond
Put your foot to the pedal and push off into a cycler's paradise. SLO CAL's uncrowded coastal bike routes offer up a unique way to explore sandy beaches, beautiful bluffs and local wildlife. From the majesty of Highway 1's rocky cliffs to the lush, winding backroads of SLO Coast Wine Country, prepare to see SLO CAL in a whole new light. With the wind in your hair and your eyes on the horizon, you can rest assured you've chosen the bike path less traveled.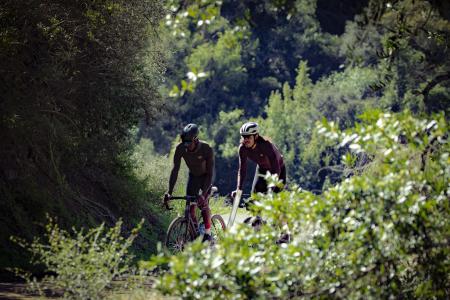 Highway 1: Must-ride for all cyclists
Highway to heaven
Thanks to the views, the climate, and the diversity of terrain, Historic Highway 1 is a bicycler's dream. Whether you're planning an extended biking tour, training for an event, looking for new routes to conquer, or just want to spend the weekend cycling and sight-seeing on the coast, Highway 1 should be high up on your SLO CAL ride itinerary. Note: there are some challenging hills, but they do afford incredible views. Worth the sweat? You bet.
Ragged Point and San Simeon: See it to believe it
Scenic route 
The breathtaking 20-mile stretch from San Simeon to Ragged Point is a beloved choice for avid cycling enthusiasts. Zip by elephant seals lounging in their natural habitat, take in amazing views of the coast and discover landmarks like the Piedras Blancas Light Station, all while frothy waves crash below. Stop to catch your breath or snap a photo, taking in the pristine shoreline and refreshing ocean breeze.
Two wheels to adventure 
Go for an easy, breezy family ride along the San Simeon boardwalk or discover thrilling mountain biking trails naturally blessed with rugged jumps and descents. Ride through San Simeon's historic beach community, home to world-famous Hearst Castle. As you pass the San Simeon Pier, keep watch for passing whales, otters and seabirds.
Cambria to Cayucos: Hillsides to the sea
Craving adventure in Cambria and Cayucos 
Whether you are a spandex-clad fanatic or a newbie to the road, you'll want to experience the oceanside town of Cambria by bike. Here, pine-studded hillsides meet the sea. Even world champion free-ride mountain biker Brandon Semenuk chose Cambria's rolling hills to set the backdrop for his record-setting ride! Still, you don't have to be a pro to enjoy these spectacular views.
Join the community
CycleCentralCoast brings together miles of world-renowned cycling routes for every level and interest. Cyclists, triathletes, and outdoor enthusiasts alike can discover trip ideas, tips and local resources all accessible from one handy website.
Make a day of it 
The stretch along Highway 1 between Cambria and Gorda makes for a fantastic day and even more enticing sunset. Hug the rocky coastline as you ride along Moonstone Beach before heading up the coast to chase new memories. Keep your eyes peeled for some surprising local wildlife (especially the zebras that roam the hillsides surrounding Hearst Castle).
Hold onto your handlebars
Heading inland from Cambria on Santa Rosa Road you'll find a favorite route of local cyclists with plenty of challenging hills to climb. Hard work pays off, however: The winding road featured on this route is famously lush, green peaceful.
Slow ride
Nearby Cayucos to the south offers up a laid back charm and is perfect for a relaxing family cruise along the coast. The route along Highway 1 from Cambria to Cayucos is a manageable route that still affords sweeping ocean views. Pack a picnic or grab fish tacos to-go from Ruddell's Smokehouse and eat them on the sand.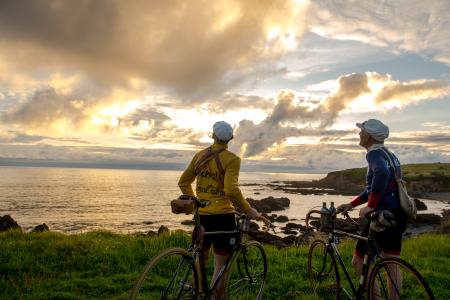 Los Osos/Baywood to Morro Bay: Boundless biking fun
Wonder around ever turn
Los Osos is home to the majestic Montaña de Oro State Park, known for its rugged cliffs, tucked-away sandy beaches, coastal plains, streams, canyons, and hills. With spectacular scenery produced through millions of years of volcanic activity, plate tectonics and erosion, you'll find yourself riding along ancient history in the making. Take a detour and mountain bike along a trail brimming with wildflowers. Be sure to keep six feet from other cyclists and hikers though; the park is currently open to the public during the Covid-19 pandemic, but safety is still of utmost importance.
Families who bike together
Although kayaking is an activity enjoyed by many visitors of Morro Bay's peaceful estuary, there are bountiful biking opportunities to enjoy, too. Invite the whole family on a casual ride along the Embarcadero to the Harborwalk, stopping to check out the seabirds, seals and otters known to pop up and say, "hello."
Cruise from Morro Rock to Cayucos
The Morro Rock to Cayucos Pier beach cruise offers a gorgeous 12.4-mile total ride in the sun. Note: This route is best suited for a mountain bike or beach cruiser. There's no hurry—ride at your own pace and soak in the rays!
Avila Beach: From flat to full-on challenging
Bike like Bob
Avila Beach's Bob Jones trail, also known as the "City to the Sea Trail," offers an easy-going cycling escape for the whole family. This well-paved county-maintained bike and walking trail is unique in its location: The trail starts right off Highway 101 and ends in downtown Avila Beach, on the water. Great for all skill levels, you'll enjoy a smooth and (mostly) flat ride with trail benches available throughout. Dogs are welcome on the trail, too! Note: From the trailhead parking lot to the end of the Avila Pier is 3.0 miles. Easy for even the smallest cyclists in the group to accomplish.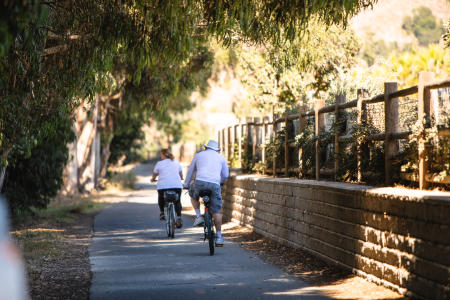 Climb higher
At 25 miles round trip and a staggering swing in elevation, the Perfumo Canyon Road/See Canyon ride from San Luis Obispo to Avila Beach is a worthy workout filled with enchanting views. Pass storybook woods, grand vistas and experience a moderate-to-difficult climb high above the clouds. As you descend, notice Morro Bay and the coastline below. Ever seen such a dreamy sight? Pedal along a creek through dense, oak forest, check out See Canyon's famed apple orchards and end not far from Avila Beach's sandy shore. Not bad for an afternoon's ride.
Pismo Beach, Oceano and Nipomo: Golden opportunity
Bike through the gateway to Southern SLO CAL
Pedal along the dunes in Nipomo and Oceano, where the landscape is truly remarkable. Undulating sandy bluffs and endless blue skies offer a relaxing backdrop to your adventure along this secluded slice of SLO CAL coast. Note: The Oceano Dunes Vehicular Recreational Area is temporarily closed, but you can still view the landscape from a short distance away.
Sun and fun
Nearby Pismo Beach and Shell Beach is a fabulous place to spend the day cycling with the family. Cycle to Spyglass Park or Dinosaur Caves Park, where the elevated ocean viewing points are awe-inspiring (just be sure to keep six feet distance from any other park-goers. Playgrounds are also temporarily closed).
Edna Valley and Arroyo Grande: Lake, vines and good times
Wine wonders await
Experience Arroyo Grande and the SLO Coast Wine region in an entirely new way: from the vantage point of your bicycle seat. Get a peek at lush vineyards, chirping birds and quaint tasting rooms hidden along the way.
Wine country by bike
Edna Valley offers up a compact wine country experience, so you can see plenty of the region in a single ride. Tiffany Ranch Road loop in Edna Valley boasts a scenic tour through the SLO Coast wine region, just six miles from the Pacific. Note: Riders can expect hills at the end of the valley and winds from the north in the afternoon. Crossing the valley at Biddle Ranch Road makes for a shorter ride. Whichever way you slice it, you're in for a satisfying zip through the vines.
Wave to the farmers
Known as a bountiful growing region, you'll find crops galore along Arroyo Grande's pastoral backroads. This mostly flat land makes for a scenic and breezy ride. Be sure to cycle along Branch Mill Road along the western edge of Arroyo Grande Valley, where you'll soon see signs for secluded Huasna, a rural community with plenty of wide-open charm. Here, pastures, ranch land and chaparral-covered paths are dotted with farm stands and livestock.
Spin to the lake
Lopez Lake Recreation Area is home to 22 miles of scenic shoreline and summer lake water temps of about 70 degrees (if that won't tempt you to get off your bike for a moment, nothing will). With a plethora of mountain bike trails to choose from, you'll hardly have time to identify the park's 175 species of flowering plants, and 150 species of birds! Although you're free to enjoy the lake during the Covid-19 pandemic, please note that there is a limit to the number of cars allowed into the park at one time. Always call before you head out.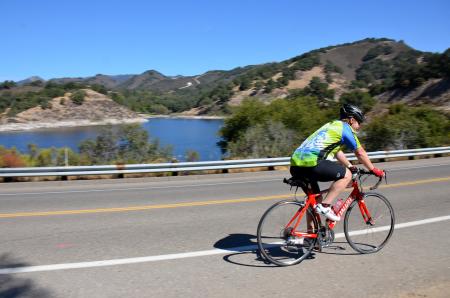 Covid-19: What you should know
Cycling is generally a one-person activity best enjoyed in wide, open spaces. Although the Covid-19 crisis shouldn't stop you from enjoying secluded biking opportunities along Highway 1 and throughout coastal SLO CAL, please note that there are several precautions set in place by county and state officials. You'll want to check up on these guidelines, as they are ever-changing. Your safety matters most to us.
SLO CAL's open status
While many California counties have seen state and county parks/beaches closures, many remain open in SLO CAL (with safety guidelines in place, of course). If your route includes a stop or ride through a state or county park/beach, be sure to check the appropriate website before embarking on your journey.
Observe all signage
You'll see safety guidelines and recommendations posted at many trailheads, beaches and parks. Keep your eyes peeled for this helpful information and obey all rules. They're for your safety as well as the common good.
Parking lot closures
If you plan to drive your bicycle to a choice spot before embarking on a ride, please take note that parking lots will be closed at all coastal County parks at noon daily. This includes Cayucos, Hardie and Shamel parks. Parking lots will be closed at all Morro Bay beaches (including Morro Rock, Coleman Beach, Pit and Sand parking lots) at 6 p.m. Check back at the appropriate sites often for the most up-to-date information.
Employ physical distancing at all SLO CAL beaches, parks and trails: People may continue to visit many SLO CAL beaches to bike, walk, jog, surf and swim. However, all visitors should abide by common sense and keep a distance of at least six feet from other people. Many beaches in SLO CAL are being enforced strictly for safety during this time, so please keep this in mind and do your best to stay distant.