This past weekend, my wife, daughter and I enjoyed the new comedy horror spoof: "Trudy and the Beast" at the Great American Melodrama near Pismo Beach. Think of a mash-up of "Creature from the Black Lagoon" and "Beauty and the Beast". All this with many jokes skewering Tiger Woods, Paris Hilton, Lindsay Lohan and many other public figures deserving of scorn. Add to this a medley of funny songs - with music from various classic musicals, but with decidedly new wording.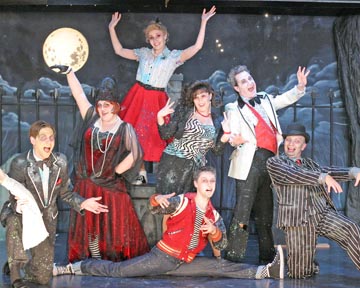 (Cast from left to right: Andrew Beck, Bree Murphy, Katie Worley, Leah Kolb, Chuck McLane, Billie Breed. Front : Daniel Self.)

As usual, the cast did a great job. And as usual, every show has a few surprise cast changes - actors you had come to know and like disappear, and new ones that you will come to know and like appear. This play had two "newbies" that joined the regulars - both did a great job and have (no surprise) very good singing voices as well. The two leads are seasoned Melodrama regulars.
All plays are followed by a Vaudeville review, this one "The Zombie Vaud", naturally also relating to the horror movie theme.  See cast photo.)

Housekeeping details: The play is performed Wednesday thru Sundays until November 14. Beer, wine and food are available. (We always get their popcorn, and the cheesecake is hard to resist.) This fall play is traditionally very popular, so you might want to think about ordering tickets in advance of your arrival.

The Melodrama's next play is the VERY popular "Holiday Extravaganza" with Dicken's Christmas Carol, fractured fairy tale and Holiday Vaudeville review. (The review always includes the entire cast playing a song with spoons against water glasses, as well as the hilarious "Rappin' Reindeer" skit.) If visiting during this time, get your tickets NOW, because these usually sell out well in advance.