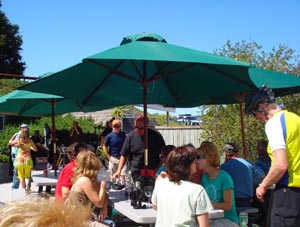 There are literally dozens of free (or nearly free) concerts held throughout SLO County in the summertime.  This trend was originally started by the City of San Luis Obispo back in 1995. It then spread to almost every town in the County: Atascadero, Arroyo Grande, Avila Beach, Grover Beach, Paso Robles, San Luis Obispo, and Templeton now hold them either very week, or every other week. Morro Bay holds two free summer festivals with a major music element. (Music Fest and the "Avocado and Margarita Fest").
Now, many wineries and other venues are getting in on the act. The Sea Pines Golf Resort in Los Osos hosts a major series on Saturday afternoons. Some wineries also host free concdrts, most notably  the monthly free "Lazy Locals" series by Castoro Cellars Winery in Templeton. 
This past Sunday, in honor of Father's Day, my wife and I enjoyed one of the weekly Sunday Concerts held on the outdoor patio at Salisbury Vineyards Tasting Room, just off the Avila Beach exit of Highway 101.
Salisbury does charge $5 for adult admission, but it is worth every penny. The band was great, there were lots of picnic tables with shade, and the patio is protected from wind and road noise. The wine (by the glass or bottle, for an additional charge) was also great. We both really like their Chrdonnay and "Pinot Naturale" (white wine made form red-wine grapes.) We also bought a really good snack cheese, fruit and bread plate they sold. (BBQ is also available.)
There was a nice sized-crowd enjoying the music and many danced. These concerts appeals to both locals and visitors - my wife came upon a friend of her's.
For more info on local concerts - most of which are free, go to our "
Summer Concerts
" page.