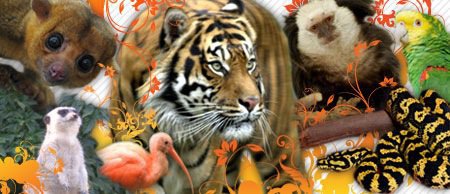 The Charles Paddock Zoo at Atascadero Lake Park will celebrate its fourth annual Hands-on Family Fun Conservation Celebration Saturday, Sept.22 from 10 a.m. to 2 p.m. Conservation Celebration is an all-inclusive event connecting how people manage natural resources and protect animals locally and globally.
Celebration activities will include animal presentation, edible landscaping, fun with BUBBLES, face-painting, an ask-me cart, painting with soils, zoo story time, rain barrel painting and prizes. Learn how worms eat your garbage. Get a water conservation bracelet and enjoy Yoga for the family.
"Our slogan is 'Learn by Playing' and all the exhibitors will have kid friendly activities and will be based around conservation," said Zoo representative Kate Capela. "The Zoo will also be hosting a Red Panda Ranger booth, where kids can learn more about red pandas and how to save them in the wild! We now have a male and female red panda and hope that they will breed next year or the year after. We will also be planting a Madagascar native garden in front of our Lemur Exhibit to represent some of the natural habitat where they come from."
Exhibitors at the event will include the Atascadero Mutual Water Company, Carmichael Environmental, the Cal Poly Bee Program, Mr. Eco, Partners in Water Quality, SLO Green Build, the Marine Mammal Center, SLO County Energy Watch, SLO County Worm Farm, UCCE Master Gardens, the Upper Salinas-Las Tablas Regional Conservation District and Waste Management.
The 2012 Conservation Celebration is presented by the Charles Paddock Zoo, the City of Atascadero, Waste Management, Cal Poly, the Temple Community Services District, the Upper Salinas-Las Tablas Regional Conservation District, the Land Conservancy of San Luis Obispo County, the Atascadero Mutual Water Company, the County of San Luis Obispo, The Berryman Produce, Ancient Peaks Winery, Frolicking Frog Winery, and the SLO Symphony.
The Charles Paddock Zoo is home to hundreds of species from all over the world. Numerous animals are part of globally managed programs to preserve animals and their habitats. Some of the rarest animals in the world are displayed in a safe and respectful environment.
The Charles Paddock Zoo is located at 9305 Pismo Ave., off Highway 41-West, in the Atascadero Lake Complex along with the Pavilion on the Lake Conference Center, Alvord Baseball Field and the Faces of Freedom Veterans Memorial. It is the only accredited zoo between Santa Barbara and San Jose. The zoo attracts about 60,000 visitors each year.
For more information about the Conservation Celebration call (805) 470-3172 or email zooeducation@atascadero.org. For more information about the Charles Paddock Zoo you may visit www.CharlesPaddockZoo.org or find them on Facebook.