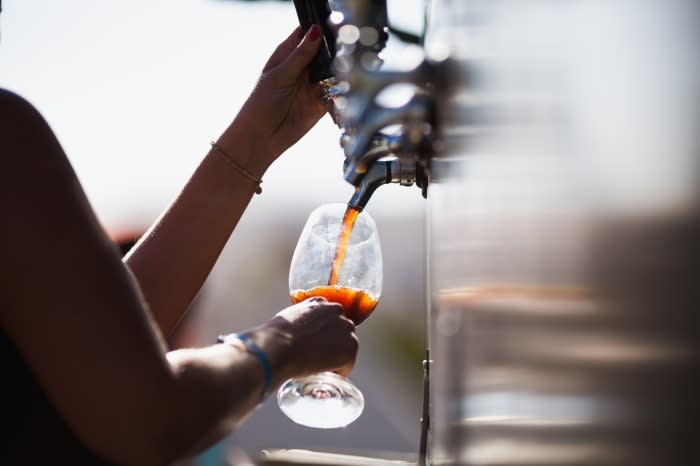 Strong, pale, sour, and aged in wine barrels—SLO CAL's beers are one-of-a-kind
Pop those tops, fill those steins and break out your dusty lederhosen. Or not (you can wear whatever you want, it's totally OK). See, we could say that October is the biggest month for beer around SLO CAL, but that wouldn't be true. Although we're famous for festive fall beer releases this time of year, every month is truly "beer month" in SLO CAL. What can we say? We're at the forefront of the California craft beer boom, and we've got the gold, silver and bronze medals to prove it. Whether you prefer yours sour, hopped, barrel-aged or unfiltered, we've got the best bottle and draft for you. So put away those drindls, folks. Get ready for 365 days of bodacious SLO CAL Crafted® beer!
It's Brewing in Paso Robles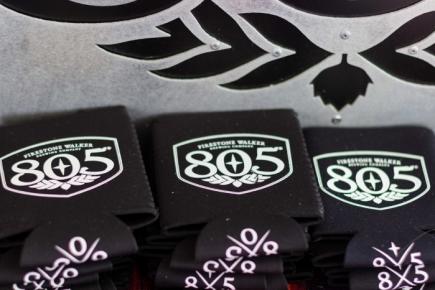 SLO CAL is proud to be home of Firestone Walker Brewing Company, one of the county's very first rockstar craft breweries. Since opening in the 90s, this Paso Robles brewery has expanded to include locations in Buellton and Venice Beach. Yes, it's still "what we drink around here," but these epic brews—Double Barrel Ale and 805 among them—have become cult classics among the craft beer set across the West Coast and the world. Stop by the Paso Robles brewery and taproom for an outstanding lunch or dinner, taste a flight or schedule a brewery tour that will give you the rare opportunity to see inside Firestone's iconic barrel room, a sight to behold. This is legendary beer in the making!
Fresh suds: Don't miss newcomer Silva Brewing Company, opened by celebrated former Green Flash Brewer Chuck Silva and his wife Mary Jo. These beers are fresh and bright and range from hoppy to traditional. Tucked into a cozy industrial warehouse, this modern tasting room offers up tasting flights, growlers and crowlers (yes, those are giant cans of beer —you aren't dreaming).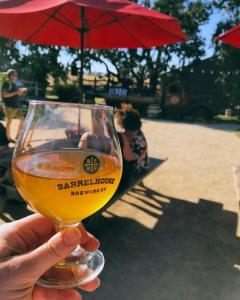 BarrelHouse Brewing — tucked away in another industrial area — Tin City — BarrelHouse has been a local favorite since opening up about five years ago. With a gorgeous beer garden, live music and frequent visitors from fab food trucks, this is the best place to hang for a few hours (and a few beers). Don't miss their Sunny Daze and Templeton, which are now beloved classics in SLO CAL. Tip: For more unique small batch offerings, check out the brewery's second location in downtown SLO, a basement speakeasy with a working barber shop up top. Secret's safe with us, guys.
More the merrier: Santa Maria Brewing Company recently opened its taproom in downtown Paso Robles, serving up its famous Exhumation India Pale Ale, a best seller that's got the appeal of an English malt beer with West Coast hops.
Beat your own drum
Seeking a chill outdoor-indoor brewery that welcome dogs, free spirits, and creativity? Stop by Bang the Drum Brewery in SLO, where you can kick back to your own beat. Yes, there really are drums for you to play with! Here, expect off-the-wall brews that surprise the senses, like strawberry milk stout, hibiscus saison, and even a gluten free American style IPA. Just be forewarned—these are small, handcrafted batches. If you love something, slurp it up. It might be gone tomorrow!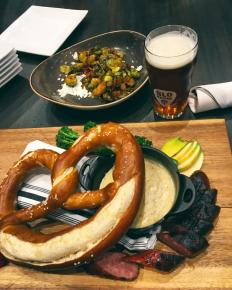 Music and beer just go together. SLO Brew, which features a venue and restaurant plus a taproom and brewery facility near the SLO airport—The Rock—is a Central Coast original, tried and true. The brewery has gained even more popularity for its craft beer, which are now available in handy cans. Pick up a six-pack of refreshing Wave Wrangler Session IPA or their classic Original Blonde Ale. Tip: Be sure to check the events calendar before heading to the taproom, you'll want to see who's taking the stage next. Need a place to crash or host a fun party? Reserve a spot at the SLO Brew Lofts, just above the venue. Rockin.
Tap your hunger
All this talk about delicious craft beer has my tummy rumbling. You too? Stop by one of SLO CAL's hip taproom and restaurants, where refreshing brews collide with more than your average bar food.
Eureka Burger in downtown SLO offers up local craft beers (as well as choice brews from around the world) paired with bone marrow burgers, fall-off-the-bone short ribs and fish tacos. Just check the chalkboard hanging high on the wall for what's new on tap—or belly up to the bar and order a small plate while you taste a little of each. Yum.
Milestone Tavern brings on the punchy pub grub with bacon wrapped meatloaf, smoked brisket chili and hand-tossed pizzas. Wash it all down with one of the largest selections of draft beer in the county. Whether you go for a local Central Coast Brewing Monterey Street Pale Ale (recent winner at the Great American Beer Festival) or a German import, you'll find good conversation flowing at this lively watering hole.
Libertine Brewing Company — purveyors of wild ales in Morro Bay and SLO — is offering up far more than pucker-inducing saisons and wine-barrel-aged brews at its new downtown location. Stop into this swank indoor-outdoor industrial setting for mac 'n beer cheese apps, pork nachos, a fresh poke board and 76 taps (which include beer from far and wide plus kombucha and cold brew coffee, too). Diversity is the spice of life, no?
SLO CAL Beers for the Win!
We are the champions, and you'll reap the rewards. Hit up these local breweries, all of which took home high honors at Colorado's Great American Beer Festival this October.
The Central Coast walked away with a whopping ten wins, which is quite impressive when you look at the numbers (More than 8,000 breweries attend each year, with more than 3,900 different beers competing).
Try:
•Figueroa Mountain Brewing Co., which boasts six taprooms, including one in Arroyo Grande, won silver in the English-style India pale ale category for its Hoppy Poppy IPA and bronze medals for Lighter Than I Look (a dark lager) and Wrangler Wheat (an American-style wheat beer with yeast). Note: Lighter Than I Look also won silver in 2015 and bronze in 2016.
•Central Coast Brewing – Their Monterey Street took home the coveted gold medal again, winning best American-style pale ale in the nation (big thumbs up)! Monterey Street earned a silver medal in 2016, and gold in 2015.
•Newcomer Silva Brewing and longtime icons Firestone Walker (see above for more on both breweries). Both earned silver for their collaboration in the mixed-culture brette beer category (Ten Buck Chuck is brewed at Firestone Walker's barrel-aging and wild ale facility in Buellton). Plus, Firestone Walker's popular Pivo Pils also won bronze in the German-style pilsner category (it's won gold multiple times in the past).