Cycling Towards Adventure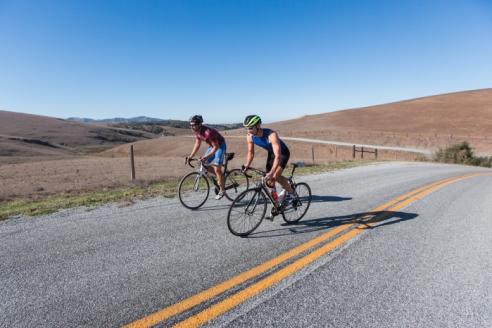 One of the best things about San Luis Obispo County is all of the open roads and therefore all of the outdoor cycling adventures that you can have while in the County. Here is a three-day trip filled with outdoor adventures sure to leave you reenergized.
Day One:
Come into San Luis Obispo ready to bike! Drive into San Luis Obispo and head straight for the Bob Jones Trail. Located in San Luis Obispo off of Ontario Road, this leisurely five-mile paved path will take you directly to Avila Beach. Once there, enjoy biking around this cute beach town, stop for a bite to eat at Ocean Grill, or get in the water with Avila Beach Paddlesports. After you've gotten your beach fix, hop back on the Bob Jones Trail and head back to San Luis Obispo.
Dinner in San Luis Obispo is a delicious experience and it is even more so when you are starving before you get there! Some great restaurant choices include, but not limited to, Big Sky Café, Novo Restaurant, and SLO Provisions. After you are full and content take some time to walk around Downtown San Luis Obispo, window shop the many boutiques, and get some coffee or dessert to end the day on a high note. id you happen to come to SLO on the first Thursday of the month? Grab your bike and join the SLO Bike Happening where you'll be able to cruise around the streets of downtown SLO with fellow cyclists.
Day Two:
Depending on your adventure level, on day two you can either bike or drive Highway 1 to Morro Bay. Once there, explore the Morro Bay National Estuary, shop along the Embarcadero and grab some tasty (and fresh) seafood. Feeling like you need more road under your tires? Hop back on the Highway 1 Discovery Route and head further north to the classic beach town of Cayucos. Once there, treat yourself to some Brown Butter Cookies (you deserve them after that ride).
Finish your day at one of Morro Bay's great restaurants and watch the sun fall just behind the rock. Be sure to have your camera ready because these views will not disappoint.
Day Three:
In the morning, drive into the town of Atascadero, located just north of San Luis Obispo. Grab a history lesson at the Historic Atascadero City Hall. Once devastated by the San Simeon earthquake, the Atascadero City Hall has been completely renovated and is full of beauty and fun facts. After an exciting trip to the city hall, head out to one of the many trails in Atascadero to hike or bike around the mountains of the north county to finish off your exciting trip of adventure. Your scenic drive home will give your legs a rest, and you time to plan your next adventurous trip in San Luis Obispo County!