Dodger Hikes SLO County (so you don't have to)
By: Jordan Carson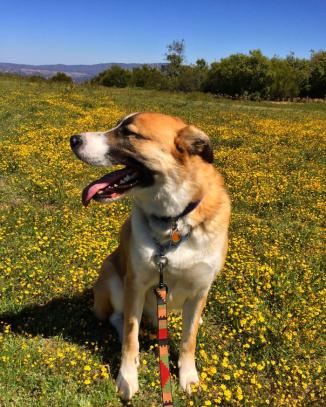 Hi, I'm Dodger and I'll be your furry SLO County guide today! If I'm not doing hot laps around the backyard you can find me racing down the beach and jumping through the waves, chasing my friends at the dog park or in the great outdoors sniffing my way along some of SLO County's hiking trails. Come with me and I'll tell you all about some of my favorite places I've been to so far (my human was even nice enough to tag along and take some photos).
1). Rinconada Trail | Santa Margarita
Trailhead: 2557, 2689 W Pozo Road, Santa Margarita
Length: 4.8 mile semi-loop
Hiking Time: 2-3 hours (3 if you like to smell things or be carried down the mountain like me. More on that in a bit!)
Sights: wildflowers, Los Padres National Forest, old mercury mine and processing mill, and sweeping views of SLO County
Sounds: crickets, birds, the crunch of dirt under your paws and the occasional clippity clop of hooves (this is a horse friendly trail as well!)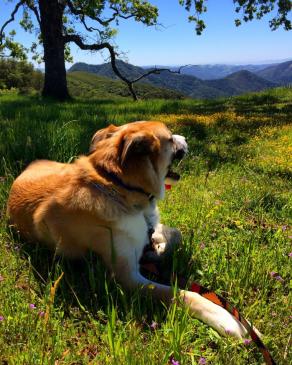 This is a great trail, especially in the Spring. Long, green grasses line the first bit of the trail and Oak trees shade the path. As you start wagging your way further, the trail steadily becomes more open with low-lying bushes flank the wide trail. Make sure your human brings plenty of water for the both of you, the open trail can get pretty hot on a clear day and most of the trail is an upward climb. Once you're at the top you'll be able to frolic through grass, wildflowers and relax underneath a giant oak tree while gazing at the Los Padres National Forest below. Be aware of your feet though. I hadn't been hiking in a while and my pads were a little too sensitive to the elements out here. It's okay though, I was given the VIP treatment and carried down the mountain by my nice friend.
2) Johnson Ranch Open Space | San Luis Obispo
Trailhead: South Higuera Street and Ontario Road (on Southbound 101 side)
Length: 2.5 – 3.7 mile loop (2 trail options)
Hiking Time: 1-2 hours
Sights: Wildflowers, grassy fields, hills of SLO, and oak trees.
Sounds: birds and running water (when the creek is full)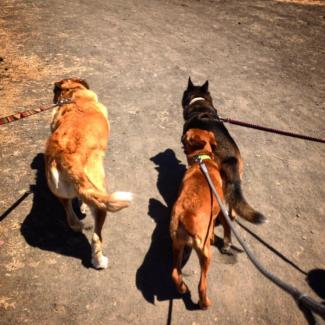 My friends and I love hiking this trail together. We can all walk side-by-side for a good portion of it then it's follow the leader time! It's a good after work hike for my human and her human friends (I'd go by myself but whenever I see a squirrel I get distracted and forget what I was doing). During the Winter and Spring the grass is nice and lush and feels great beneath your paws.
3) Cerro San Luis | San Luis Obispo
Trailhead: Fernandez Road
Length: 4 miles
Hiking Time: 2.5 – 3 hours
Sights: wildflowers, Laguna Lake, panoramic views of SLO and surrounding areas,
Sounds: breezes, crickets, and serenity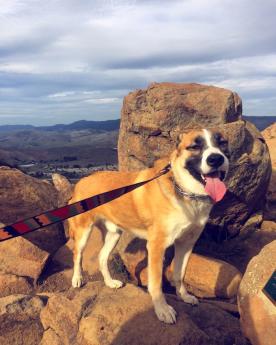 Cerro San Luis aka Madonna Mountain is a hiking staple in SLO County. It's fun to run around and smell the rocks and plant life (I've smelled them a few times but I like to re-smell things just to make sure I haven't already smelled it). Plus, when you get to the tippy top the wind blows around all your fur and it feels like you're on top of the world.
4) Cayucos Beach | Cayucos
Parking: There's a few places your human can choose to park, our favorite is the small parking area off Studio Drive just south of Cayucos.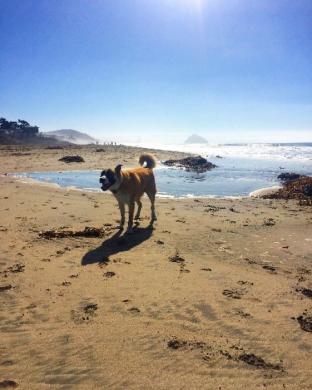 This is by far my favorite place in all of SLO County. There's so much to do here it's hard to decide what to accomplish first. You can play fetch, jump through the waves, run down the beach, sniff the seaweed, or meet new friends. There's nothing like running through the water with a new pal, and Cayucos is the perfect place to do this.
5) Black Hill Trail | Morro Bay
Trailhead: Park View Drive
Length: 1.2 (short hike) or 2.5 miles (longer hike)
Hiking Time: 1-2 hours
Sights: Ferns, spectacular views, Eucalyptus Groves
Sounds: Birds and the sound of the ocean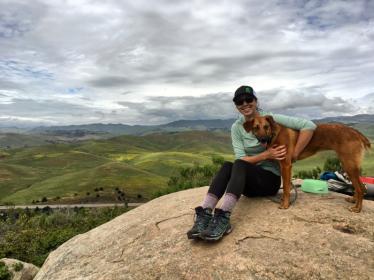 This hike is pretty neat. At one point your hiking underneath big, huge Monterey Pines and the next thing you know you can see all of Morro Bay! This is another great spot to let the wind rustle in your fur and enjoy the views, so much so that you forget to take a picture so please enjoy this photo of my friend Sequoia and her human, Lindsay, at the top of Black Hill instead.