Wine, Waves, and Beyond
Do yourself a favor, and don't miss this wonderful family event!!
This coming weekend, June 2-5 is the wonderful Wine, Waves, and Beyond. From the event, all proceeds go to support the Association of Amputee Surfers (AmpSurf) which is a non-profit organization founded by Gulf War Veteran Dana Cummings. The event celebrates the best of San Luis Obispo, where SLO County wine country meets the unique surf culture. The following events are getting us so excited for this weekend's activities. We hope to see you there! For more information, and to purchase tickets, visit the website here!
Surf Movie Night
Thursday, May 31st 6:30pm
Historic Fremont Theatre, San Luis Obispo
$10 Admission
This year they will be showing TWO shorts: Nike 6.0's "Leave a Message", and Keith Malloy's "Come Hell or High Water" with special guest, Director Keith Malloy, in attendance. You don't want to miss seeing these on the big Fremont screen...

All proceeds from this epic movie event will go to AmpSurf, in a night filled with community, culture, surfing and prizes! Raffle tickets can win everything from original art & custom boards, to dinner at SLO county's finest restaurants, plus tickets to weekend Wine Waves & Beyond events. This event is a must attend, so bring your friends and family out for a night of fun that supports a great cause.
Barrel to Barrel
Friday, June 1st, 5:00-8:00pm
The Cliffs Resort, Pismo Beach
Price: $45 pre-sale, $55 at the door
Every year this event just gets better and better. Held on the ocean front lawn at the Cliffs Resort, Wine Waves & Beyond truly presents a Barrel to Barrel event that can't be forgotten. With live music, over 35 visiting wineries and breweries, and an incredible silent auction, come down for a glass of wine, tastes from our best local restaurants and a sunset to remember. All proceeds go to AmpSurf, so don't miss this annual Friday evening complete with a swimwear fashion show and an endless ocean view. Aloha Radio will also be joining to perform!
Brew Masters Dinner
Saturday, June 2nd, 6:30pm
The Cliffs Resort, Pismo Beach
$75.00
Firestone Walker Brewing Company is once again pouring for the featured Brew Masters event! Five Chefs from around the county will create five irresistible courses, each paired with a different Firestone Brew. Space is limited so make sure you sign-up soon! Brew Master Matt Brynildson will be in attendance to enlighten us on all of the brews we will be tasting! Even more, this year's chef auction returns with the opportunity to bid on custom meals prepared for you and three guests by SLO county's finest chefs. All proceeds go to AmpSurf! Whether you want to bid, or just enjoy an amazing meal, this is the event for you.
Longboard Surf Contest
Sunday, June 3rd, 7:00am - 4:00pm
Break in front of Sea Venture Resort
$30 entry Fee for Contest
Rise and shine on Sunday, June 3rd for the 3rd Annual Wine, Waves, & Beyond Longboarding Contest. Not only will there be men and women's heats, but a Challenged Athletes and local Winemakers/BrewMasters heat once again! This will be an incredible display of courage and skill. With Peachy Canyon, Chronic Cellars, and Niner Wine Estate holding past wins, this year brings out more contestants than ever.
Best Perk: The $2,000 worth of CASH prizes sponsored by the City of Pismo Beach! The winner in each division will receive $250 in cash along with a glass trophy by artisti, Ted Emrick. All proceeds benefit AmpSurf!

For those that aren't surfing (and even those who are) be sure to check out the classic VW's, live music, BBQ & Volleyball Exhibition near the contest. Come relax and watch the sun set to finish up the event weekend.
Sunday Fun Day FREE events!
BBQ & Music
Sunday, June 3rd
VW Display = 11am-3pm
Volleyball Exhibition = 11am-2pm
BBQ, Drinks & live music = 12noon-5pm
FREE! *drinks & BBQ for purchase
Beach House just south of the Sea Venture Resort

Sunday Fun Day! Hit the beach in front of the Sea Venture for a full day of food and drinks, plus live music and top-notch volleyball alongside our annual VW show.

Bring your family out to the Beach House just south of the Sea Venture resort where there will be a barbecue as well as beer & wine for purchase. Come out for live music from noon to 5pm and at 11am we'll launch the "King of the Beach" volleyball exhibition, featuring 2 courts of the county's best men's and women's athletes. We couldn't think of a better way to round out the 2012 Wine Waves and Beyond extravaganza. Hope to see you there!
And don't miss Goatee and Pismo - our very own, local, internationally famous SURFING GOATS!
Locals Goatee and Pismo love to surf, and are a must see for the entire family! Goatee is the Mom of 3 month old baby Pismo, who has quickly learned the surfer lifestyle from his Mom and owner Dana McGregor. Through his skilled goats, Dana has created a unique way to give back to families all over the world, check out how, here.
Come out to Wine, Waves, and Beyond to meet our local surfing goat celebrities who are all about surfing for a good cause! Featured on local news station KSBY, nationally on msnbc.com (The Today Show), The Weather Channel, and internationally in the UK's The Huffington Post.
AmpSurf is a 501(c)(3) Non-Profit Organization, made up of amputees, veterans, friends and families of the disabled and depend on donations for our operation. Our Goal is to Promote, Inspire, Educate, and Rehabilitate people with disabilities, especially our veteran heroes through adaptive surfing and fun, safe, outdoor activities that all can participate in.
One in five Americans struggle with a lifelong disability and nearly two million men and women have served our country in Iraq and Afghanistan and are coming home looking for ways to feel whole again and to fit back in to 'normal' life. Whether they are an amputee, blind, suffer from PTSD, have quadriplegia, or suffer from a traumatic brain injury (TBI). Whether they served in WWII, Korea, Vietnam, the Gulf war, Iraq or Afghanistan. Whether they are a child of autism, or a young woman who has lost a limb to Cancer, AmpSurf offers a unique program to bring the healing power of the ocean and adaptive surfing together for an experience that is both mentally and physically one of the rehabilitating.
For 9 years, AmpSurf has been providing learn to surf clinics to serve those who need it. They have served hundreds of our disabled veterans American heroes as well as disabled adults and children who probably never would have had this experience if it hadn't been for the program.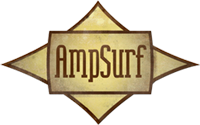 Over the past two years, WW&B has raised $26,000 for AmpSurf, and they are excited to continue to support this amazing organization.