Arroyo Grande Easter Egg Hunt & Festival
March 30, 2013 | 10 am
Elm Street Park | 350 S. Elm St., | Arroyo Grande
805.473.2250
Join the fun during the annual Family Egg Hunt and Festival! Since the festival began in 1989, we have had between 3,000 and 4,000 participants each year. We hide over 10,000 plastic eggs and distribute approximately 50,000 pieces of candy. In addition to the egg hunt, we offer raw egg toss games, sack races, a bouncing castle, petting zoo, fire truck and police car exhibits, and a hot dog BBQ.
Cayucos Easter Egg Hunt and Dog Parade
March 30, 2013 | 10 am
Hardie Park | 3rd St., Cayucos
805.995.1545
Bring the kids, hunt for eggs and meet the Easter Bunny! Registration for the dog parade starts at 12:30pm. Come dress up your favorite pooch in their best Easter Bonnet and outfit. Prizes awarded for Best Costume, Best Behaved, Best Bonnet and many more. Proceeds fund our Mutt Mitt Program. Hosted by Cayucos Lioness Club.
Cambria Easter Egg Hunt
March 31, 2013 | 9 am
Shamel Park | 5455 Windsor Blvd., Cambria
805.927.3624
The Easter Bunny will be there. Balloons & prizes for 8yrs and under. Special egg hunt for 2 yrs. and under. Admission is free.
Donati Vineyard Family Easter Egg Hunt
March 30, 2013 | 5 - 7 pm
Donati Family Vineyard | 2720 Oak View Rd., Templeton
805.238.0676
Bring the whole family out to Donati Family Vineyard on Saturday, March 30th at 12:30pm to hunt for Easter Eggs on the Winery lawn, no cost to attend... Pack a lunch and make an afternoon of it, wine available by the glass for parents.
Hoppy Easter Egg Hunt at SeaCrest OceanFront Hotel
March 30, 2013 | 10 am
SeaCrest OceanFront Hotel | 2241 Price St., Pismo Beach
800.782.8400
Kids ages 10 and under will search our 5 acre grassy area for eggs full of candy and goodies. With other prizes and activities, this family event is always a blast!
Los Osos Easter Egg Hunt
March 30, 2013 | 9 am
South Bay Community Center | 2180 Palisades Ave., Los Osos
This is a great family event. The fun begins at 10am, but get there early to register for the costume contest. There's also awards for the best colored egg, and the friends of the Los Osos Library will be on hand for story time (10:15). The egg hunt begins at 11am and come hungry, they'll be free hot dogs served.
9:00 - Costume Contest Registration
10:15 - Story time with Friends of the Los Osos Library.
10:30 - Costume Contest
11:00 - Easter Egg Hunt
Nipomo Kid's Day & Egg Hunt
March 30, 2013 | 11 am - 3 pm
Nipomo Community Park
805.929.5437
Event includes egg hunt, games, pony rides, bounce house, cake walk, puppet show and face painting.
Pismo Beach Easter Eggstravaganza
March 30, 2013 | 10 am - 1 pm
Dinosaur Caves Park | Pismo Beach
805.773.7063
Festivities will be held at Dinosaur Caves Park in Shell Beach, and the hunt is FREE! The celebration includes games, bounce houses, face painting, a balloon artist and much more. Participants are asked to bring their own basket or bag to collect their eggs and goodies. The Easter Bunny might even be available for photos, so be sure to bring your cameras! To ensure the safety of all participants, different hunt times are scheduled for different age groups as follows:
Ages 3 & Under: 10:10am
Ages 4-6: 10:40am
Ages 7-9: 11:10am
Ages 10-12: 11:40am
San Luis Obispo Easter Egg Hunt
March 30, 2013 | 11 am
Jack House | 536 Marsh St., San Luis Obispo
805.781.7300
Bring the kids and join the Easter Bunny in hunting for treasure filled eggs. Free for children, 0-8 years.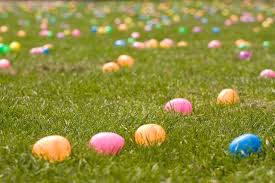 Other Easter Weekend Activities
Adult Easter Egg Hunt at Robert Hall Winery
March 29 - 31, 2013 | 10 am - 5 pm
Robert Hall Winery | 3443 Mill Rd., Paso Robles
805.239.1616

Drop by Robert Hall Winery anytime between 10-5pm during this weekend and find one of the eggs hidden inside the tasting room or on the Terrace. Each egg contains a special discount that can be applied to your wine purchase. Why should kids have all the fun?

Madonna Inn Breakfast Buffet
March 31, 2013 | 9 am - 2 pm
Alex Madonna's Gold Rush Steak House | 100 Madonna Rd., San Luis Obispo
805.543.3000

This Easter catch a glimpse of the Easter Bunny as he hops around the Madonna Inn! Then settle down to a fabulous Easter Sunday Breakfast Buffet, featuring an omelet bar, quiche, sausages, au gratin potatoes, World Famous Madonna Inn Cakes, $5 drink specials and much more! The Easter Bunny emerges from his hole on Saturday, March 30, from 4:30-6pm, then on Sunday, March 31, from 11:30am-1pm. Grab your camera and snap a shot! Don't miss the fun at the Shops at the Madonna Inn!

For other San Luis Obispo County events!