Experience Paso Robles Wine Tasting and Weddings by Horse-Drawn Carriage
by Tina Swithin
There is always something new to discover in Paso Robles, which is one of the many things that I love about this area. A few weeks ago, I received a call from Morgan at Midnight Cellars who was eager to share news about the newest business to "trot" onto the Paso Robles wine scene. If you are questioning my choice of words, let me explain that this business did in fact "trot" into Paso Robles.
If you are planning to indulge in the Paso Robles wine tasting experience, there are a variety of ways to visit tasting rooms: limos, wine tours, trolleys and now carriage rides! Yes, I did say 'carriage rides'. White Horse Carriage Co. is a welcomed addition to Paso Robles, providing wine tasting excursions by horse-drawn carriage. You can sit back and enjoy the rolling hills, vines and fresh air from the comfort of a lovingly restored Victorian-era carriage. Their tours include two to four boutique tasting rooms and a light picnic lunch in the midst of a local vineyard or can be catered to your individual needs.
I couldn't help but smile as we rode through beautiful Paso Robles while listening to the therapeutic "clippity-clop" of hooves with Angel, a 12-year old Spanish Norman Carriage Horse at the helm. Angel isn't just any horse; she is a stunning white horse who has a gentle soul and a strong passion for pulling her carriage. Her enthusiasm shows with every step that she takes. Madaline explained, "You can tell Angel is happy when her ears are perked forward and there is a zealous spring in her step." I would be happy also if I got to experience the beautiful wine country every day with a backdrop of rolling hills and vineyards.
On my adventure with Kari, Madaline and Angel, I also discovered that the age old saying, "Love and marriage goes together like a horse and carriage" is actually alive and well in Paso Robles. Madaline and Kari are eager to make your fairytale wedding a reality. What bride doesn't dream of being taken to the alter by a beautiful white horse-drawn carriage? For those planning to "pop the question", they can assist you with the first step in that process-asking for her hand in marriage. As their website states, "She will tell the story to friends and family for the rest of her life... create a fairytale that she will never forget".
Whether you are planning a day of wine tasting, a romantic proposal or a grand entrance to your wedding day festivities; White Horse Carriage Co. is an experience that I highly recommend. Want to see more? I leave you with their official video in which you can pretend to be trotting through the vineyards in style.
Video Link:
https://vimeo.com/30707865

White Horse Carriage Co.
805-296-2289
WhiteHorse@email.com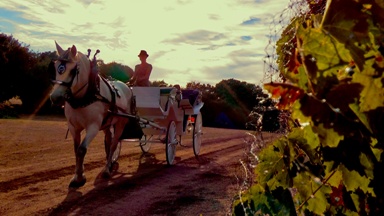 Tina Swithin is the Marketing Coordinator and Blog Manager for TravelPaso.com where she writes blog-a-licious articles about Paso Robles. Follow the Paso Robles Insider to get the inside scoop on all the haps in Paso Robles Wine Country.