The piers of California's beautiful Central Coast offer a summer beach experience unique from the wharfs and boardwalks that neighbor it to the north and south.  A string of classic beachside communities lie along the stretch of breathtaking shoreline that falls roughly halfway between Los Angeles and San Francisco.
These are the charming seaside towns of San Luis Obispo County, and the area's history of successful commercial fishing has left it with some amazing shorefront structures.  Visitors can choose from three different beach pier experiences - Pismo State Beach, Avila Beach, and Cayucos Beach.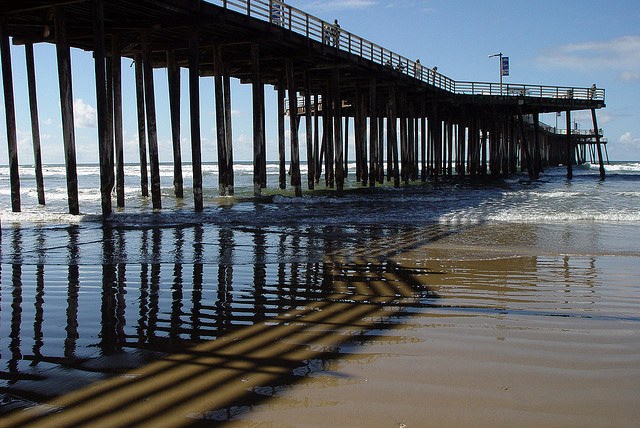 Pismo State Beach includes a historic pier, beachfront shopping promenade, and 60 acres of scenic, sandy shoreline. The 1,200 foot pier is a popular spot among locals and tourists; beachgoers can enjoy fishing, surfing, volleyball courts, shopping, and fresh seafood.  Splash Café, famous for award-winning clam chowder, opened its original location just steps from the pier.  Pismo Beach is right off of the 101 freeway, 10 minutes from San Luis Obispo and the Edna Valley wine country.  It's close to a number of other unique attractions including Oceano Dunes State Vehicular Recreation Area, premium outlet shopping, and Dinosaur Caves, an 11-acre bluff top park.
Three piers stand in a row at Avila Beach, a smaller seaside town just north of Pismo. Avila Beach Pier extends 1,685 feet from the center of the main beach area.  It's flanked by colorful shops, hotels, and eateries, and is most commonly used for scenic strolls and recreational fishing. The Hartford pier was constructed in the late 1800's for shipping, but it was also used for smuggling liquor during the Prohibition.  In between the two lies the California State Polytechnic University pier, which is used for marine research but is closed to the public. Avila Beach is nestled in the hills between Pismo and San Luis Obispo and also offers kayaking, golfing, and natural hot springs.
Cayucos is the northernmost SLO County beach community.  The surf town has remained untouched by over-development and visitors will enjoy a laidback small town feel paired with cool, sunny weather. Captain James Cass developed the area in 1867 and his wharf and original home are still standing. Now called Cass's Wharf, the beach area offers a fishing pier and clean, white sand, and spectacular coastal views. Cayucos is located just off of Highway One, between Morro Bay and Cambria.