From scarecrows to craft beer, Highway 1 offers up for every autumnal explorer
Even in October, SLO CAL remains sunny and cheerful. While some folks across the country are bundling up in scarves and hats, we're still enjoying the temperate days lounging at the beach. Yes, the palm trees still sway against a baby blue sky and the Eucalyptus trees do not change their color. Still—ask any local, and they'll tell you that the fall season has indeed arrived (you need only know where to look). This fall, experience Highway 1's cornucopia of autumnal wonders, perfect for explorers of all ages. From whimsical community events to festive food and drink happenings, pumpkin spice has nothing on SLO CAL.
Arts & Whimsy
Let loose and let your imagination soar
Cambria Scarecrow Festival
Give 'em something to crow about:
SLO CAL's colorful coastal scarecrows will greet you with fistfuls of straw, elaborate hand-made costumes and vibrantly painted smiles this fall. Now in its eleventh year, the Cambria Scarecrow Festival features hundreds of scarecrows bowling, bathing, painting, pedaling, fishing and—yes, even flying—through Cambria, San Simeon and Harmony Oct. 1-31.
Don't miss:
Aside from the free festival, shutterbugs will want to take part in a photography workshop combining scarecrows and coastal views hosted on Oct. 5 from 9 a.m.-5 p.m. at the San Simeon Lodge Restaurant and Bar in San Simeon. Enjoy brats and craft beer served in a commemorative mug while the kiddos get their wiggles out (Oct. 19 at 11:30 a.m. at Pinedorado Grounds in Cambria). A visit to the Cambria Historical Society Museum is always a great way to cap off a wonder-filled weekend, open Monday 10 a.m.-1 p.m. and Friday through Sunday from 1 to 4 p.m.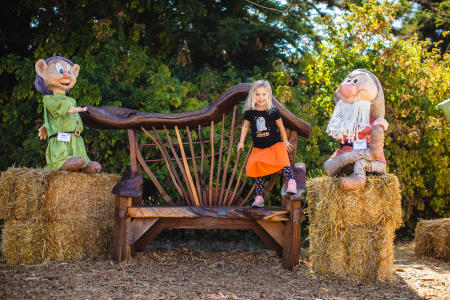 Rocky Horror Picture Show at the Dana Adobe
A howling good time:
Pull on your funkiest wig and head to the Nipomo Dana Adobe this Oct. 10 and 11 for the cult classic film The Rocky Horror Picture Show, as performed by The Studio Players and The Studio of Performing Arts (the show runs from 8 to 10 p.m. both evenings). Yes, you'll even receive a prop bag filled with interactive goodies you can use throughout the flick. You'll be ready for Halloween antics in no time—and you may even be inspired to try a few new costume ideas.
Good to know:
The Dana Adobe is the oldest home in San Luis Obispo County and a registered historical site—help keep it running while enjoying its rich history. Note: The show is for an 18+ crowd only due to adult subject matter.
Open Studios Tour
Open door policy:
This Oct 12, 13, 19 and 20, ARTS Obispo's Open Studios Art Tour (OSAT) will pull back the curtain and allow everyday folks to enter various artists' studios across SLO CAL, including the coastal Highway 1 communities. One of the largest open studios in the country, more than 200 creatives participate in the event, hosting new visitors to their homes and workspaces each October.
Good to know:
OSAT showcases the quality and diversity of art produced in SLO CAL, including paintings, ceramics, glassware, sculpture, crafts and more. Visitors can see and purchase a wide range of original work by these illustrious local artists (you'll also get the unique opportunity to understand how, why and where the art was created).
Hearst Castle Dinner and a Movie Night
Silver screen dream:
This Nov. 11, enjoy an intimate, sit-down dinner paired with fine wine at the mother of all date night locations: San Simeon's Hearst Castle. Get comfortable, because next up is a film screened in Hearst's private red velvet-lined theater (lit by beautiful golden goddess lamps). The ornate, 50-seat movie theater was a favorite hangout for Hearst, actress/girlfriend Marion Davies and their beloved dachshund. Oh, and on the way from the "dining cottage" to the movie, you'll take in gorgeously appointed gardens, too. Yes, it's all very fancy (just think about how well that dog must have lived). Enjoy the opulence while you can—it's fun to imagine you're a permanent resident!
Good to know:
This event runs from 6:30-9:30 p.m. and is open to fifteen guests only. First come, first-served!
Pumpkins in the Park in Pismo Beach
Out of your gourd:
Bumpy, smooth, orange-hued or pure white, pumpkins of all stripes will dot breathtaking Dinosaur Caves Park in Pismo Beach this Oct. 26. From 10 a.m. to 1 p.m., enjoy a free, family fun event rife with fantastic photo opportunities. Children 12 and under are encouraged to participate in Halloween-themed activities, including pumpkin decorating, costume contests, games, crafts, and bounce houses. Good witches and bad witches welcome!
Good to know:
Get to Dinosaur Caves Park early to receive one of 500 pumpkins that will be given away (first come, first serve). The costume contest will start at 11:30 am and includes prizes for first, second and third place in four age divisions. An adult costume contest will follow with an award given to the top two adults for best overall costume. Bring your best fashion (and SPF).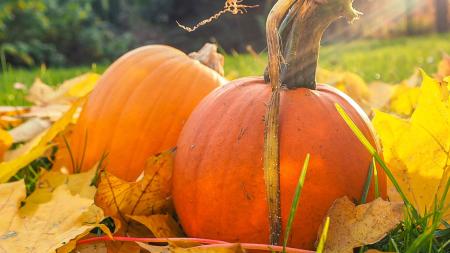 Cheers!
Just follow the sound of laughter and clinking glasses
Wine & Pie tasting at Harmony Cellars
Always eat dessert first?
A wine and pie pairing wonderland awaits sweet-toothed travelers at Harmony Cellars this Oct. 19-20. Perched above the quaint village of Harmony, the winery is known for its epic views and classic pours. Farm fresh pies from Linn's Cambria pair with the award-winning zinfandel and cabernet sauvignon—a match made in culinary heaven.
Good to know:
Mini pies in your favorite flavors will be available for purchase from 11 a.m. to 3 p.m. both days. No reservations are needed—just show up and grub down. Also expect specials on featured wines by the glass and bottle. More of a savory person? Check out the winery's cheese and charcuterie workshop, unfolding on Oct. 27 from 5 to 6:30 p.m.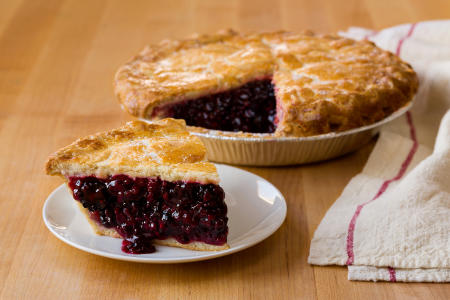 Dinner & Libations at Piedras Blancas Light Station
Allow us to light your way to a fabulous meal
The Piedras Blancas Light Station is dreamy in the afternoon autumn light—and a spectacular backdrop for a memorable SLO CAL dinner. Wander the beautiful San Simeon grounds this October 4 prior to sampling delicious local food and libations, including wood-fired pizza, Harmony Cellars wine and beer from 927 Beer Co. The feast also includes a silent auction benefitting the historic site. Stick around for the sunset, always the perfect end to any spectacular coastal meal.
Good to know:
Reservations are required for this event and your ticket includes dinner, wine, beer, dessert, a logo glass and a tour of the Light Station.
Hearst Ranch Winery Winemaker Dinner
The crash of waves meets the swirl of wine:
Join Jim and Debi Saunders of Hearst Ranch Winery at Seaside Warehouse in San Simeon for an enchanting evening of wine, ocean views and epicurean delights. Make a date for October 19 and come hungry (you'll graze, nibble and nosh from 6 to 9 p.m.). A dazzling menu prepared by Chef Jennie Sturgeon of Trumpet Vine Catering will be paired with award-winning wines that speak to the essence of the region. What better way to celebrate harvest on the SLO CAL coast?
Good to know:
Live music will add to the already elegant seaside ambiance. Tickets are required for this event, so make sure you reserve your seat now.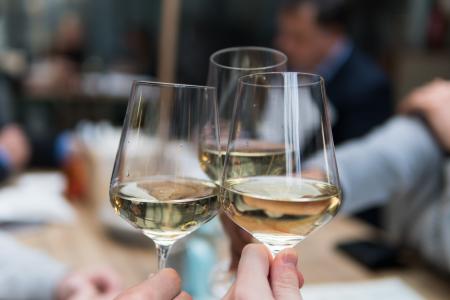 Harvest on the Coast in Avila Beach
Wine and waves:
With 30 wineries averaging just five miles from the Pacific, explore handcrafted wines that reflect the terroir of SLO CAL's coastline during Harvest on the Coast weekend, running Nov. 1 through 3. Consider this your gateway to SLO Coast Wine's popular pinot noir and chardonnay offerings! SLO Coast Wine has partnered with Visit Avila Beach to offer the Avila Beach Experience Lounge limited to attendees who stay in Avila Beach (lucky for you). Get exclusive access to reserve and library wines, large format bottle pouring, and a chance for you to rub elbows with our winemakers and vintners. Also, enjoy delectable cuisine from the Gardens of Avila Restaurant. Show your Avila Beach lodging room key at the Grand Tasting entrance and receive a special wristband to enter the Avila Beach Experience Lounge—sure to make you feel like a VIP. On Nov. 1, savor a Crafted on the Coast Winemaker Dinner, featuring artfully prepared food and wine pairings featuring the San Luis Obispo Coast Wine region, encompassing Edna Valley, Arroyo Grande, Cambria, and Avila Beach. On Nov. 2, explore the Grand Tasting and Auction, featuring sips and nibbles from more than 60 coastal wineries and eateries all available in one flavorful event. Wrap up the weekend with Surfs Up Sunday on Nov. 3, your all-access pass to exclusive tastings, deals and events across the area.
Good to know:
Book your stay in Avila Beach for awesome perks throughout Harvest on the Coast Weekend. All you have to do is contact any Avila Beach lodging property and book your stay. Purchase your Harvest on the Coast tickets and be sure to add lodging information when prompted.
Community Flavor
Party like a local—and leave with a cool souvenir
Morro Bay Harbor Festival
Rock out by Morro Rock:
Morro Bay will be ground zero for live music, local eats, wine, beer and family-friendly activities during the 38th annual Morro Bay Harvest Festival, slated for Oct. 5 from 10 a.m.- 6 p.m. on Embarcadero Street. This year, check out a slew of interactive delights, including an innovative environmental and technology showcase and a kid zone for the tots.
Don't miss:
Staying a while? Fall is a great time to try Morro Bay's fresh-caught seafood. See what the local fishermen have hauled in and—more importantly—enjoy it!
Baywood Oktoberfest
A pint of pleasure, please:
Raise a frosty mug and toast SLO CAL's chillest back bay hangout. The Baywood Oktoberfest combines live music, food trucks and killer craft beer on Second Street in Baywood Park on Oct. 27 from 9 a.m. to 6 p.m. Yes, there will be a "Beer Wagon on site"—which is just as exciting in reality, we promise.
Don't miss:
An early morning car show and 4K morning run (you know, to balance out all the beer and food you'll be enjoying the rest of the day).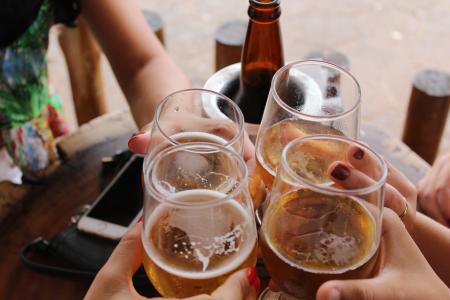 Pismo Beach Annual Clam Festival
Clam to fame:
Pismo Beach is famous for its cool California vibe, but you could say that the annual Pismo Beach Clam Fest is right up there as a claim to fame. The free, 73rd annual event kicks off Oct. 18 and includes a wine walk, parade, kid zone, live music, beer and wine garden, food trucks and plenty of diverse vendors all weekend long. Gather at the beach at 10 a.m. on Saturday morning to view the annual Clam Festival Parade as it passes down Price Street (and follow the last entrant into the heart of the festival in the Pismo Pier parking lot to unleash the opening of the Kid's Zone).
Don't miss:
The popular Clam Bake and Clam Chowder Cook-Off, staples of this coastal shindig. There's even a Best Local Clam Chowder Contest and classic clam dig. Yep—it's time to break out those clam diggers hiding in the back of your closet!
San Luis Obispo's Third Annual Harvest Festival
Slow down:
Celebrate the harvest season in San Luis Obispo. This Oct. 29, unplug the iPhone and meet the moment head-on at the Third Annual Harvest Festival. You're in for an interactive afternoon between farmers and the public, with plenty of cool stuff for the kids to get their hands on. Tour City Farm SLO, meet the farmers, grill your own ear of corn, and visit the you-pick pumpkin patch (hayrides also available). Take part in planting and harvesting activities, including a tomato toss, weed pulling (it's more fun than it sounds) and a pumpkin weight guessing contest.
Don't miss:
Enjoy live music by Miss Leo and her Bluegrass Boys throughout this free event. Also, feed the resident chickens, visit the happy goats and be sure to purchase fresh produce grown onsite.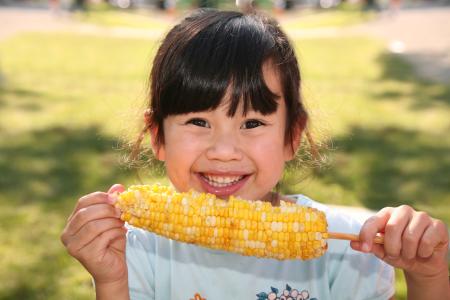 Cayucos Car Show
Cherry paint jobs galore:
This Nov. 11 from 8 a.m. to 3 p.m., follow the sound of revving engines to the beach. The Annual Cayucos Car Show is returning for its 29th year and you're invited to look under the hood! Enjoy a live band under the sun, a beer garden and barbecue grub at the Vet's Hall all while checking out beautiful classic cars parked throughout downtown Cayucos. End your day with a stroll on the landmark Cayucos Pier after enjoying any one of the coastal community's unique shops and innovative, locally-sourced restaurants.
Good to know:
The Cayucos Pier is just one block from the beach. Be sure to stroll the sand (and bring your pup, too).