Farmers' Market Pizza from Rooster Creek Tavern with Chef Jason Gabel
Farmers' Market Pizza with leeks, spinach, and cream sauce
Written by Randol White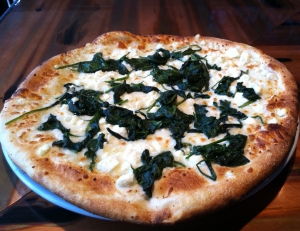 Chef Jason Gabel with Rooster Creek Tavern in Arroyo Grande developed this pizza to utilize the fresh ingredients available at the nearby San Luis Obispo farmers' markets. He shared it with us as part of San Luis Obispo County Restaurant Month.
The tavern is situated on Arroyo Grande Creek, where patrons and staff are entertained daily by the Roosters who make the banks of the creek their home.
Chef Jason describe how to make the pizze below!
Servings: makes one 12" pizza
INGREDIENTS
* 1 10 oz portion of your favorite pizza dough
* 1 12-14" pizza stone
* 1 12-14" pizza peel or big wooden board
* 1/4 cup flour
SAUCE
* 1 egg yolk
* 1 cup heavy cream
* 1/3-1/2 cup grated Romano cheese
* 1 tsp white pepper
* 1 1/2 tsp kosher salt
* 1/2 tlbsp unsalted butter
TOPPERS
* 1 1/2 cups blanched broccoli florets
* 2 cups washed, sliced leeks (white part only)
* 1 1/2 tlbsp olive oil
* 2 cups baby spinach
* 1 TBS minced garlic
* Salt and Pepper to taste
* 6 oz. goat cheese
* 4 oz. mozzarella cheese
DIRECTIONS
Begin by placing your pizza stone on the middle rack of the oven and preheat it to at least 550 degrees (although if you can go higher then you should shoot for 600-650)
Now, in a small saucepan, whisk together egg yolk, cream, romano, white pepper and salt. Place on stove and turn burner on low. Add butter and stir occasionally until almost to a boil. Remove from heat and allow to cool to room temp.
Heat olive oil in a large sauté pan, add garlic and leeks, cook until leeks are soft and garlic starts to brown. Add spinach and remove from heat. Stir to wilt spinach. Season with salt and pepper. Drain and cool mixture to room temp.
Dust the board with a generous coating of flour. On a separate surface, stretch, roll, toss and/or press your dough into a roughly 12" circle. Try to get a little raised crust along the outside edge and make sure the dough is stretched evenly. Transfer it to your floured board. Spread a generous layer of the sauce onto the dough. Next, spread the spinach and leek mixture evenly onto dough. Sprinkle both cheeses evenly over dough. Top with broccoli florets. Carefully slide your pizza onto your pizza stone. Bake for about 7-10 minutes. Depending on desired crispness and temp achieved. Remove when edges are brown and cheese is melted, cut and enjoy!