Festival Mozaic's 2012 WinterMezzo Series: Heartthrobs
Intimate weekend performances feature celebrated musicians, priceless violins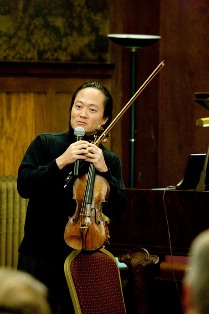 Festival Mozaic has announced its WinterMezzo concert series, the well-known summer festival's chamber music series that will take place from February 10-12, 2012, at various locations around San Luis Obispo.

Centered on a theme of "Heartthrobs," the upcoming WinterMezzo Series brings together exceptional artists from across the country under the direction of Festiva Music Director, Scott Yoo. Featured guest artists include violinist Nina Fan, violist Paul Severtson, pianist Jocelyn Swigger and cellist Andrew Smith.

Featuring great composers inspired by love, the WinterMezzo "Heartthrobs" series will include performances of chamber works by Beethoven, Borodin, and Schumann. Additionally. these performances will feature two of the world's finest and most precious violins: the "Leonora Jackson" Stradivarius and an even rarer Guarneri del Gesu. The instruments are generously loaned to Festival Mozaic from the collection of Dr. William Sloan and Professor Judy Sloan of Los Angeles.

The concert cycle offers three ways to experience the music:
• a Notable Encounter Insight, a Friday evening one-hour presentation wherein the performers informally discuss the featured works;
• a Saturday evening Notable Encounter Dinner, in which guest artists present lively commentary, musical excerpts and insider observations accompanied by dinner and wine from Tablas Creek;
• and the full concert program on Sunday afternoon.

Festival Mozaic's 2012 Summer Festival will be held from July 11-22. For more information, visit www.festivalmozaic.com.